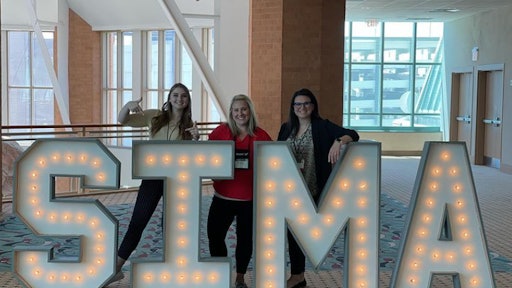 SIMA, SIMA, SIMA. It's all we can talk about!
If you hadn't seen our various Instagram stories, tweets and live Facebook interviews, the SnowPro team traveled to Milwaukee, Wis., to attend the Snow and Ice Management Association (SIMA) 25th Annual Snow and Ice Symposium. We talked. We walked. We got to know everything new in snow.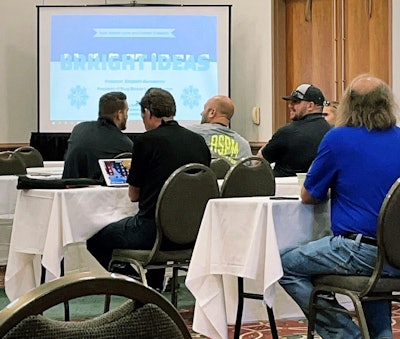 Associate Editor Hannah Gooch sat in on some sessions including the Brrright Ideas to Maximize Your Marketing presentation by Elizabeth Bonadonna of Busy Beaver Lawn and Garden where we learned about how to market to potential employees as well as other businesses using unique posts with a humorous touch. One attendee even shared his experience putting an ad for snow removal services in the previews of his local movie theater. Although it was a unique idea, he did not recommend the tactic as a fruitful investment.
Following the sessions, the SnowPro team hit the show floor. There, we met up with Steve Horn and Eli Martin of HLA Snow to talk products, patents and plows at their booth in a live video interview. We also stopped by the Nokian Heavy Tyres booth to talk to Cory Trombly and learn about the tires snow professionals swear by. Both video interviews can be found on the SnowPro socials!
Off-camera, we met familiar faces such as Greg Donovan of KAGE Innovation as well as new ones such as Abel Cruz of Lawnforce LLC. Products new and old made appearances by the hundreds. One product in particular that stood out was an in-cab dashcam that made an appearance at multiple booths. The dashcams have views of both the cabin and the external surroundings to ensure the safety of all parties when drivers take to the road. The inward-facing dashcam includes a sensor that alerts drivers when they are not following safety precautions such as using their cell phone while the vehicle is in motion.
If your booth wasn't listed above, don't worry, we'll make sure to stop by at the next show! In the meantime, stay on the lookout for our upcoming print issue featuring more SIMA exhibitors and attendees. We can't wait!