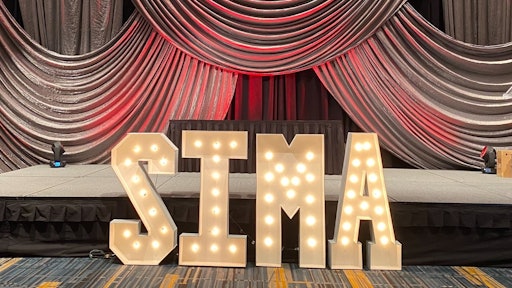 AC Business Media Staff
The 26th annual 2023 Snow and Ice Management Association (SIMA) Snow & Ice Symposium on June 13-16 in Hartford, Conn., centered on empowering snow and ice management professionals to take their businesses to the next level.
Keynote speaker Derek Daly, a former racing driver, kicked things off on June 14 by asking attendees how they want to shape their own legacies.
"We're all in control of the legacy we leave with our families, in our communities, with our businesses," Daly said. "If a book was written about you, what would you want it to say?"
Daly continued by regaling attendees about his racing career, discussing his successes and his nearly fatal accident in 1984, where he crashed into a concrete barrier at 217 miles per hour, breaking multiple bones and afterward, undergoing three years of therapy and 14 surgeries.
"I'm sure everyone here has crashed or hit a wall, but it's about how you move forward," Daly said. "Nobody wants a setback, but setbacks create a platform for a comeback."
Daly went on to discuss his career comeback in the Indy 500 and how moving forward, the foundation of extraordinary racing teams—and extraordinary businesses—relies on trust and the following principles:
Team members are individualistic in thinking but team players in their actions.
Teams encourage innovation for higher performance levels and to improve efficiency and effectiveness.
Each team is comprised of a "portfolio of leaders," meaning that individuals on the team are willing to accept the responsibilities of being a leader regardless of formal authority.
Finally, Daly noted that successful teams embrace determination, desire, drive, unrelenting commitment and making intelligent risks by preparing as much as possible—all of which helps create a "culture of extraordinary."
"Successful teams have the structure of a big organization but are informal in that they have the ability to adapt and change," Daly said.
In line with the theme of company culture, Nick Klotz, president of Executive Property Management (EPM) in Jackson, Mich., gave a presentation entitled "Fix your Labor Shortage by Correcting your Culture."
Klotz discussed how he turned his own company culture around after his operations manager quit in 2015, hours before a November storm, citing that he didn't like the company culture and that the work environment was too stressful.
From there, Klotz took a hard look at his company and the culture.
"You have to take a look at yourself and ask 'would I be happy to be working for me?'" Klotz said. "Culture is the vibe you get when you walk into a facility. How are people interacting with one another?"
In the years since, EPM has achieved a retention rate of 95 percent, in part, by following these strategies:
Removing "cancers" from the company. Bad attitudes spread faster than good attitudes.
Garnering new recruits through word of mouth.
Making potential new employees feel welcome and comfortable during the interviewing and onboarding process. This can be as simple as having employees fill out a questionnaire that includes details about them such as their favorite restaurant, birthday, interests, spouse's name, etc.—from there, the company can celebrate birthdays, anniversaries and milestones with signed cards and gift certificates.
Implementing initiatives to recognize employees such as team member of the month, monthly team breakfasts, MVP and Rookie of the Year initiatives and organized company events like cookouts and bowling outings.
"Your greatest asset is your people, so do you have a budget in place to grow those people?" Klotz said. "(With culture), you can't take your foot off the gas, and you have to be consistent."
Other session topics throughout the educational portion of the symposium included implementing systems and processes, fleet management, identifying financial problems before it's too late, insurance plans and much more.
On June 15 and 16, attendees will have the opportunity to walk the trade show floor to see what snow and ice equipment manufacturers have in store for them.