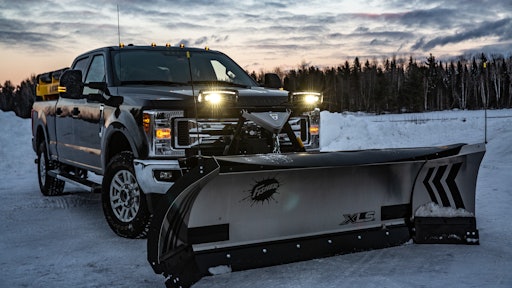 Douglas Dynamics
A company that's safe is a company that's profitable. Each accident and liability claim costs businesses money, not to mention the potential for serious injuries. When snow and ice control professionals are taught proper safety precautions, everyone wins. This includes everything from safety tips for night driving to guidance for ensuring your plow truck is safe and legal according to Federal Motor Vehicle Safety Standards (FMVSS).
Precautions for night plowing
There are three critical safety areas that plow drivers need to remember, especially when driving at night.
Safety basics for plow drivers
Cutting corners to complete properties in record time isn't sustainable when you're sacrificing safety and quality at the same time. Obeying all traffic laws and driving at safe speeds will greatly decrease your chances of an accident or breakdown, especially at night. You should drive at a slow and steady pace, not exceeding 25 mph. Remember STOP (Seatbelt on, take precautions, obey traffic laws and pay attention).
Defensive driving
You're driving a truck that is much heavier than usual, meaning that driving defensively and being aware of your surroundings can be a matter of life and death. Be mindful of other drivers who seem to be driving erratically or tailgating and provide plenty of space between you and other vehicles/pedestrians. This eliminates some risk in case anything unexpected should occur, such as hitting a patch of black ice. If you handle homeowners' associations or other communities, look out for kids on sleds, snowmobiles/ATVs or cars parked on the side of the street.
During preseason inspection, place markers near obstacles and keep notes available for all members of the team in case someone else needs to take over servicing the property. Carefully plow around these hazards to protect your equipment.
Unexpected breakdowns or accidents
It's essential to wear high-visibility personal protective equipment and have strobe lights on equipment to make yourself and your work area known to others, especially when fixing equipment or taking care of sidewalk clean-up. Visually standing out reduces a handful of safety risks which only intensify when it's dark out.
Make sure your phone is charged and bring a charger along in case of an emergency. Don't forget to stay stocked with spare parts and tools. It's also a great idea to pack healthy snacks, water and additional clothes to keep you nourished, hydrated and warm.
FMVSS fundamentals
The National Highway Traffic Safety Administration (NHTSA) issues FMVSS standards in order to prevent and reduce vehicle crashes. Although each state and municipality may have their own specific laws and ordinances, there are standards that winter service contractors should be aware of.
Axle loading and braking (FMVSS 105)
Understanding gross vehicle weight ratings (GVWR) and gross axle weight ratings (GAWR) are important to make sure weight limits are not exceeded and safety conditions are met. You must comply by installing the proper snow plow and/or spreader that is not too heavy and adequately ballasted for proper weight distribution.
Ballast weight
Some vehicle manufacturers specifically design their trucks to be nose down, tail high for aerodynamics. When a snow plow is added to the front of the truck, the plow weighs it down and diminishes ground clearance—resulting in the plow not being able to adequately carry or stack snow as high as it normally would. To better distribute weight, it's recommended to install a ballast retainer kit, tailgate spreader or in-bed hopper. If you use a spreader for ballast, remember to calculate the weight of spreading material when looking at the vehicle's remaining payload capacity. Proper ballast weight can help to improve vehicle stability and control.
Leveling kits and plow prep packages
Most heavy-duty trucks offer a "Plow Prep" package with heavier suspension, increased battery size, and charging system. For light-duty or half-ton trucks, you can look into a suspension aid like a lift or leveling kit. Remember, this doesn't modify the weight ratings of your truck and won't allow you to select a bigger plow. It simply lifts the front suspension to avoid hitting curbs or scraping the blade during transport.
Rear visibility (FMVSS 111)
Active backup cameras are now required by federal law. The law used to just focus on the need for rearview mirrors but now includes backup cameras. Some truck tailgates need to be removed when installing a spreader, and if that's the case, federal law requires a replacement backup camera to provide the same level of visibility. It's the responsibility of the person altering the vehicle to make sure the visibility requirements for FMVSS 111 are satisfied.
Lighting and conspicuity (FMVSS 108)
It's vital to aim your plow headlights properly. Improperly aimed plow headlights can make it difficult for the occupant and oncoming driver to see. Be careful when using aftermarket plow headlights or adding an LED bulb in halogen-headlamp housing—these are not the intended design to provide safe light output and are illegal.
Occupant safety and crash protection (FMVSS 208)
When a complete vehicle is initially produced, the manufacturer certifies that the vehicle meets all applicable FMVSS in effect at that time—including FMVSS 208. When an installer of snow plow equipment works on a new, untitled vehicle, they are required to certify the vehicle will continue to meet all FMVSS requirements, including occupant crash protection. For a previously titled vehicle, the installer of snow plow equipment is not allowed to render the vehicle out of compliance, even though there is no certification required.
Preparing for night time conditions and complying with FMVSS standards is of utmost importance for snow plow operators. Incorporating these tips will help you find success this winter, safer than ever before.