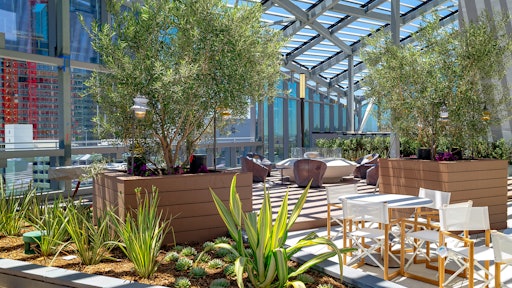 Park West Companies was initially founded four decades ago in southern California. Jim Tracy, CEO of Park West, oversees the business for a client base that ranges from property owners and general contractors to landscape architects, property managers and public agencies. Integrity, professionalism and ethics are and have been the guiding principles of the business since its inception.
According to Tracy, "Park West differentiates itself from its competitors not by what it does, but by whom it is. Customers hire Park West for repeat business based on their customer experience and how they are treated." Not only is it this commitment to its customers that enabled the company to grow over the last 40 years, but also "by behaving in a fiscally conservative manner, and managing and controlling its growth commensurate with its capabilities," Tracy says.
The company covers a large geographical territory, including branches throughout California and a Las Vegas branch. With all of that ground to cover and a diverse project portfolio, Park West "utilizes an integrated asset management program with routing and scheduling capabilities," according to Tracy.
A Holistic Approach
Park West's corporate headquarters are located in Rancho Santa Margarita, California, and provide centralized services to the separate operating entities:
Park West Landscape Management, headed by Dustin Kemmerer, which involves typical landscaping maintenance, such as mowing, weeding, trimming, planting, irrigation, light construction and more.
Park West Landscape Construction, headed by Bart Ryder, which executes heavy commercial landscape construction.
Park West Tree Care, headed by Cory Gallagher, which encompasses basic tree care, trimming, thinning, removal and more.
The collaboration between these separate entities means the company doesn't have to use subcontractors nearly as often as its competitors—the benefits of that being obvious—consistency, quality, customer buy-in and a unique proposition as a one-stop shop for all landscaping needs. In fact, the leadership partners of each of the entities meet regularly to discuss cooperation, integration of services, and goals and objectives.
Landscape Management
Park West delivers consistent and reliable landscape maintenance services to more than 50 million square feet of property—from parks and homeowners' associations to condominiums and apartments to regional malls, five-star resorts and office parks. The team consists of horticulturalists, certified specialists, project supervisors and field labor staff, offering a complete range of landscape maintenance services.
The company is no stranger to technology, and implements digital imaging to help achieve its customers' goals and fulfill their vision, while meeting budget constraints. Tracy notes, "Park West is a very innovative company and utilizes the latest technology to offer first-class digital imaging services, coupled with cost estimating options, that provide its customers with a complete menu approach."
One item on that menu is an agronomic plan that includes proactive plant monitoring for insects or pathogens. The company believes that a complete soil analysis for pre-planting or for determining a treatment plan for existing plants is the basis of a healthy landscape. "Proactive monitoring of plants and soils is imperative for a sustainable landscape environment. Monitoring extends to plant health care, water/drainage management and chemical/fertilization techniques. Park West incorporates these services on every project," adds Tracy.
Landscape Construction
Park West believes that proper plant installation is one of the most vital elements of a successful landscape, and it's a belief that's apparent in the company's work. The organization prides itself on working with consultants and landscape architects to lay out tree, shrub and plant material in approved designs and patterns. Tracy also mentions that Park West supports the landscape architectural community by offering pre-construction and design-assist services to ensure a mutually beneficial and collaborative process.
Planting Seeds for Growth
In order to boost awareness about Park West's business, the company utilizes diverse marketing initiatives, including strategic sponsorships and involvement in a variety of community service programs, both of which are frequently the focus of their social media campaigns, generating visibility and allowing the company to connect with the community in meaningful ways. Tracy says, "Park West is a major sponsor of the Honda Center and Anaheim Ducks, and leverages that relationship to include employees and customers. Park West is also actively involved in many community service initiatives, such as the Ronald McDonald House, Pretend City Children's Museum and Hoag Hospital."
Park West is addressing the labor shortage in the green industry by incorporating some important best practices, including allocating a dedicated team devoted to talent acquisition and establishing the Park West Learning Academy to provide a range of training programs for its employees. "Park West has a dedicated talent acquisition and development group that seeks the most talented people in the industry who fit into the Park West culture. The talent development group follows up with offering extensive classroom and on-the-job training, all designed to promote employee growth and advancement. All of this coupled together creates increased employee retention," elaborates Tracy.
When it comes to the future of its business, Tracy proclaims, "Park West is looking forward to sustaining its position and reputation in the green industry. Customers prefer stability, knowing that they can count on Park West to continue providing unmatched and consistent customer experiences."