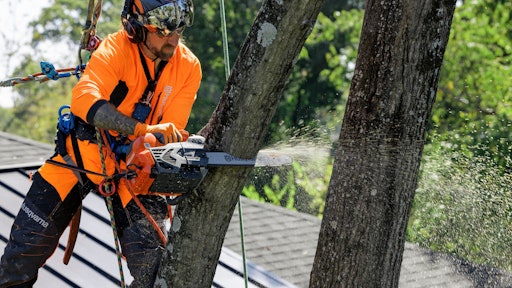 Husqvarna
Compared to all industries, tree workers have at least 15 times the fatality rate [Bureau of Labor Statistics (BLS), 2020a] and three times the nonfatal injury rate (BLS 2018).
The breakdown of the most common injuries falls into the following categories: 1) slips, trips and falls, 2) contact with objects or equipment, 3) struck by a falling tree and 4) electrocution, says Gerry Barnaby, director of excitement for Ego.
Safety experts discuss the safety gear and practices tree care workers should keep in their tool kits to help prevent accidents.
Safety gear
The Center for Disease Control records about 36,000 individuals treated in the emergency room each year after working around trees.
Rob Fox, product manager at Husqvarna, says that safety gear is one way to reduce the possibility of incidents happening.
"It's also important that tree care professionals always check their gear before they go to a jobsite and after leaving the jobsite," Fox says.
Glenn Lovell, product manager at Oregon, notes that ground crews should also be wearing safety gear, including chaps. He adds that once safety gear is damaged or compromised, it should be replaced.
Below is a list of key safety gear tree care professionals should have:
Hard hat to protect the head from falling limbs or tumbles from higher elevations;
Gloves to protect hands from splintering wood;
Nonslip, steel-toed boots to reduce chances of slips and falls;
Tree climbing equipment, including ropes, carabiners and harnesses;
Cut-resistant leg and arm protection;
Goggles or face shields;
Hearing protection for heavy machinery noise;
A blood-stopping first-aid kit;
A cellular device to ensure emergency services can be called in case of an emergency; and
Clear and understood signals between the arborist in the tree with those on the ground. This can include a good mic/earphone in helmet that is connected with all other workers.
Finally, Drew Dunavant, arborist segment leader at RBI Corp., says crew members should perform peer reviews of climbing gear for other individuals.
Safe practices
Tree care pros and landscapers performing tree care work should be aware of the kickback produced by chainsaws, says Lovell says.
According to Lovell, there are two different forms of kickback: rotational and a pinch or push kick.
"Rotational kickback occurs when the upper quadrant of the guide bar comes in contact with an object, and you get an upward and rotational type of kickback," Lovell says. "Pinch kick is when a branch or an object closes on the bar, and it has to push the saw back toward the user. The most dangerous of those two is the rotation."
Manufacturers have put checks in place to mitigate or lesson the potential for kickback such as producing a saw chain that's known in the industry as a green label or safety chain.
Additionally, there are certain techniques professionals can do to avoid kickback.
For example, tree care pros should know where the bar tip is at all times during use.
"There are some situations saw users can't control, but when they're aware of the reactive forces and paying attention to the bar tip, then they have an understanding of it and are better able to avoid it," Lovell says.
He adds that one-handed chainsaw use exponentially increases the potential for kickback.
In addition to kickback, tree care professionals should also be aware that the chain can come off the bar—improper chain tension contributes significantly to this scenario, Lovell says.
"When we talk about chain tension, it's what we refer to as 'snap tight.' On a guide bar with a sprocket tip, when you adjust your chain tension, the chassis of the chain will come up and make contact with the bottom of the bar," Lovell says. "After it contacts the bar, give your tension another quarter to a half a turn. Then, you can grab your chain, pull it out and release it, and it snaps back into the position called snap tight."
Lovell recommends checking the chain tension when stopping for fuel or when taking breaks.
Tree care professionals should also monitor their fatigue, Lovell says, because about 90 percent of chainsaw accidents occur within the last 10 percent of the day.
"Maybe you've got three percent of a job left at the end of the day, and you're already tired, but mostly people will just push through it, when it reality, they should be stopping and taking care of it the next day," Lovell says. "With fatigue, people will start making rash decisions just to get something done, and that's where mistakes happen."
Safety culture
To build a safety culture, it all starts from the top.
"It's all about education of safe practices that be taught/demonstrated to any newly hired worker and reinforced annually with all workers," Barnaby says. "This safety-minded way of working must also be practiced daily on-site."
To reinforce the culture of safety, the experts encourage companies ensure the following items are in place:
Safety instruction should be provided on all relevant areas of tree work. Safety training should also include fall prevention, methods of communication, first aid and CPR, roadway safety, rescue procedures and proper use and maintenance of safety equipment.

A safety checklist should be completed prior to a job assignment, provided in the language workers understand and documented. Require that employees demonstrate safe work practices.

Safety equipment must be inspected before each use and immediately withdrawn from service if it is defective or damaged.
Crews should be provided with personal protective equipment (PPE), such as hard hats, face shields, safety glasses and shoes, gloves, high-visibility clothing and hearing protection.
Conduct an initial jobsite inspection and perform daily hazard assessments (low-lying and overhead) before the start of each workday to identify all existing hazards and other potentially dangerous conditions, as well as appropriate work procedures to follow and appropriate PPE.
Fox notes that continuous education classes and staying up to date with OSHA standards will further cement a safety culture.
"It's also making sure employees have access and visibility to all those safety items," Fox says. "It's incredibly important to invest in crews' education for safety, and it essentially all comes down to practicing what you preach and leading by example."
Dunavant says safety training programs work best if there's a safety director who completely understands the program and all the safe practices that go along with it.
"Find somebody who understands the work being done out there but who also has a safety mindset," Dunavant says.
Preventive maintenance
Preventive equipment maintenance can also help lower the risk of accident.
"We're in an industry where it's not just about the longevity of the equipment," Lovell says. "For example, when you're talking about a chainsaw, not maintaining it on a regular basis could result in some level of injury."
Therefore, it's important to perform regularly scheduled maintenance throughout the year.
In addition to routine maintenance, Dunavant says professionals should pay special attention to the following items and ensure users in the field understand how to function everything properly:
Does the chain brake work?
Do all safety features work?
Do the throttle and lock function property?
Ensuring equipment is clean is another key factor, Dunavant says.
"If equipment is wet and filthy from being stored improperly, the dirt and grime can also conduct electricity," Dunavant says.
Other maintenance items to keep in mind throughout the season include ensuring equipment is lubricated using a high-quality chain lubricant and emptying fuel from saws because ethanol fuel will tear apart components such as rubber gaskets and rubber fuel lines.
Additional safe practices
Pay attention to other workers' activities as unexpected actions can trigger new hazards.
Stay alert to surrounding hazards especially uphill, where gravity can send hazards toward employees.
Wear high-visibility attire and take a position where they can be easily seen by others.
Provide adequate supplies of potable drinking water for employees and encourage consumption. Drinking sufficient water can prevent heat illness.
Control pedestrian and vehicular traffic effectively, as needed.
Check for weather updates and storm warnings. Take into account the additional dangers that weather conditions—such as high winds, fog, ice, rain, high heat, thunder and lightning—can bring to the worksite and stop work, if necessary.