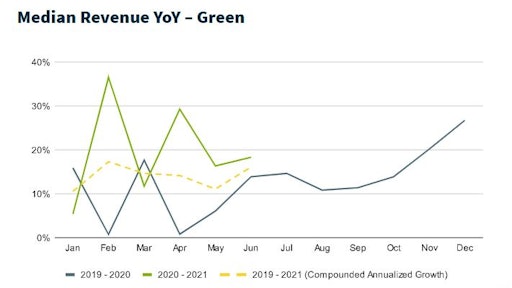 Jobber
Jobber, provider of home service management software, recently released its Home Service Economic Report: 2021 Mid-Year Review featuring insights and proprietary data collected from more than 100,000 landscapers, plumbers, window washers and other home service professionals.
According to data collected by Jobber, the average lead time for contractors increased by four days in the second quarter of 2021, compared to the prior year. This means service providers are getting more job requests than they're able to complete. Also, there is more uncertainty moving forward, due to the steady increase of interest rates, inflation and unemployment. Meanwhile, COVID-19 cases are rising again with the Delta variant impacting many countries, creating concern about further business disruptions.
Although revenue is seeing a consistent upward trend, it is predicted that labor and supply shortages will continue to affect the demand of home services. In other words, material cost or even labor cost will increase as businesses attempt to meet the demand of their services.
"The impact of these higher material costs is reflected in the invoice size of construction and contracting projects, with the median invoice size growing by 14% in Q2 2021 compared to the pre-pandemic levels of Q1 2020," said Dhawan. "Lawn care and landscaping businesses have shown to be resilient throughout the pandemic. If consumer demand keeps up, the biggest challenge for home service businesses will be hiring enough employees to keep up."
Producer Price Index (PPI) for construction related goods has soared because of scarcity, in the face of increased demand. The PPI for lumber and wood soared 50% by June 2021 compared to January 2020, while PPI for steel mill products increased by 82% during the same period.
This year's report has also uncovered the relationship between the delay in construction projects due to the supply and demand issues and consumer spending on home services. It was determined that despite the challenges, consumer spending on home services recovered faster than all other major categories.
"When determining the health of the homes service category, Jobber looks at year-over-year median revenue and new work scheduled for three key segments: green, cleaning and contracting," says Abheek Dhawan, vice president of business operations at Jobber.
The green industry is one of few industries that allows workers to socially distance while performing their task at hand. The pandemic and resulting lockdowns have been resulted in a boon in home renovation and lawn care projects and maintenance. The green segment has seen extremely high growth in the second half of the year. Since then, the median revenue growth has remained consistent moving in a positive direction.
"This past quarter has seen a slowdown in this trend but appeared to be heading back in the right direction in June. Median revenue growth, on the other hand, remained remarkably consistent and positive throughout the first half of the year," Dhawan says.