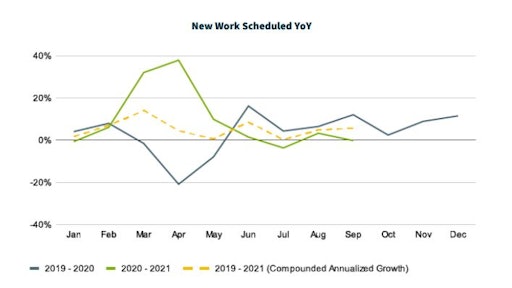 Jobber
Home service businesses continue to outperform other industries as demand for professional home services remains high in the fourth quarter of 2021. That demand will only be tampered by the ongoing workforce shortage.
A booming real estate market and domestic supply chain bottlenecks are expected to continue through the end of the year, which means high prices for business owners, according to Jobber's Home Service Economic Report for the third quarter. Jobber surveys the more than 100,000 users of its business management software to create data for its reports.
Takeaways:
Invoice sizes saw an increase across the Home Service category in all the main segments: Cleaning, Contracting, and Green.
Service providers who increased their headcount were able to schedule more work from the rise in consumer demand and increase revenue at a much faster rate.
Although growth in new work scheduled is currently slower due to resource limitations, revenue growth in Home Service remains healthy due to the rise in invoice sizes.
Green segment growth in new work scheduled during Q3 2021 continues to stay positive at just under 10% growth year-over-year.
Inflation is resulting in increased prices across most categories; Home Service saw a substantial consumer price increase in the last 12 months.
Revenue growth in Home Service outperformed all other categories in Q3 2021, including Grocery Stores and General Merchandise Stores.
Customer Demand is Up
Typically, Jobber reports, the amount of new work scheduled goes hand-in-hand with average revenue performance. In other words, the more new jobs scheduled, the more money companies make. In the third quarter of 2021, however, the rate of new jobs slowed. Yet median revenue is growing. Essentially, green industry contractors are unable to keep up with the demand for work, but the invoices they're billing out are larger than usual.
The green industry experienced a very high growth last year as consumers invested more in outdoor projects such as landscaping, which could be done while staying within the parameters of physical distancing. The growth in new work scheduled in the third quarter of 2021, although below the growth rate of the same quarter in 2020, continues to stay positive at just under 10% growth year-over-year. However, the growth in revenue matches 2020 and is outpacing the growth in new work scheduled as a result of the increased cost of services, Jobber reports.
Economic Pressures
Inflation, high consumer demand and a shortage of workers means home services businesses are pinched for workers, reducing the number of jobs they can take on.
According to the U.S. Bureau of Labor Statistics, the 12-month change in overall Consumer Price Index (CPI), which represents changes in prices as experienced by consumers, grew from 1.4 at the start of the year to 5.4% in Sept 2021, the report states.
The 'household operations' category, a proxy for Home Service, represents 0.9% of total CPI weights and has a 6.6% increase in the past 12 months. Even though 'household operations' is not significant in terms of the weight, it generally had a higher year-over-year increase compared to overall inflation in 2021, Jobber reports.
The green industry during the past year and future growth is likely, the report states.