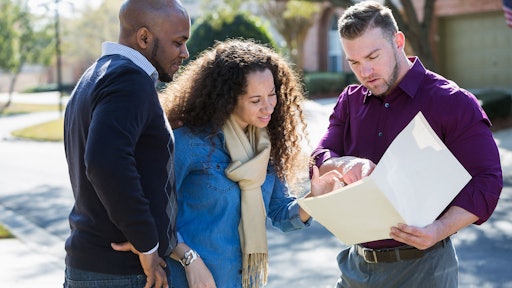 @kali9 – Getty Images
Whether you're new to offering payment options to homeowners or are just trying to get better at it, you may be wondering which of your customers may be ideal candidates for payment options. The simple answer is more than you think. Research has shown that one of the most effective methods for offering payment options is to offer them to every single customer. By doing so, you can see an increase in leads, close rate and average project size.
Never speculate whether a customer wants or needs a loan. You might be wrong, and that means you may end up leaving money on the table or even losing out on a landscaping project altogether. There are all kinds of customers who prefer a payment option, including those who are:
Planning to Pay for a Project with Cash
Many homeowners have the cash on hand to complete a landscaping project and may think they don't need financing. However, offering a choice of loans to cash-paying customers gives them a cushion in the event of unexpected or higher costs during a project.
Also, it allows you to cut down on discounting that may be expected when a homeowner pays cash. Additionally, it's been estimated that homeowners will spend an average of 44% more on a project when offered payment options.
Wanting to Keep Cash on Hand Longer
Using financing can help a homeowner keep their cash on hand longer for other needs, allowing them to use the bank's money for their landscaping project instead. This gives them more flexibility for additional costs that have to do with the project or if a non-related emergency happens and they need access to the funds.
Looking for Monthly Payment Options
With fixed monthly payments and a low-interest rate, this may give the homeowner the flexibility to decide and move forward on the project. Many homeowners value the convenience of a simple payment plan that gets them the landscaping project they want before the seasons change.
Not Sure How to Pay for a Project
Research has shown that 35% of homeowners haven't thought of how they're going to pay for a project until after hearing a bid. By offering payment options in your initial pitch, you've already addressed one of, if not the most important, concerns that a homeowner may have throughout the process.
At this point, you might be asking yourself, what are some good ways to offer financing without appearing pushy or driving the sale away?
Here are four easy ways to introduce payment options into your sales pitch:
Include in your marketing materials
This is one the easiest ways to let your potential customers know that you offer payment options and may lead them to ask about financing before you even offer.
Doing this has been shown to increase both the quantity and quality of your leads. Marketing materials include your website, direct mail, service truck wraps, advertising, etc.
When you first set the appointment
Congrats, you made it through the first hurdle, and a homeowner has reached out to you to discuss their project.
A great way to introduce the topic of payment options is by simply mentioning a great generic offer, or that payment options are available in your initial phone call or email and tell them to bring it up with the landscaper who comes to their home to assess the job and provide a bid.
During the first in-home pitch
Once at the home, you'll get a better feel for what the customer's project needs are and will be able to offer more personalized options.
When it's time to present your bid, you can help them focus on value instead of cost by including payment options as part of the bid.
During follow-up conversations
If the customer doesn't commit to the job while you're with them, you may still have a chance to land the job. If a homeowner calls with additional questions or concerns, make sure you remember to bring up payment options, especially if paying for the project seems to be one of their main concerns.
Another great way to keep in touch is by email. Think of something noninvasive and informational but still helpful to the homeowner, such as an article about how landscaping can improve a home's value and curb appeal.
We don't recommend using payment options as a last-ditch offer to close the sale. However, if you nurture the customer the correct way from the beginning, you'll see more success in closing more deals and getting to work.