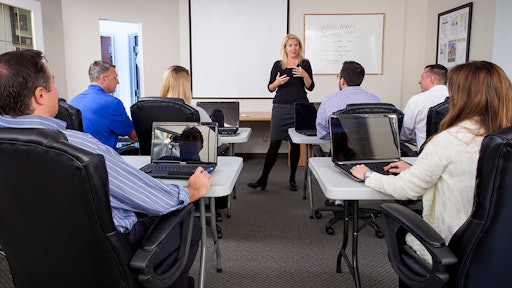 Weed Man
There are challenges that companies in the green industry face when it comes to recruiting and retaining women. Although we're trending in the right direction, we still have a long way to go.
A successful company, in the green industry or otherwise, strives to bring many diverse ideas and points of view to the table. When women are underrepresented, we lose valuable insights and contributions to the field.
How do we attract and retain women in a male-dominated industry? We must foster work environments where women are safe, supported, valued and passionate about the work they do. These are the building blocks that make a workplace better not only for women, but for every person involved.
The barrier of stereotypes
There is a widespread misconception that lawn care is a "man's job." This presents a challenge in recruiting and retaining women in the field. Women may feel uncomfortable entering an industry where the messaging they receive is that they are unwelcome. To overcome this perception, we, as the decision-makers in our companies, must ensure that the perception is unquestionably false within our companies. We must actively promote diversity within our workforces and showcase successful women in leadership roles.
Ensure your messaging and marketing is inclusive to all: that it showcases our diverse talent. Also make sure your recruiting/careers website proudly features women in a variety of roles, including lawn care technicians, managers, franchise owners, etc. Also encourage female employees to take on speaking roles at companywide events, including annual conference and summer meetings. It is crucial that their success is acknowledged and celebrated by both men and women across our expansive franchise network.
The barrier of culture
The culture of a male-dominated field is another challenge to retaining women in industries like ours. A "boys club" mentality can range from being unwelcoming to women to completely unsafe.
Implement policies and practices that promote a safe and inclusive workplace. Provide training on the prevention of harassment and discrimination and work hard to ensure that all employees are treated with respect and fairness. Also offer support and resources for women in the workplace to help them overcome any challenges they may be facing. Employee safety must be a top priority in any organization, not just for the optics of recruiting, but for fostering a functional, equitable workplace for all employees.
The barrier of recruiting practices
When we resolve to hire more diversely, we have to change our hiring practices, even on a seemingly small level. The wording, imagery and overall messaging in your recruiting materials are the first reflection of your culture that a potential employee or franchisee will see. Imagine a female job seeker who finds a job posting at your company that is perfect for her career goals and her career experience. The only problem? Throughout the job posting, the ideal candidate is referred to as "he" or "him." She would not be wrong to believe that your company has already decided the kind of person they want to hire, and it isn't her. So she doesn't apply to your job opening, and you've lost an opportunity to find a qualified candidate.
To address this, use inclusive language, imagery, and messaging that invites all job seekers and potential franchise owners to see a place for themselves in our network. Continue to highlight opportunities for growth and development with a focus on differing perspectives and backgrounds. In order to promote a brand as "inclusive" and "diverse," and in order to attract franchisees and employees who bring those qualities, you must actually and intentionally be inclusive and diverse.
The value of a diverse workforce
Recruiting and retaining women in lawn care is essential for creating a forward thinking and moving workplace. When we bring people together with different points of view, all of a company's team members can learn and grow from each other's approaches, leading to a more balanced and successful business.
Editor's Note: The CEO of a leading lawn care franchise, Lemcke joined Weed Man over 25 years ago and has worked in every position from marketing to administration to field technician. At the time, she was often one of the only women in our team meetings. Now, more than two decades later, she's proud to say she works alongside a growing number of female franchise owners and female employees at every level of the business.