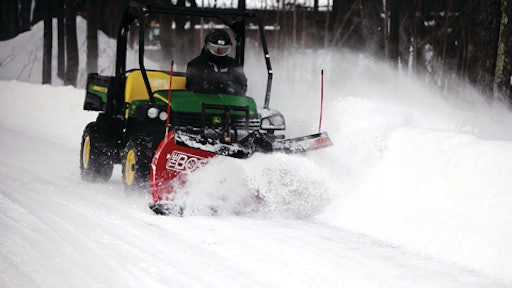 Let's face it, your UTV is not just a utility vehicle. It is a go anywhere, do anything machine with an added bonus that it's a blast to drive. Whether you are just doing yard work or riding some hardcore OHV trails, driving your UTV is putting a smile on your face.
For the most part, you have to put your UTV in the garage when the snow starts falling, but why should you have to? You can put The BOSS Snowplow on your UTV and transform it into a winter workhorse.
Whether you own a landscaping business and use your UTV all day every day or are a weekend trail rider, there are always parts and accessories to suit your needs. When it comes to UTV parts and accessories for winter, a BOSS plow is an easy addition to your UTV that can save time and add value to your business or home snow removal needs.
Key features. The BOSS Snowplow offers a 6'6" Steel Power V XT and a 6' Poly Straight Blade model UTV snowplow designed specifically for a variety of UTV makes and models. Visit The BOSS UTV plow selector tool to find a match for your UTV. Speed, response, control and durability are all staples of The BOSS Snowplow. In addition, a fully enclosed and protected hydraulic system keeps all winter elements out which keeps you and your snow plow working in any condition. Also, if you are worried about losing off-road capabilities with the addition of a plow, don't be. With a sloped-profile undercarriage, your UTV loses no ground clearance with a BOSS plow and remains the same rugged off-road machine when the plow is not attached.
With the SmartHitch 2 system, you can easily attach and detach The BOSS in seconds. Also, the hydraulic system comes off with the plow so you are not carrying the weight when the plow is not in use. The chainless hydraulic cylinder lifting system eliminates plow bouncing during transport. Another bonus to the hydraulic system is that The BOSS plow has the highest lift available for ultimate snow stacking capability. A high-performance cutting edge offers durability and extended wear resistance which keeps you going storm after storm. The full moldboard tip design helps protect the blade and UTV from hidden obstacles such as curbs. The BOSS plow really is the ultimate in UTV parts and accessories for winter.
The SmartTouch 2 control system offers several mounting options for right- or left-handed use. Additionally, both the steel V blade and the straight poly blade are coated with the SmartShield corrosion-resistant powder coat system featuring Zinc primer. For added peace of mind, every BOSS plow comes with a two-year limited warranty.
Don't store away your UTV this winter. Instead, put it to work with The BOSS UTV plow. Always ready to take on the elements, The BOSS UTV plows are engineered for your UTV, yet built to the same professional-grade standards as full-size BOSS plows, making them tough enough to handle any snow removal job.