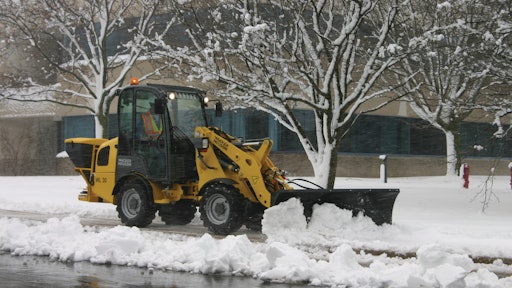 The use of loader-driven containment plows (i.e. pushers or box plows) continues to become more commonplace among commercial snow-removal contractors. That's largely the reason why several leading plow manufacturers have introduced new models for this year.
Companies such as Buyers Products (ScoopDog brand), Douglas Dynamics (Blizzard, Fisher and Western brands), and Pro-Tech (new Savik brand) have new containment plows for wheel loaders, backhoes and/or skid steers.
"Contractors currently using pusher plows understand the advantages they provide," says Andy McArdle, box plow product manager for Douglas Dynamics. "In addition, new contractors have also been adopting the use of pushers into their fleets. Contractors are always looking for new opportunities to increase productivity. Pusher plows can provide huge time savings in situations that require large amounts of snow to be removed."
According to McArdle, containment plows are ideal for department store parking lots, colleges, hospitals and private businesses. "Any location that has a large area or parking lot is ideal for a pusher plow," McArdle says. "The most common vehicles used with pusher plows are skid steers, backhoes and wheel loaders."
The new containment plows introduced for this season represent Douglas Dynamics' first venture into this product category. "It's important to us that the new pusher product lines meet the same market-leading quality and performance expectations Douglas Dynamics has always held ourselves to achieve," says McArdle, in reference to the company's light- and medium-duty truck plows it has manufactured for years.
Equipment-driven plows not just for the big stuff
On that note, Douglas Dynamics has recently announced that some of its most popular blade plows are now available for skid-steer applications. The plows are offered under each of the company's brand names (Blizzard, Fisher and Western). The move is in response to an increasing number of contractors wanting to manage snow with their existing skid steer, even in normal parking lot, driveway and sidewalk-clearing applications.
Wacker Neuson, a manufacturer of light construction equipment, has also recognized this trend. The company offers larger wheel loaders in the 70- to 80-hp range. But its WL 30, with a 48-hp engine and narrow width, make it ideal for sidewalks.
"The big competitor for our WL 30 is a skid steer," says Will Wright, Wacker Neuson's wheel loader product manager. "But many skid steers have a hard time getting down 48-inch sidewalks. Those that can have a hard time meeting the horsepower, speed and pushing power requirements." The WL 30 has a standard 54-inch-wide stance. But swapping out the tires to a set of narrower snow-tread tires take it down to 48 inches. The nice thing about that, Wright says, is that come spring, you can put those wider tires back on so you have a full-blown wheel loader for the other part of your business.
Also for sidewalk-type applications, Boss introduced a UTV plow last season. This year Boss has come out with an ATV plow. The 5-Foot Poly Straight-Blade ATV Plow is designed with a low-profile undercarriage for Polaris 550/850 Sportsman models. Additional models will be available soon, Boss says.
Companies in this article