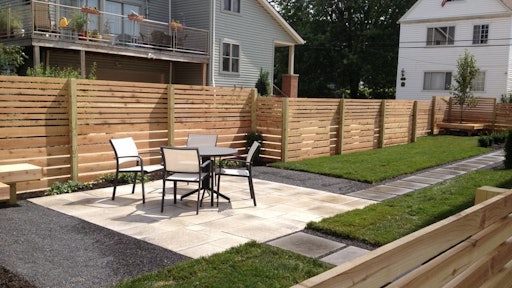 "This is a project we are especially proud of," says Trace Baum of Tab Property Enhancement in Brunswick, OH. "This customer saw something like this in England when he was staying at a hotel. He showed us some pictures and asked if we could duplicate it in his yard.
"There was nothing in his yard at all. But during the fence installation, we hit an old house footer—so we had to revise the plan right then. I revised the fence by moving it in 4 feet to go around the footer. 
"The patio is Unilock Umbriano paver tiles. The fence is Western Red Cedar, which we custom made. The landscaping was carefully chosen from Petitti Garden Center. We use buckthorns, boxwoods and perennial grasses a lot. Due to the climate in Cleveland, they hold up nicely and are low maintenance.
"This project took us eight days to complete," Baum adds. "It turned out great and has led to much more work for us in the Tremont, Cleveland area. The customer was very happy and wrote us a great report on Angie's List where we are a five-year Super Service Award winner in 11 different categories."
Founded in 2006, Tab Property Enhancement was #8 on our 2014 Landscape Industry Hidden Gems list. In addition to landscaping, hardscaping and snow removal services, the company also constructs fences, and provides home remodeling, basement finishing, bathroom remodeling and kitchen renovations. Visit tabpropertyenhancement.com for more.