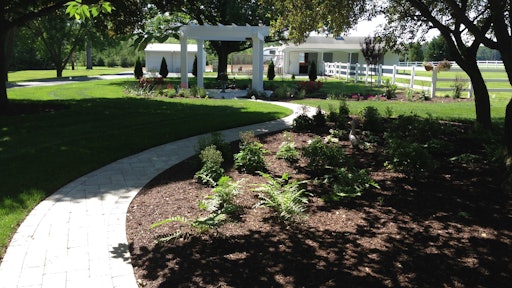 "The client told us what she was looking for; some kind of quiet mediation garden area where she could just sit and relax," says Jonny Nichols of Jonny Nichols Landscape Maintenance in Dover, DE. "We did a blueprint showing her our ideas, and away we went. We created a meandering walkway with planting beds all around it. The paver path leads to a paver patio area with a fiberglass pergola and awning. We used Capitol pavers for the pathway and patio."
First, the crew had quite a bit of prep work to do. They had to take out a bunch of lawn and trees, along with a clothesline. Then they got to work installing the walkway and patio. They subbed out the construction of the pergola to a specialty contractor; the Jonny Nichols crew then installed it at the tail end of the project. "This entire project took two weeks with a three-man crew," Nichols points out.
Jonny Nichols Landscape Maintenance provides landscaping, hardscaping, irrigation, maintenance, and lawn and tree care services. The company's main office is located in Dover, DE, with a second location in Kent Island, MD, allowing the company to serve the entire state of Delaware and Eastern Shore of Maryland. Jonny Nichols Landscape Maintenance was #31 on our 2014 Landscape Industry Hidden Gems list.