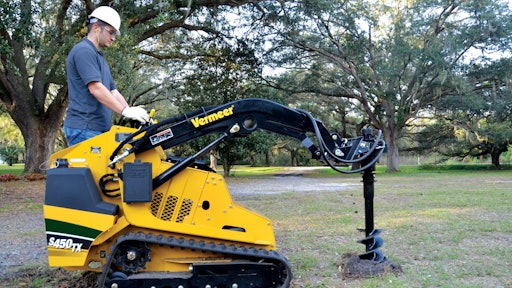 Whether general landscape work or a unique hardscape project, it's imperative to have equipment that's productive, versatile and reliable.
The mini skid steer has been around for quite some time, with widespread adoption going back to the mid-'90s. While not a new machine, mini skid steers have grown in popularity for several reasons. They're easy to operate and capable of tackling numerous tasks. Not only that, compared to traditional skid steers that weigh an average of 6,000 pounds, a mini weighs about one-third less, yet boasts similar lift capacity and breakout force.
Whether you're in Anaheim or Australia, here are five key reasons why this powerhouse machine belongs in your fleet.
1. Application, Meet Attachment
Perhaps the greatest value offered by a mini skid steer isn't a trait of the machine itself, but rather its versatility. Thanks to a variety of attachments with which it can be paired, this machine can go from material mover to snow blower to fencepost digger with the swap of an attachment.
Most mini skid steers are available with dozens of attachments, from standard buckets and augers to those designed for more specific applications, like concrete work for hardscapes. This offers options and greater opportunity for getting the most productivity out of the machine.
2. Branching Out
The range of capabilities offered by mini skid steers is appealing to anyone trying to do more with fewer resources. In addition to productivity, the machine's versatility opens up opportunity for companies looking to diversify.
By changing out an attachment, a small landscape company is now in a position to offer snow-blowing services to clients. Not only does an auger attachment offer a solution for a large contractor doing tree and shrub planting jobs, but it also lends itself to precise, productive hole digging needed for fencing projects. Rather than rent additional machines designed to do specific tasks, the mini skid steer allows companies to offer more with a single machine.
3. Time Management
Whether a deadline is quickly approaching, or days are just long and jam-packed, daily maintenance is often the first thing an equipment operator or owner neglects when things get busy.
The mini skid steer isn't a machine that demands a ton of attention to maintenance. Even the areas that require more frequent care are designed for longevity and convenience for quick work.
Thanks to their compact designs, grease points are easy to access, while key areas like the loader arms and hydraulic hoses are visible for quick daily inspection. Most attachments require a simple walk-around inspection and greasing, then they are ready to go to work.
Even the biggest perceived area of concern for track-driven models—the tracks themselves—are being fine-tuned in new designs to make them more durable and capable of navigating challenging jobsites.
4. Fitting In
Especially for residential contractors and those working on smaller jobsites, accessibility to the work area often means navigating equipment and tools through small gates and around obstacles.
Mini skid steers are designed to fit through narrow gate openings, with some of the smallest models measuring just 3 feet wide. The machines also do well maneuvering around buildings, landscapes and hardscapes, other equipment and general obstacles on small, tight sites.
Not only is getting equipment on the jobsite often a challenge, but getting to and from the site can also be a logistical nightmare. Thanks to their compact design and lighter weight compared to traditional skid steers, mini skid steers are a great option for customers who frequently transport machines from one site to the next and those who don't have the means to transport larger machines.
5. Operator Oriented
The final factor in equipment choice is one of the most important considerations that goes through any operator's mind: Am I going to be able to run this machine? For a business owner, that question expands to numerous employees who are going to need to be able to operate the equipment on site.
Mini skid steers feature simple, intuitive controls and many safety features, making them ideal for operators of every skill level.
The thought of switching out attachments is one of the most daunting and especially concerning for newer operators. Mini skid steers are designed to make the change-out of attachments quick and easy, most requiring just a few minutes.
Operator fatigue is a concern for many owners and the operators, especially when it comes to repetitive tasks that require precision. Consider a fencing project, drilling dozens of holes. Doing this work with a manual auger would be tiring and tedious, not to mention difficult to achieve the level of accuracy needed for a consistent, quality job. Doing this work with an auger attachment on a mini skid steer saves time and results in the accuracy desired.
In addition to eliminating accidents caused by operator fatigue, mini skid steers frequently feature another design to keep operators safe. One key safety feature offered on some stand-on units is the automatic shutoff. An operator must be standing on the platform in order to start and run the machine. In the event the operator falls off, the machine automatically shuts off, preventing potential damage to the site or equipment, or a tragic accident. The operator platform also gives a more complete view of the jobsite area, and the ability to see nearby obstacles, equipment and other people.
Across the globe, mini skid steers are proving their worth on the jobsite. Whether you're a large or small landscape company, give the mini skid steer a look.
Brandon Kyse is a general manager with RDO Vermeer and based in Sacramento, California. Steve Reeves, a national marketing manager with Vermeer Australia, based in Brisbane, additionally contributed.