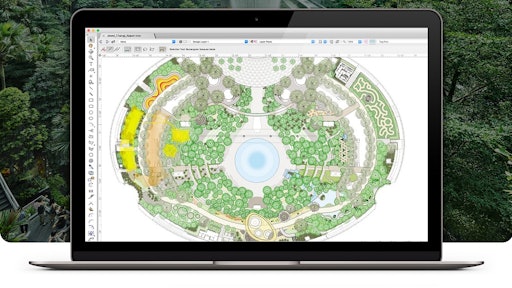 Vectorworks
Eric Gilbey, landscape product marketing manager with Vectorworks, sat down with Green Industry Pros to talk about the newest features and improvements to the company's landscape design software, Landmark.
The program is a 2D, 3D design platform for the landscape industry, used by landscape architects, landscape designers, design and build professionals and others who typically work at larger firms. It incorporates building information modeling (BIM) and geographic information system (GIS) capabilities, while linking to AutoCAD, Revit, Photoshop and similar programs. A unique aspect of Landmark is it allows users to design in 2D and 3D at the same time.
"In talking to designers, they might use a general CAD application for their design work and then they'll go into another application for 3D modeling, and then yet another application to make it look pretty," Gilbey says. "They now have at least three, potentially four or five other solutions to try to get them from drawing to presentations in the process. With ours, it's happening all at the same time."
Gilbey says that while some designers are comfortable designing in 2D, the 3D capabilities will be there for them when they need it, for example, during the client presentation.
Designing with 'smart' objects
One of Landmark's top differentiators is its ability to develop 3D "smart" objects.
"That process of being able to use objects that are smart — plain objects that know what they are and how far apart they're spaced, they know what their tolerances are and all that data is built into the object — the designer can pick those objects and place them as they desire on the plan, and easily switch them out," he says.
When the properties of an object are altered, those changes are reflected in the database of objects used in a project.
"All of those objects can report back their data to built-in worksheets. The built-in worksheet is kind of like a spreadsheet built into the software that's recording from those objects," Gilbey says. "You need to know the square footage or perimeter on your hardscapes. You might even need to know how much that hardscape is going to weigh. All of that data can be recorded back into those worksheets and help them understand if they're meeting the goals."
The use of smart objects also allows the designer to make cost adjustments to a design if they know the project is going over budget.
"You can put pricing on these objects and then have them report to the worksheets and do budgeting," he says. "If the client says our project's going to be $60,000 and they've already figured out that before they even met with the client that they've maxed the budget, they could actually change the design and do whatever they need to do to get them closer to the budget, so when they present to the client, there's no surprises."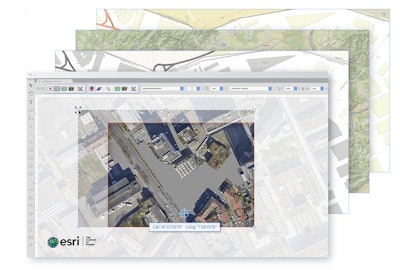 GIS updates
Landmark 2020 includes a new GIS toolset and integration with Esri's ArcGIS, which allows designers to incorporate real-time mapping and streetscapes into designs, allowing users to see the imagery immediately.
"All you have to do is put in an address or a latitude and longitude and find aerial mapping or street mapping for a project," Gilbey says. "A lot of times the designers are starting to find this access to that imagery to help show their customers what their project looks like amongst the context of the community, or how far their neighbors' views are into their property on the outside of the property."
Landmark has hardscape alignment capabilities.Vectorworks
Hardscape alignment
The updated Landmark offers improvements to hardscape alignment, as well. Designers can align hardscapes to other objects in the design and then change those alignments.
"Used to be, we could just tell it to slope, but that slope was one slope and it didn't necessarily conform to working conditions. Now it can," Gilbey says. "That's probably one of the key points for this industry is hardscapes are now as functional as they can be. They are as data driven as can be, so that they can give as much information back to the analysis part of the project but also the visualization aspect of the project, too."
Walkthrough innovations
Designers can create presentations that walk a client through a 3D project design, giving clients more control over the design and designers can make changes on the fly.
"They can either create a movie so that the client could observe the movie and kind of see all the different conditions on a prescribed path, but they could also send them a link to do the viewing on their own," Gilbey says. "It's like you're in the driver's seat. You can identify where your starting point is, you know, and maybe even have points where they can leapfrog over to another place, so looking around and seeing what that looks like. There are several different ways of being able to give their client that customized control over how their project's going to turn out."
In previous Landmark versions, designers took several saved views and chained them together to create a walkthrough presentation. Gilbey likens the updated experience to virtual reality.
"Now you just create your little path and it understands where you're going, where you want to be looking as you're meandering through there," he says. "Ultimately, the customer can actually take the driver's seat and go where they want to."
If the client wants roses instead of azaleas in an area, that's a quick swap of smart objects. If the designer is anticipating several changes during an upcoming client meeting, Landmark can store several saved views to offer various options for the project.
"You can set up safe views to show the alternatives ahead of time, but at the same time, if you're sitting in the software with the customer and you right click on something and say, 'oh, you don't like roses, we'll switch it to azaleas.' Right click on that object, say, 'replace plant' and replace it with azaleas. Then you can see what it looks like with azaleas instead of roses," he says. "People can be looking at that with those design layers on and the other one, the other alternative design, and they can see side-by-side what that space looks like, based on what the alternative is. If they know ahead of time that the client wants options, we'd always recommend to get those set up with those pre-saved views."
Labeling objects and data
No matter what design program designers use, they will need to label their data, says Gilbey. That process can be time intensive.
"You can draw as much as you want with lines and shapes and patches and all that kind of stuff, but you still have to label it up so someone knows what you're talking about," he says. "Once you start using these smart objects, they're doing that labeling for you. They're telling you what the space needs. They're telling you, what your area and linear takeoffs are. It's saving them half that time. They don't have to spend as much time doing all that legwork and documenting the project."
There is some object setup work at the beginning, however, Gilbey says.
"Some of them come pre-configured for you, but not everything. You do have to spend some time getting some of your library content set up just how you want them," he says. "There's a little bit of front-end time to get that set up. Once you've got that set up, then all of the sequential projects after that become easier and quicker."
There are several online training tools, videos and webinars with instructions on creating smart objects.
"And they can always take the pattern of the things that we have pre-configured as an example to figure out how they do the next one," he says. "We could also set up for training and we can guide them in a half hour, an hour training on some of those processes and they can be off and running."
Irrigation tool sets
Gilbey points out that there are irrigation tool sets available for Landmark software. The tool sets are 2D and based on equipment functions. Users can choose equipment from several different manufacturers who provided specs to Vectorworks for the program. "(Users) can pick from their favorite irrigation supplier, go through the catalog and specify the equipment, the pipes and valves and all that stuff and calculate flow, calculate pressure," he says. "It's doing a lot of work that they typically would have done by hand, but it also does some analysis for them, too."
The tool set graphic controls can show several types of information, ranging from whether an area is being overwatered, to planning water use efficiency and budgeting.
To learn more about Vectorworks Landscape 2020, visit the online brochure at https://www.vectorworks.net/ebooks/Whats-New-in-Vectorworks-2020-Brochure.