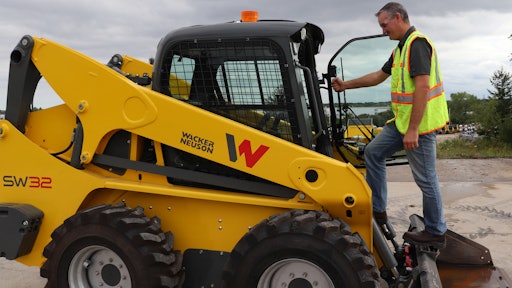 Wacker Neuson
Operator fatigue cuts into productivity and can impact safety. "With running any piece of construction equipment, the amount of time spent in the machine, current weather conditions (extremely hot/cold) and the task at hand (steep slopes, digging around gas/electric or dangerous utilities, etc.) lead to undue stress on the operator — causing them to get tired, irritable, dehydrated and possibly confused or disoriented," says Ed Brenton, product marketing manager, Case Construction Equipment.
"Eliminating operator fatigue is a constant challenge when designing compact equipment," says Gregg Zupancic, product marketing manager, skid steers and compact track loaders, John Deere Construction and Forestry. "Key contributors to operator fatigue include excessive noise and vibrations, lack of visibility, reduced comfort levels in the operator station, suitable lighting and cab size/dimensions."
Key machine features available on these machines can help you combat fatigue and increase operator productivity.
First, consider the machine controls. "Control lever movements are one of the primary causes of operator fatigue," says Nathan Ryan, product manager, skid-steer and compact track loaders, Wacker Neuson. "Range of motion and lever efforts contribute to fatigue. The further an operator must actuate a control lever and the resistance they feel when moving it can wear on an operator over the course of a full work day. This is part of the reason the industry has seen an overwhelming shift to joystick controls. Joystick controls have lower lever efforts and shorter throw."
Some manufacturers mount the joysticks to the operator seat to provide adjustment independent from the operator position. This allows the operator to set the joystick position that is most comfortable.
Electrohydraulic systems make the use of joystick controls possible. "Implementing an electrohydraulic (EH) system provides a more ergonomic environment, which ultimately reduces user discomfort," says Zupancic.
Good Visibility Reduces Strain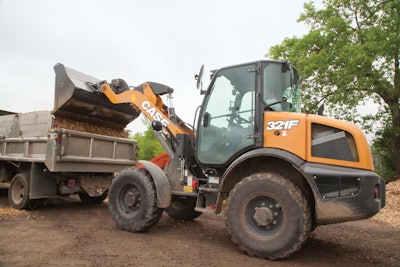 Poor visibility from the operators' perspective can also contribute to fatigue. "[At Case], we try to provide the best visibility possible — large windows with well-thought-out sightlines, mirror placement, cameras, etc. — so the operator doesn't have to strain to look around the jobsite," says Brenton.
"When an operator has to lean forward to see the cutting edge or strain to look over their shoulders to see to the side and rear, it stresses their back and neck," says Ryan. Features like large doors, large side windows and a rear hood that tapers quickly down can aide visibility. Cameras can also help with rear visibility.
"Deere spends a considerable amount of time improving cab visibility so the operator can perform with confidence on the jobsite," says Zupancic. "Our designs allow operators to see below the boom level to the ground level and above the machine — all from a 360˚ perspective. We use virtual reality technology to test visibility and customer experience to evaluate placements when designing our equipment. We also offer a rear view camera feature, which includes an in-cab monitor for operator efficiency.
"Operators of skid-steer loaders and compact track loaders spend nearly as much time working in reverse as they do moving forward, which can be fatiguing. We believe these features help mitigate those frustrations and increase productivity."
Big Space in a Small Package
Designing around the space limitations of compact equipment, manufacturers need to balance function and comfort. "The right balance of size and function needs to be taken into consideration when designing a cab," says Brenton. In some cases, due to the overall footprint of the machine, nothing can be done to make the cab larger or smaller, which leaves little left to change other than the design of the seat, controls and other features offered inside such as radio, backup camera and climate control just to name a few.
Compact machine design should account for larger operators. "Skid steers and compact track loaders are compact machines and therefore the operator's cabins tend to be compact," says Ryan. "Your average operator isn't a small person. If you assume they have size 11 feet, are wearing PPE boots and those boots probably have dirt or mud built up on them, the last thing you want is a small foot well, or a raised partition taking up most of the room in the foot well. Wacker Neuson actually designed a wide foot well with room that extends out below the door, allowing operators to stretch out their legs with comfort."
Lap bar design can also limit cab comfort. "Something I've seen a lot on jobsites is operators with a lap bar pressed up against their stomachs or resting partially on top of their stomach," notes Ryan. "You have a confined area and make it even smaller by having a mechanism that wraps around the operator.
"At Wacker Neuson we've done away with the lap bar for three reasons," says Ryan. "Lap bars take up room, provide less protection than safety belts (which are recommended by all manufacturers) and are static, so they don't move with all the different control options. It's a relatively new concept, but when users climb in our cab, one of their first comments is how much room they have, and part of that comes from foregoing the lap bar."
NVH Drives Design
Noise, vibration and harshness (NVH) have long been a major design criterion in automotive designs. Recently, NVH has been gaining traction in off-road equipment design.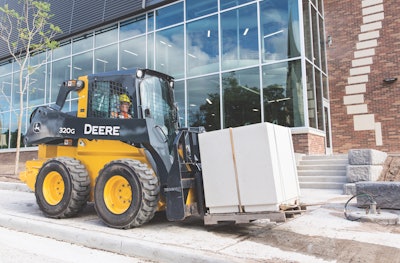 "Noise reduction is one of the most often requested areas of improvement when we survey the industry and remains an unmet need in the marketplace," says Zupancic. "At John Deere, we try to isolate the cab with isolators to reduce vibrations from the wheels and tracks. We measure and monitor static and full-dynamic operation noise levels to ensure the cab is sealed for noise reduction during use. We do this by designing our equipment with noise absorption materials placed in the hydraulic compartments. This technique significantly reduces noise levels for the operator."
"NVH is almost certainly the No. 1 contributor to operator fatigue, and the smaller the machine the more difficult the challenge of protecting the operator from it," adds Oliver Lythgoe, Perkins product concept manager. "There is a practical limit to how much sound-deadening insulation an OEM can incorporate into a small machine before it starts to negatively impact both function and cost."
This issue is not going away. "In fact, a growing number of government agencies are implementing NVH regulations," says Lythgoe. "Meeting the challenge will require innovation from all system and component suppliers.
"As an engine builder, Perkins responded with a commitment to reduce the noise of our newest engines by a full 3 dB, which is a 50% reduction," he points out. "The Perkins Synchro 2.8- and 3.6-liter engines incorporate features including quieter gears, materials with intrinsic sound-deadening characteristics and stiffening the structure of the engine block itself. We use sound-deadening composite materials for the oil sump and top cover, along with a stiffened block and gear train that is relocated from the front of the engine to the back to achieve significant noise reduction."
Vibration is a major component of NVH. "Vibration is a significant cause of operator fatigue that manufacturers are trying to address with today's designs," says Ryan. "Some of the recent improvements include operator cabins that are now mounted to the chassis using rubber isolation mounts and lift or tilt cylinders that are cushioned at the end of their stroke to eliminate the hard stop when cylinders bottom out."
There have also been hydraulic system improvements. "Today's electric hydraulic systems isolate the controls from the hydraulic system much better than past pilot control systems, which allowed vibration to resonate through the pilot lines."
There are also machine options, such as ride control, that reduce shock loads to the operator. "Ride control is an optional feature that reduces vibration induced by the load the machine is carrying," says Ryan. "Usually utilizing a hydraulic accumulator, these systems provide a cushion in the lift circuit when transporting loads. This provides a smoother ride for the operator and reduces spillage of the bucket's cargo."
There are many ways to isolate vibration. "Manufacturers often add sound-dampening mats or insulation to engine compartments or to the floor of the cab to reduce excess noise," says Brenton. "Rubber bushings and gaskets are also used to reduce vibration."
Not all machines have enclosed cabs, so it is important to also properly equip the operators with safety equipment to help combat noise. "When operating any piece of construction equipment, it's always good practice to wear the proper personal protective equipment (PPE) such as earplugs/muffs, especially when decibel levels are outside a safe range," says Brenton.
Comfort Features Help Operator Retention
There are certain features you should compare when shopping for a compact machine. These include an enclosed cab with HVAC and high-quality air ride seat.
"A fully enclosed cab will greatly reduce fatigue and offer a much more enjoyable operating experience, allowing operators to adjust the climate, listen to music, answer phone calls hands-free and look behind them easily with a camera," says Brenton. "Business owners and fleet managers should also consider other easy to adjust features such as the control pattern changer and hydraulic functions, especially if there are multiple operators using the same machine.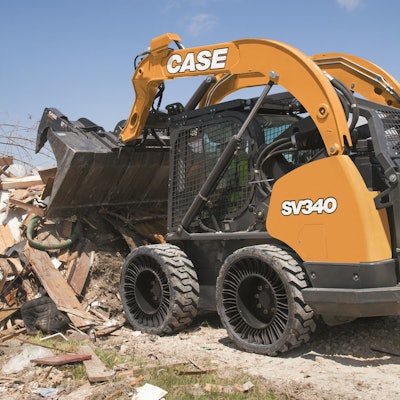 "The ability to customize control patterns and hydraulic response ensures that operators are getting the most out of a machine," he continues. "I would also consider purchasing a 1D or 2D grading system to eliminate the need to get out of the machine to keep checking grade while digging footings or other repetitive trenching tasks."
Modern lighting options can also lessen fatigue. "Enhanced lighting is a key element that can reduce operator fatigue during use," says Zupancic. "We offer an LED light package that amplifies lighting output to increase light projected both in front of and behind the machine."
Brenton explains that the temperature inside the cab of a compact machine can be a concern because the operator is often sitting right on top or in front of the hydraulic system and engine components.
"Air conditioning is a comfort feature that definitely varies from manufacturer to manufacturer," says Ryan. "Many factors impact the A/C performance." These include the cooling capacity of the A/C system, overall area of the windows, color of the cab and overall cab sealing to name a few. "If you have the opportunity to try the machines ahead of purchasing in warm weather, I would highly recommend putting the A/C system to the test."
Operators have come to expect effective HVAC systems, even on very small machines. "From an engine builders' perspective, that means we have to add A/C compressors and the associated plumbing to an already confined engine compartment," says Lythgoe. "Engine coolant also supplies the heat for HVAC and that has to be done without impacting thermal management of the engine.
"It's a more complex challenge than it might appear to be at first glance, and the smaller the machine the greater the challenge," he notes. "For our part of the solution, Perkins works closely with OEMs to integrate the HVAC circuits into the engine package as seamlessly as possible."
The comfort of the seat also makes a major difference in the fatigue the operator experiences. In addition to its HVAC system, John Deere offers heated seat options for cooler climates to improve operator comfort.
Additionally, air ride seats deserve close consideration when the operator will spend a lot of time in the cab. "Most manufacturers offer seat upgrades to both mechanical and air suspension seats, which provide another layer of protection from vibration of the machine and the rough terrain," says Ryan. Also consider seat/armrest travel. "Not all machines have equal seat and armrest adjustments. If you are comparing models and can't get 100% comfortable, make sure to ask the sales representative about any adjustments you might have missed as they vary widely throughout the industry."
Finally, don't forget the impact tires or tracks have on operator comfort. "For skid-steer loaders, air-filled tires can provide a smoother ride, while the more durable solid tires can provide a rougher ride," says Zupancic. "For compact track loaders, purchasing a track with a zig-zag or bar-style pattern can help reduce vibrations vs. the traditional block lug style."