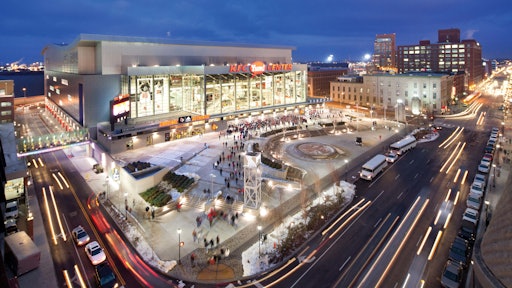 Photo provided by OPEI
Equip Expo and Hardscape North America (HNA) are now offering exhibit space in the West Wing of the Kentucky Exposition Center for the 2023 trade shows, which are co-located and set for Oct. 17-20 and Oct. 18-20, respectively.
"With every inch of space sold six months ahead of the show, we have companies waiting in line to exhibit," said Robert Thomas, president and CEO of the Concrete Masonry & Hardscapes Association, which produces HNA. "As our industry and the show continue to grow, our goal is to offer all companies an opportunity to have a presence. If you have products for hardscapers and landscapers, we want you to be here, where your buyers are, at the hardscape industry's largest event."
The West Wing is directly connected to the HNA exhibits by Freedom Hall, which is the location of popular features such as the co-located Equip Expo's Mutt Madness and in-tree arborist demos. Equip will also be expanding its exhibit space into the West Wing, along with other features, including the Drone Zone and lounge areas.
"Our usual footprint for indoor exhibit space is completely sold out," said Kris Kiser, president of the Outdoor Power Equipment Institute (OPEI), which owns and manages Equip Exposition. "And while the West Wing is different—it's been used for a wide range of purposes—it does allow existing exhibitors to showcase more of their products and in particular indoor demonstration areas. Taking space in the West Wing also allows new exhibitors to get into the show and 'get in line' for space that could become available in other areas of the KEC."
Last year, all available exhibitor spaces in the KEC and every inch of the available 30 acres in the Outdoor Demo Yard sold out; Expo expects the same situation for 2023.