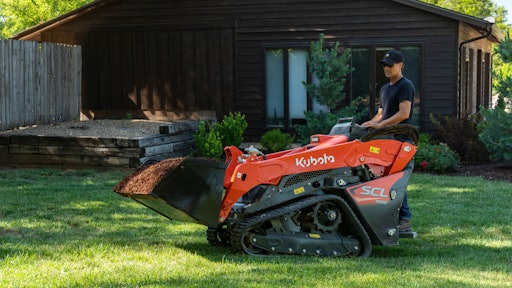 Kubota
Why are mini skid steers, compact tool carriers or compact utility loaders (CULs) so popular with landscapers?
Let us count the ways. The convenient dimensions of these machines, matched with their rugged yet reliable capabilities, make these units highly sought after in any environment. Their low ground pressure causes less damage to established turf, paving stones, and sidewalks. They are easy to operate and offer a 360-degree unobstructed view to the operator.
"CULs are incredibly versatile and can simplify landscaping and hardscaping tasks," says Kyle Cartwright, Toro marketing manager.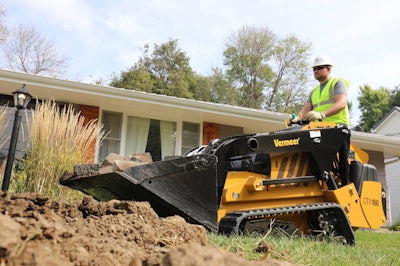 In short, the CUL or mini skid steer is the ultimate Swiss Army knife of landscaping machines.
"The mini skid steer's design allows it to be operated on jobsites where traditional loaders may not be able to access," says Bret Newendorp, Vermeer product content manager. Mini skid steers (CULs) fill that void by offering models that range from 500 to 3,000 pounds of lift capacity.
Among the significant differences between their larger CTL and skid steer cousins is the 360-degree viewpoint.
Most traditional skid steers or CTLs have a rearview camera to accommodate the reduced visibility created by the operator being enclosed in a cab. "They spend half their time going in reverse depending on the attachment, and the size of the jobsite," says Brant Kukuk. Ditch Witch compact equipment product manager. "A lot of guys I've talked to on jobs say they've got all kinds of obstacles, so seeing behind you is super critical."
Within a cab, he says it create more of an uncontrolled environment, where dogs might be running behind the machine and as well as potential lack of visibility of other obstacles.
"That's one of the benefits of stand-on skid steers is the ease at getting that full 360-degree view," Kukok says.
For many contractors, CULs occupy an important gap between manual hauling methods like wheelbarrows and equipment classes that include skid steers and compact track loaders.
"Using the right equipment brings efficiencies that can help reduce overall costs and complete jobs quicker," Cartwright says. The smaller CULs and mini skid steer machines have a quicker ROI and serve as an immediate labor savings in most cases.
"In today's world, it's really been a very tough labor market to find reliable workers who are going to stay for the long term," says Katie Redenius. Bobcat MTL & SAL product manager. "A lot of these individuals are turning to mechanical items that can help them get the work done faster and more efficiently. It's definitely a product that fills a space that we see now because of the labor constraints but also because of the space constraints that we see and how housing is being built."
While the CULs or mini skid steers will never likely replace their larger cousins, there is no doubt the line separating a CUL or mini skid steer loader from the standard skid steer loaders is blurring.
"In the last few years, manufacturers, including Vermeer have introduced models with higher lift capacities and auxiliary hydraulic flow for running attachments," Newendorp says "These advances help bridge the gap between the skid steer/compact track loader and the mini skid steer product categories"
Toro is often recognized for introducing this range of CULs to the market years ago today, contractors have multiple manufacturers to choose from with stand-on and walk-behind models and a full range of operating capacities. Among the largest is Ditch Witch's SK3000 with a staggering 3,000 lb. lift capacity.
New models are continually being brought to the market. For example, Kubota entered the CUL market in 2020 with the SCL 1000, featuring a 36-in. width and travel speed of 4.9 mph.
"Although compact in size, the SCL 1000 is no weakling," says Blane Burroughs, Kubota Construction Equipment product specialist.
Additionally, battery-powered, electric CULs with zero engine exhaust emissions, like the new Toro e-Dingo 500, are bringing the efficiencies and streamlining interior demolition, commercial flooring, landscape, and urban renovation jobs.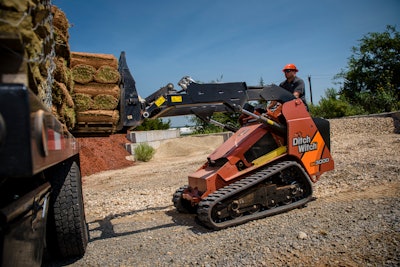 Rent or buy outright?
Most contractors will rent or demo a mini skid steer loader before they buy a unit outright to allow them an opportunity to determine the frequency of use and which model is the best match for their needs.
Newendorp says for contractors who only need a mini skid steer loader for the occasional project, renting may always be the better option. However, buying may be a better financial decision for contractors who depend on the equipment more frequently.
Many of the manufacturers say the CULs or mini skid steers are highly sought-after rental items. Up until recently, CULs or mini skid steers were considered a rental-heavy option for weekend warriors looking to revamp their backyard, or for use in niche applications like tree care or utility work.
This was in part because they simply couldn't deliver the power that skid steers or compact track loaders could. For example, Kukok says the smaller SK 600 and SK 800 machines were attractive to rental yards because the ROI is quicker with the lower price point.
"What becomes beneficial with these smaller machines is they're so simple, and they're so mechanical, that anybody on day one can jump on it and there's only a couple of levers that you can pull," he says. "That's attractive to first time guys that have never been on these machines."
Once they realize they keep those smaller machines so busy, they realize they can invest in a larger machine to open more revenue opportunities such as hauling larger boulders or even working in pool installation.
"It opens up a variety of opportunities," Kukok says. "What we're seeing in the market is that the industry is starting to want bigger machines."
Cartwright agrees.
"Now that CUL technology and performance has caught up with their bigger cousins, SSLs and CTLs, contractors are understanding that investing in a CUL does not necessarily mean sacrificing power or performance," he says. "With the rated operating capacities of the larger CULs on the market rivaling and, in some cases, surpassing the rated operating capacities of SSLs and CTLs, contractors are quickly realizing that they can enjoy all the benefits in terms of power that they would get from a skid steer coupled with the compact footprint, maximum visibility, simple accessibility and — in many cases — lower overall costs that CULs can offer." First-time buyers are common for the CUL/mini skid steers in the green industry.
"First-time buyers might not have the capital right away to put into the investment," Redenius says. "By renting, they're still able to get the job done."
The machines make for great rental opportunities due to their ease of use. However, like the decision whether even to pursue a purchase, the decision whether to buy or rent is not a simple one.
"Is your organization looking to make an investment and broaden its horizons, or do you need a machine to finish one odd job?" Burroughs says. "For those looking to expand their business a purchase of equipment may be the best route. It may also be beneficial to rent the unit of interest as a 'test drive' to see if it has the capabilities that you're looking for."
Even after a purchase of a base unit, he says slowly expanding the machines capabilities by renting and utilizing different attachments is a great way to expand into different markets.
For companies renting this type of machine frequently, it may be necessary to sit down at the end of the year and sum the total cost of rental for the year.
Due to the low cost of these units compared to standard CTL's or SSL's, Burroughs says it may be beneficial to pull the trigger and purchase a unit versus paying the premium of a rental.
"If renting a unit for the equivalent of a month, organizations may look back and realize that a percent of the machine could have been paid off in that same amount of time," he says.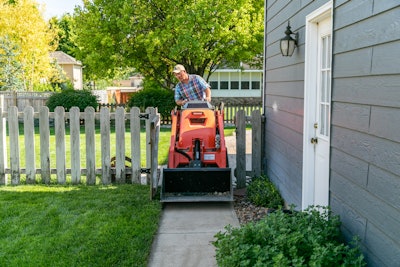 Factors to consider
Whether you are a weekend DIY'er or a seasoned contractor, picking the right compact utility loader is important. Simple, intuitive controls allow for getting right to work without needing to figure out the machine itself.
"I think the dealer should be asking the questions or the customer should be asking themselves the questions," Redenius says. "Contractors need to understand what they're trying to accomplish. "Evaluating some of those customer needs first; I think are really important."
Questions such as what will you be lifting? How high does load need to be lifted? Where will the work be done? are among those that need to be answered. "Often the mini loaders are going through gates that are 36 in. wide, so considering where the work will be done is important in choosing the right width of the machine," Redenius says.
It is imperative to be as transparent as possible about projects and applications you hope to use the CUL for.
"Let the staff know about what the intended task is and any other tasks you think the equipment may be able to help with," Cartwright says. "Communicate any site requirements and limitations. Ask questions and be open to suggestions. Rely on the expertise of the dealer about their equipment and best practices."
He notes that dealer staff will know the possibilities and limitations of the equipment to address questions on whether the machine will cut down on labor costs or enable you to finish jobs faster or perform all the necessary functions vital to your operation.
The contractor eventually should start with the inevitable "what size of machine should I purchase?" question. Burroughs says determining the size of machine boils down to the rated operating capacity, width, and weight. Today's CTLs and skid steers have a wide variety of lift capacities as do the mini skid steers and CULs. One of the largest mini skid steer units, the Ditch Witch SK 3000 has an operating capacity of 3,000 lbs.
Understanding your organizations needs is a critical part of the machine purchase process. Products in this segment can range from 500lb capacities to over 3000 lbs., so understanding your operations needs is an essential first step.
"Some customers utilize these types of products to replace a wheelbarrow and shovel, while others are heavily dependent on the machines hydraulic capabilities in order to power skid rakes, concrete breakers, or trenchers," Burroughs says. "No matter what side of the spectrum you are on, comparing machine features and specs is always a good place to start"
Larger, more powerful mini skid steer models are an excellent option for many landscape contractors. However, Newendorp says not all larger models have the same footprint. Some manufacturers expanded their machines' width to accommodate increasing lift capacities, limiting access on some jobsites, many of these units cannot fit through a standard residential gate
For example, he says when designing the CTX160 mini skid steer, Vermeer took a different approach. "This unit maintains a narrow profile while still being able to lift up to 1,600 lbs. by slightly extending the machine's length," Newendorp says. "The vertical lift CTX160 delivers 16.7 gallons per minute of auxiliary hydraulic flow moving heavy material and working ground-engaging attachments."
Besides determining what size, horsepower, and lift capacity they need, contractors should also consider who manufactures the machine and what type of dealer network do they have supporting them.
"There is a wide range of manufacturers in the mini skid steer loader space and choosing a quality-built machine supported by a responsive dealer network can make a big difference," Newendorp says. "Quality-built machines offer durability and can maintain a high resale value. Also, having a dealer network that responses to service needs quickly and can support that machine no matter where it is working is critical for optimizing productivity and getting projects done."
Due to the nature of their work, landscape contractors often work in/on finished landscapes and seek out machines with lighter footprints.
"OEM's measure this footprint with a spec called ground pressure," Burroughs says. "Ground pressure tells us how much stress we are putting on the terrain when traveling or sitting with the machine at a standstill. The higher the ground pressure the more disturbance or damage is caused to the terrain or turf."
As example, Kubota's SCL 1000 has a 4.0 PSI rating. "This low ground pressure coupled with the multi bar track design leads to minimal ground disturbance and damage on the job site," he says.
Other options manufacturers offer include radial/vertical lift paths, track or wheeled undercarriage and various platforms for the operators to ride on.
Newendorp says radial lift models are popular with contractors using their machines to handle logs and tree branches because they aren't typically loading material onto a trailer or into the back of a dump truck and instead hauling material to a brush chipper.
Similarly, hardscape contractors prefer vertical lift machines with higher lift capacities because they move a lot of concrete blocks.
"Auxiliary hydraulic flow is another essential factor to consider when choosing a mini skid steer loader model," Newendorp says. "Ground engaging attachments like a rotary broom, snow blower, Harley rake and tiller require higher hydraulic flow than standard attachments for optimal performance If a contractor plans to use these types of attachments regularly, they will want to choose a mini skid steer loader to handle the additional hydraulic requirements"
All those attachments
One of the hallmarks of the mini skid steer machines is their versatility.
"Equipping the CUL with the right attachments, takes it beyond just hauling from point A to B and can accomplish countless tasks quickly and efficiently, making it a popular choice for landscape contractors," Cartwright says.
For example, he says a Toro Dingo with the right attachments can replace a dedicated trencher, tiller, auger, and more. Altogether, Toro offers over 35 different Dingo attachments, including a standard bucket, narrow bucket, light materials bucket, adjustable forks, multi-purpose tool, hydraulic breaker, grapple, leveler, utility blade and an auger attachment just to name a few.
Buckets are by far the most universal attachment used by landscape contractors. They can be used for digging, moving loose material like rocks and mulch, grading, and leveling.
Manufacturers also say grapples and forks are widely used on mini skid steers for moving loose material like brush, landscaping rocks, and building supplies such as fencing, bricks or blocks around jobsites.
The units become across the spectrum of the green industry with trencher and vibratory plow attachments that are effective for irrigation installation.
Many utilize auger attachments for post installations or tree, shrub, and plant installations. Also, within the tree service area, stump grinder attachments are popular.
"With the wide variety of attachments currently there are a multitude of uses only limited by one's imagination," Burroughs says.
5 basic maintenance steps
"Regular preventative maintenance, routinely performing basic maintenance tasks on a mini skid steer, helps maintain peak performance," Newendorp says. "By following a set routine before and after every use and performing regularly scheduled maintenance, good habits can help to reduce the risk of equipment failure."
Machine maintenance is specific to each machine and can differ by each products' features and design.
"Be sure to work with your dealer in order to develop a comprehensive maintenance schedule and/or follow your OEMs guidance on scheduled maintenance," says Blane Burroughs, Product Specialist for Kubota Construction Equipment.
A general recommendation is for a daily inspection as part of a preventative maintenance plan, checking for small issues before they become larger ones.
"It is vital to perform routine maintenance after each use to ensure the continued performance and increased longevity of the equipment," says Kyle Cartwright, Toro marketing manager.
He suggests that before firing up a CUL or mini skid steer, contractors will want to follow this simple checklist before every use:
Perform a Thorough Visual Inspection: A contractor will want to inspect the entire machine for damage or wear. This includes a visual inspection of the tracks or wheels, fittings, body, controls, guards, and any attachments. Also, check the tire pressure or track tension. Inspect battery terminals for corrosion, and loose or chafing wires. When cleaning battery terminals, remove the negative terminal first and install last. Inspect and replace any belts that are cracked. Also take a good look at the fuel lines, and make sure that there are no leaks.
Check and Top Off Fluids: Make sure engine oil, gasoline (or diesel), battery water and hydraulic fluid are all at the correct levels. Top off the fluids, if necessary, and be careful not to overfill. If the hydraulic fluid is a milky color, that's an indicator that there is water in the system. This may not seem like a huge issue, but as the machine heats up, water in the system will turn into steam that can cause serious damage to the pump and wheel motors.
Keep Filters Clean: The air filter is made up of the canister, indicator, pre-filter, and main filter. Make sure to clean the canister prior to opening it to inspect or service the pre-filter or the main air filter. Some air filter systems are fitted with a service indicator mounted on the outside of the canister. The service indicator is the first indication of the air filter condition. If the filter is restricted, the inside indicator will block the clear viewing window. The air filter will need to be inspected and changed on a regular basis. Additionally, EPA standards have changed over the past few years, and many engine systems now have a component called a carbon canister, which collects fumes from the fuel systems. The carbon canister has a service life and needs to be replaced every 200 hours or sooner if the canister becomes restricted with dust, dirt or saturated with fuel.
Lubricate Properly and Tighten Connections: Grease all pivot points and tighten all nuts and bolts before heading out into the field. There are a lot of possible issues that can arise from loose parts. By doing a simple check with a wrench before using the compact tool carrier, it will reduce wear and extend the life of the machine's components.
Safety

Check

: Make sure the parking brake is engaged (if applicable), and that the traction control lever is returned to neutral. Also make sure that auxiliary hydraulics are disengaged, as many compact utility loaders or mini skids, including the Toro Dingo, will not be able to start with the auxiliary hydraulics engaged.
Preventive maintenance isn't a chore so much as an investment. A small amount of time spent caring for your CUL or mini skid steer will save you the significant lost time, money, and productivity of a major repair. You'll also save by getting more hours out of your equipment and needing to replace it less often.
Is it worth it?
Ultimately, Newendorp says contractors add equipment like a mini skid steer loader to help increase productivity and efficiency.
However, measuring the return-on-investment will look different from one company to the next.
He says for some companies, a landscape contractor will add a mini skid steer to replace manual labor, so ROI is measured by how much additional production they can achieve using that machine compared to what they did before. For others, they are adding additional units to take on more projects and grow their business.
Redenius estimates that a mini skid steer saves a contractor approximately 1.5 crew members, if not more.
A key in the ROI for the CUL or mini skid steer is the machine's versatility to combine multiple machines into one power unit.
Contractors need to consider which attachments they are going to purchase as part of their decision process in purchase of the machine itself. Adding three or four attachments to the initial investment increased ROI due to the ability to go and accomplish different types of jobs.
"Your biggest investment is machine and then fairly inexpensive investments are the attachments and then that opens up a wider range of jobs that they could go do and stay busy with," Kukuk says.
Burroughs notes that an increase in a machine's productivity can help recuperate the cost of the initial investment at a faster pace.
For example, he says the SCL1000 's travel speed is 4.9 mph both in forward and reverse. "This allows operators the ability to get jobs done faster, leading to more finished completed and paid for at the end of the day," he says.
Ensuring proper regular maintenance is also an important factor when considering the machines ROI.
"Staying connected with your local dealer and planning out your unit's service and maintenance schedule is critical to reducing the risk of downtime." Burroughs says. "As any owner or operator knows, the quickest way to lose your bottom line is having a unit down with costly repairs."