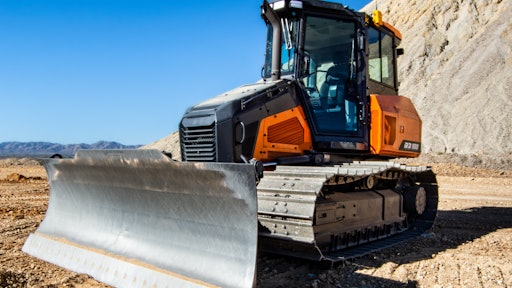 Doosan
Part of Doosan Infracore's strategy to become a top five global construction equipment provider by 2025 includes expanding its product line to become a one-stop shop for contactors. One of the product segments missing from the current product line was the crawler dozer – until now.
Doosan Infracore gave its dealers the first look at its prototype DD100 dozer this November at its Tucson, AZ facility. This is the first glimpse of a two-dozer lineup that will be coming to the market over the next two years. The 10-ton DD100 will be available in the third quarter of 2022, followed by a 13-ton machine in 2023. "It is something that dealers have asked for to help expand their business and help with the rental fleets," says Aaron Kleingartner, dealer and product marketing manager, Doosan Infracore America.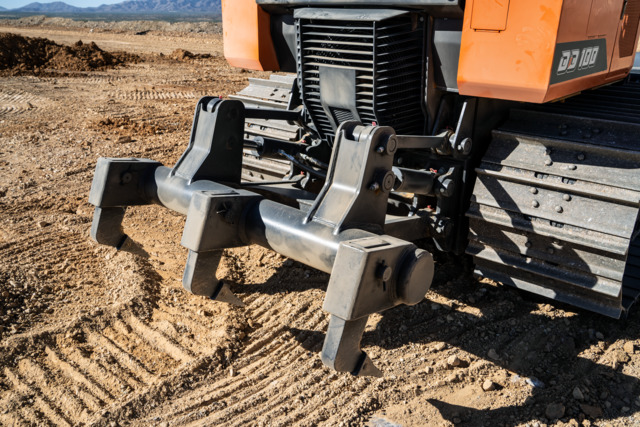 A parallel linkage rear ripper maintains the ripper shank angle of attack for easier operation.Doosan Infracore
Doosan takes aim at 10- to 13-ton dozer market
These models will target the under 140-hp segment of the crawler dozer market. "Our research has shown that there is about a $2.1 billion USD market for dozers in the U.S.," says Kleingartner. "About 45% of that comes from machines smaller than 140 hp. The two models that we will be introducing fall into that category."
Key targets have been set for performance. "We want to make sure we have low maintenance costs, superior power and traction, excellent visibility and then safe and easy operation," notes Kleingartner. "The visibility is excellent with these machines and the seat-integrated controls make it very easy for the operator to use the machine. Right out of the gate we are going to have the ability to have 3D machine guidance and control."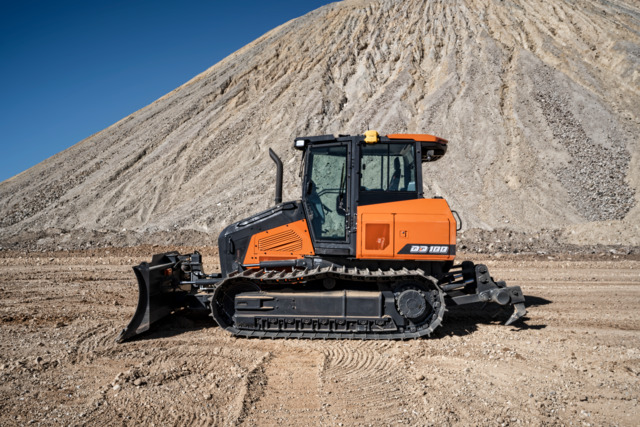 The steeply sloped hood with no obstructions provides an enhanced view of the blade.Doosan Infracore
Since the machine shown was a prototype, there may be changes prior to the production machines rolling off the line. But there where some key features worth noting, including the steeply sloped front hood, which should offer great visibility to the front six-way power tilt angle (PAT) blade; a parallel linkage rear ripper that maintains the ripper shank angle of attack for easier operation; and a Doosan-designed undercarriage system. The PAT blade will be available in two widths.
Unique features optimize performance
The DD100 prototype that was demonstrated came in at 25,000 lbs. It is a low ground pressure model. "The standard model will be 22,000 lbs.," says Mooyoung Park, engineer at Doosan Infracore. "Our machine is a little bit heavier than the competition and, being a heavier machine, you will have more tractive effort to accommodate the power."
The dozers will utilize a 122-hp Doosan engine. "It doesn't have a DPF, so it's much easier to maintain," says Park. "So, maintenance-wise, we are pretty confident that it is going to have an edge."
The dozers utilize electrohydraulic controls. This will allow users to customize the response rates. If the user wants to have finer control, it can be changed in a panel to a slower mode. This will allow inexperienced operators to make the machine easier to operate. In addition, the operator station includes an 8-in. Smart Touch display, giving operators complete control from an easy-to-read touchscreen.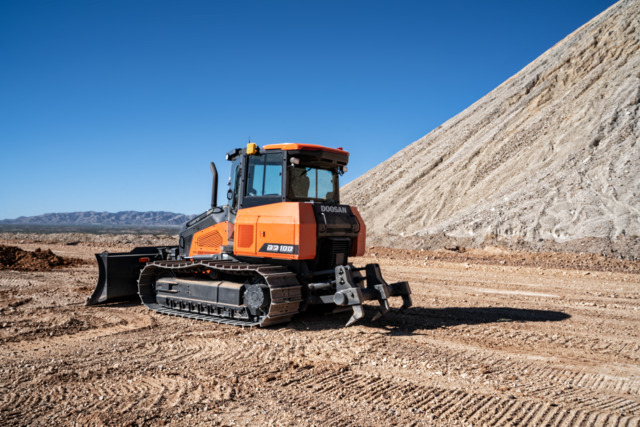 The Doosan designed undercarriage features a dual/single flange-type roller system with several track guard options.Doosan Infracore
There are no obstructions to block forward visibility. "Our dozer does not have a pre-cleaner on our hood," says Park. Instead, an inline pre-cleaner has been utilized that doesn't require real estate on the hood. In addition, the front pillars have been minimized to provide maximum glass area. For enhanced visibility, the dozer also includes a standard rear view camera, LED lights and rear and side wiper blades.
The undercarriage is critical to any crawler dozer as it has a major impact on the owning and operating costs. That's why Doosan decided to develop its own undercarriage system.
"Our focus was on low TCO for our customers, so it's going to be quite a competitive undercarriage," Park states. It features a dual/single flange-type roller system with several track guard options. "There are currently two undercarriages -- 510mm single grouser standard and 700mm single grouse low ground pressure." Other options, including triple grousers, are being considered.
The specs for the prototype DD100 dozer that we watched in action in Tucson are as follows:
100-hp Doosan engine with no DPF
25,309-lb. operating weight (low ground pressure model)
3-cu.-yd. blade capacity
8-ft. 10-in. blade width
22.5

°

blade angle
33,721-lbf. drawbar pull
7-ft. 7-in. track length
5.7-mph travel speed
These specs are subject to change prior to actual production.