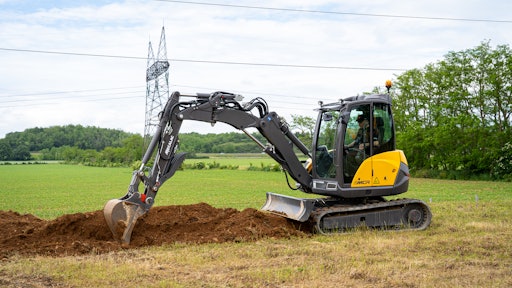 Mecalac
Wheeled excavators are beginning to be used more often in North America, especially by county road departments and municipalities.
They can be utilized for common applications like ditch work, landscaping, utilities and virtually any other type of job that excavators are suited for, according to John Waldron, product manager, wheeled excavators, Volvo Construction Equipment.
As their popularity continues to increase in North America, manufacturers have been focused on changing the conventional wisdom that compact wheeled excavators are often viewed as unstable.
"The excavators can still work on uneven ground, without any damage occurring to their undercarriages," says Geoffrey Andrews, manager of business development, Mecalac North America. "They're very stable during operation, too, including when they travel uphill with loads."
Compact wheeled excavators also feature increased safety features aside from a tight swing diameter and strength. The operator directly enters the cab from the side, and there's no need to climb over the attachment and turn around before the operator sits in the cab seat. Some compact wheeled excavators have a load sensing hydraulic system, which enables operators to fully utilize all available engine power. In turn, they're not only able to increase their responsiveness but their controllability as well, leading to high stability.
"Just because the excavators have wheels doesn't mean they have to be solely operated with a steering wheel," Waldron says. "After all, they feature Comfort Drive Control, which allows operators to control each of their excavators while using only the joystick, resulting in speeds as high as 12 mph."
Technology enhances manufacturers' tracked offerings
Regarding most tracks in construction equipment undercarriages, Andrews believes that North American operators tend to utilize extra wide integrators. Yet, in Holland, manufacturers create factory units on tracks, and the tracks can be bolted over a set of tires. Since the integrators that are developed overseas aren't extra wide as they are in North America, they offer higher speeds, often traveling up to 1.5 mph faster than standard North American offerings.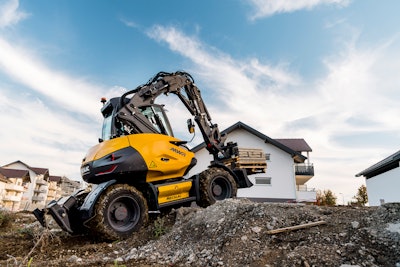 As more and more North American operators seek out tracks that can be used in tight areas, Andrews notices they want more versatility. They implement creative ways to utilize tracks in construction equipment undercarriages, leading manufacturers to determine various methods in which they can use one piece of track equipment in multiple ways. Some manufacturers provide track sets for wheeled units or enable operators to bolt a chain over their tires, resulting in the creation of a compact track loader (CTL).
Andrews stresses that at one point ,North American jobsites had a lot of room to utilize their large equipment. That is no longer the case now as contractors need to maintain smaller footprints. Some tracked models have optional rubber track shoes. Operators can use crawlers on surfaces like asphalt that they don't want to damage. The rubber track shoes are detachable and can be used whenever operators need traction as well. Using a pad comprised of a durable rubber blend and placed on a steel plate, the track shoes reduce noise and vibration.
"The replacement of single rubber pads is also an easy, cost-effective way to maintain an excavator's track system, which can be complicated and expensive to repair otherwise," says Sejong Ko, product manager, large excavators, Volvo Construction Equipment.
Which excavators are best to use—and when?
As operators consider the best times to utilize wheeled or tracked excavators, they will need to determine exactly which applications should be performed on the job and the intended usage of the equipment they will be using. Whenever operators use wheeled excavators, they'll likely save money and time on maintenance and upkeep. Wheeled excavators are lighter than tracked excavators, enabling them to be used more easily, especially when they're utilized in the proper conditions. At the same time, wheeled excavators are better equipped for long-distance travel and operators arrive at their desired locations more effectively.
A common misconception currently associated with wheeled excavators, according to Waldron, is that by using them, operators will lose the stability they have while operating crawlers. That is not the case, as wheeled excavators are not only as stable as crawlers, but they also ensure operators won't sacrifice breakout, tearout forces, digging depth, power or reach whenever they use them.
"By driving excavators to various segments on their road jobs, operators can save considerable time and money. In particular, by using wheeled excavators, operators will reduce their reliance on a lowboy and eliminate the extra equipment, labor and time they previously needed to load and unload machines," he says. "Wheeled excavators can also drive faster on roads than tracked models, cause less damage to driving surfaces and tow trailers with attachments or pipes, which decreases transport costs even further."
The cost savings of purchasing a wheeled excavator goes beyond the initial purchase of the machine and continues throughout the excavator's lifespan. This is because wheeled excavators can equal both increased labor productivity and cost savings. No commercial driver's license (CDL) is required for the wheeled excavator, meaning the same person who operates the machine can drive it. Compare that with a truck mounted excavator, which may need to be supported with both an operator and a driver with a CDL.
Wheeled excavators are especially critical for usage in tight spaces as short swing wheeled excavators can work in one lane of traffic, when compared to conventional swing excavators that often require two lanes. If operators work on multiple jobsites that are spread apart, they can utilize wheeled excavators for such distances as well. Operators are advised to use wheeled excavators that have two-piece articulating booms, enabling them to stretch farther, dig deeper and reach higher and closer to the excavators themselves.
"This can be especially beneficial in offering operators more flexibility to go up, around and under obstacles like bridges, guardrails and mailboxes," Waldron adds. "Additionally, a two-piece boom can provide operators extra lift capacity in tight quarters."
Although operators tend to utilize wheeled excavators in urban areas that have hard grounds and considerable distances for traveling while tracked excavators are favored for shorter travel distances and ground conditions like mud and uneven terrain, Andrews believes this consensus is changing, especially as more multifunctional wheeled and tracked excavators enter the market. The versatility of wheeled excavators and suggested future innovations that could reduce overinvestment in excess machines on jobsites save contractors time and money.
"A wheeled excavator can be the Swiss Army knife of a fleet and prevent contractors from investing in multiple machines because it can utilize the same attachments as crawler excavators," Waldron says. "Some original equipment manufacturers also have material handling options on wheeled excavators, which are in high demand and really maximize what the machine can do."
Preparing for the future with game-changing technology
As Andrews looks ahead to the coming months, he believes that operators will continue to desire more from their equipment and wheeled, and tracked excavator manufacturers will notice their new requirements and respond accordingly.
"Since wheeled excavators are designed for ease of use and versatility, the excavators are reducing the amount of equipment that operators need to use on their jobsites," Andrews says. "Whether operators are urban landscapes or ranchers that need to cover a lot of ground, these excavators are—and will continue to be—game-changing technology."
Top tips:
1. Understand the key differences in tracks versus tires.
"The first thing customers should know before deciding is to understand the role of tracks and tires in their application." — Jerry Corder, product manager, construction equipment,

Kubota Tractor Corp.

"Compact wheel loaders (CWLs) are dedicated lifting and loading machines, excelling in landscaping, nursery, residential, commercial and rental applications. They work best on solid, dry ground and move at higher travel speeds to reach more jobs in a day, making them a great choice for townships or municipalities and snow removal, to name a few examples." — Corder
"A sister machine to CWLs, compact track loaders (CTLs) are nimble, powerful and reliable, completing many different tasks on any jobsite. CTLs are excellent at dirt work, lifting heavy loads with pallet forks and running attachments, including brush cutters, grapples and stump grinders. Contrary to CWLs, CTLs excel on uneven, hilly terrain and are great in wet and muddy conditions." — Corder
2. Determine your biggest jobsite needs.
"Do your homework to understand the job application and what is needed to complete the job. If the customer understands their needs, there's a better chance the customer will make the right purchase. If traveling at higher speeds and getting to other jobsites without needing a truck or trailer is a priority, wheels on CWLs would be a good choice. If you are operating on turf or other softer terrain that can't take the abuse tracks would impose, then a wheeled CWL would be preferable. If you anticipate working on more off-road terrain and require more attachment capabilities, the tracks on the likes of a CTL will better suit your needs." — Corder
3. Make room for both tracks and tires in your lineup.
"Between the CWL's loading, dumping and lifting capabilities and the CTL's nimble maneuverability, there is certainly room for the two models to work collectively in a contractor's lineup. With comparable specifications and performance, if a customer purchases both and uses them in the proper applications, the business can be more profitable and have the ability to work in many different job applications." — Corder