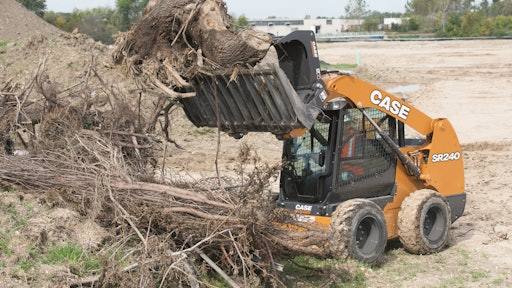 Case Construction Equipment
For landscapers, spring is a busy season filled with preparation and planning as it marks the beginning of the growing season and sets the tone for the rest of the year. That's why this is the perfect time to gear up with the right tools and equipment for your landscaping operation. Adding attachments to existing construction machines increases efficiency and productivity on the jobsite, saving time and money and achieving better results.
Construction attachments are a must-have tool that will enhance any landscaping operation or process by providing versatility and power to transform jobsites. These tools enable landscapers to work smarter, not harder, completing tasks in less time and with fewer crew members.
Gearing up to maximize efficiency on the jobsite
There is an attachment for any job, from versatile multiuse attachments to very specialized ones for specific applications. These attachments are compatible with a variety of construction equipment, including skid steers, mini track loaders (MTL), small articulated loaders (SAL) and compact tract loaders. By using attachments, landscapers can tackle multiple tasks with a single piece of equipment, saving them time and money. Here are several of the most useful attachments for springtime tasks ranging from general land clearing to planting:
Buckets: Buckets are one of the most versatile attachments for landscaping, making them a valuable addition to any landscaper toolkit. From spreading soil and mulch to carrying debris and rocks, buckets come in a variety of styles and sizes, allowing for customization of different jobs.
Pallet forks: Pallet forks can be used for moving anything from pallets of sod to pallets of brick. With pallet forks, landscapers can easily load or unload heavy materials from trucks and trailers, reducing the risk of injury. They can also be used to stack materials, making it easier to organize the jobsite.
Soil conditioners: Soil conditioners are designed to break up hard ground and incorporate organic material into the soil to get it ready for grass seeding or laying sod. Landscapers can improve soil structure and nutrient absorption, preparing the soil for plants to grow.
Grapples: Grapples are typically designed with a set of heavy-duty jaws that can grip and hold onto objects, allowing landscapers to transport and position materials with precision. There are a variety of grapple styles designed to tackle any job, including rock grapple, root grapple, brush grapple, tree grapple, grapple bucket and others.
Trenchers and augers: Trenchers and augers can be used to dig trenches and holes quickly and effectively. Trenchers are ideal for installing irrigation systems, drainage pipes, or underground electrical, and augers are adaptable to dig holes for fence posts, deck/foundation footings, shrubs, bushes, trees, etc.
Other attachments for specialized tasks include stump grinders, tree spades, landscaping rakes, brush cutters, post drivers, mulchers and so on.
Selecting the right attachments
When it comes to getting ready for landscaping, having the right tools makes all the difference. By selecting the right attachments, landscapers can achieve better results with less physical strain and in less time.
Here are some factors to consider when choosing attachments for your landscaping operation:
1. Type of work: The first step is to determine the type of work the attachment will be used for. Different attachments are designed for specific tasks, so it is critical to choose attachments suitable for the job at hand and your landscaping requirements.
2. Compatibility: Choose an attachment model that is compatible with your machine in terms of hydraulic flow rating, weight and width. It's essential to select an attachment that is properly suited for the fit and function of the equipment to ensure optimal performance and reduce damage to the machine and attachment.
3. Quality: Selecting certified OEM attachments increases durability and performance. These high-quality attachments are designed and engineered to work properly with your equipment and withstand heavy-duty conditions.
4. Support: The service and support that comes with attachments for spare parts and customer service is valuable. OEM attachments provide the support you require to keep your equipment in top condition. Other important considerations include reliability of the manufacturer or supplier as well as available warranty or support options. Attachment best practices
To get the most out of your attachments, it's critical to use them correctly and safely. Here are some best practices to keep in mind when working with attachments:
1. Have the right mix of attachments: With a variety of attachments, landscapers can win more bids and tackle more projects. Having multiple attachments gives you flexibility when jobs present themselves.
2. Utilize attachments for their intended purpose: For optimal functionality, do not try to use an attachment for something it wasn't built for. When using attachments, make sure you use the right tool for the job to avoid equipment damage, injuries and decreased efficiency.
3. Perform proper maintenance: Regular maintenance is essential for extending the life of your attachments, whether they have hydraulic systems or not. Cleaning, lubricating and inspecting attachments before and after use, as well as replacing any worn or damaged parts, are all part of proper maintenance.
4. Safe operation: When operating the equipment, awareness of your surroundings is key to avoiding injury to people or damage to objects or the machine. Make sure to wear proper personal protective equipment on the jobsite to help everyone leave the jobsite safe and healthy.
Whether you are moving dirt and stone, clearing debris, digging holes, leveling the soil or removing trees, there are attachments available to suit all of your landscaping needs. When using attachments, landscapers can complete more tasks in a fraction of the time it would take using traditional methods. These adaptable tools aid in increasing efficiency and productivity, achieving better results, reducing labor intensity and lowering operational costs. If you plan on tackling more landscaping projects this season, improve your operation by investing in high-quality OEM attachments designed to help you get the job done with ease. Visit your local OEM dealership to learn about the right landscaping attachments to upgrade your productivity and efficiency this season.