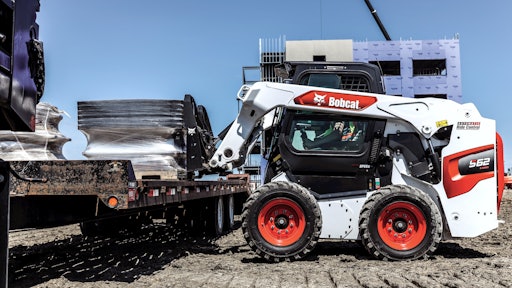 Bobcat Company
In today's highly competitive world, perhaps no piece of equipment provides more versatility or jobsite solutions than the skid-steer loader. With the vast enhancements both in functionality and creature comforts, the modern skid steer has become both a necessity and staple in myriad applications from construction and demolition, to agriculture and hobby farms.
The modern day jobsite demands call for more compact, more powerful and more versatile solutions to complete projects with maximum efficiency. Whether a job requires tires or tracks, skid steers are available in many sizes and configurations to handle most any jobsite requirements, including demolition, grading applications, general earthmoving and material handling.
The explosion of the skid-steer market over the last two decades has led to much innovation in design, lifting capacity, hydraulics and electronics. Perhaps nowhere has this innovation been more prevalent, than in the area of skid-steer attachments. The compact nature of skid steers combined with the multitude of attachment options make them essential for extreme maneuverability, labor cost savings and safe jobsite solutions.
Variety of Solutions Available
Few types of equipment represent more opportunity for increased jobsite productivity and safety than skid-steer attachments. They provide a broad range of solutions across a broad range of work environments. While owning a skid steer is considered essential to many, equipment rental companies provide a great opportunity to utilize the many attachment options for specific tasks, without the need to invest in so many of the task specific attachments that make jobs go smoothly.
There are many attachments available beyond the standard smooth-edged bucket that can dramatically reduce labor costs for a project.
Pallet Forks: A staple for any skid steer, pallet forks make material handling across tricky jobsite terrain easy, with many skid steers having lifting capacity near 2,000 lbs. or more.
Hydraulic Augers: Whether drilling one hole or dozens, 6-in. holes or holes up to 42 in., the skid steer auger allows the operator to quickly open up holes in the ground with plumb-line accuracy for footings, fences, planting or setting sonotubes.
Hydraulic Breakers: Breakers allow the operator to perform large demolition tasks safely from inside the cab. These attachments are capable of breaking up concrete slabs up to 18 in. thick that would otherwise require a substantial amount of manual labor with pneumatic hand tools to complete.
Grapple Buckets: These attachments are available in configurations to both enhance demolition work and quickly move piles of brush and landscaping debris. They allow for large piles of small debris to be grabbed by the operator and relocated or disposed of with relative ease, as they are able to clamp down with hydraulic pressure and hold the loose pieces securely.
Broom and Sweeper Attachments: These attachments offer the user the ability to clean up large areas of flat concrete or asphalt in a short amount of time. Offered in both open and closed configurations, they allow constructions debris and dirt to be either swept into a windrow or into a bucket that can then be easily emptied into a dumpster.
Landscape Rakes: A landscaper's best friend, the versatility of a landscape rake enables them to be used to level, rake, remove debris, pulverize, prepare seed beds, dethatch, remove old lawns, prepare new lawns and restore the ground after demolition.
Trencher Attachments: These attachments offer a great alternative to walk-behind and ride-on trenchers for opening larger tracts of ground. They can be configured with bars from 4- to 6-in. depths and widths between 4 to 12 in. Replacing the trencher with a bucket afterwards makes quick work of backfilling the trench.
Planer Attachments: Designed to cut and mill both concrete and asphalt in controlled increments, these units allow the depth, width and slope to be easily set and maintained by the operator to mate uneven surfaces. They can also address cleanup work from larger milling machines, cut drainage in parking lots and taper edges on a roadway.
Dozer Blades: Dozer blades for skid steers provide a fantastic alternative for leveling, grading and pushing dirt in spatially challenged areas where bringing in a dedicated bulldozer is not an option. With the ability to utilize the same six-way style blade as a dozer, these attachments enable the operator to achieve the same results as much larger equipment within a small space.
Snow Removal Attachments: These attachments give business owners a great way to utilize their equipment in areas where earthmoving is not typically done in the winter months. Snow blower attachments, hydraulically controlled plow blades or manual snow pushers in lengths from 6 to 12 ft. provide options for any snow removal need, as well as an opportunity to put a machine to work for the business in the off season.
Hydraulic Brush Cutters: These attachments are a great option to mow down high fields, cut trails and prepare new fields for tilling. Ranging in size up to 72 in., the power provided by hydraulics on these machines allows them to quickly mow down areas of grass, weeds and even small brush.
Forestry Mulchers: Ideal for land clearing, breaking trails, leveling building sites and clearing storm damage, these powerful machines convert trees and underbrush from overgrowth to mulch from the comfort of the skid-steer cab.
Demand for compact equipment like skid steers and the many attachments available for them will continue to grow. Though only a few are highlighted here, there are many more attachments that can be utilized. Knowing what options are available to turn a skid steer into a multifaceted jobsite problem solver is essential to maximize time, worker's safety, and inevitably, the bottom line.
Daniel Dahlstrom has been with United Rentals for over 20 years, currently supporting the Advanced Solutions group.