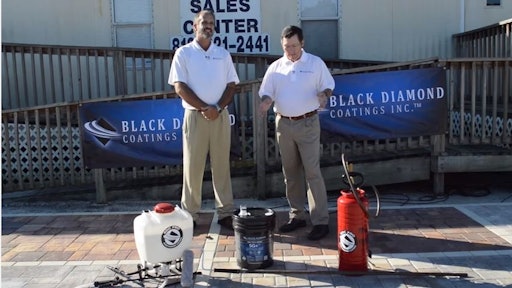 Black Diamond Coatings, a Tampa-based company, released its latest video showcasing the proper application of its hardscape sealers discussing how easy it is apply a sealer to pavers and the benefits that come with it.
In the video, David Warren, president of Black Diamond Coatings, and host Fred Henry discuss some of the benefits of the bio-based, environmentally-friendly sealers while demonstrating how easy the products are to apply to masonry pavers. The video features the company's SG+ product, its most popular sealer, which incorporates a glossy look that draws out the natural color of the pavers while protecting the pavers from the environment.
"You can apply our sealers all in one day so if you're a homeowner you can get on with your day or if you're a contractor you can move on to the next job and schedule multiple jobs in a day," says Warren in the video. "It's as simple as that."
The four-minute video adds to a growing amount of new content Black Diamond Coatings is making available through its website and YouTube channel. Black Diamond Coatings says that the videos and articles intend to offer contractors and homeowners a better understanding on how to use the hardscape sealers the company offers while also highlighting other noteworthy educational tips across the growing hardscape industry.
Black Diamond Coatings created the content as direct result of contractor feedback requesting additional educational information regarding proper sealing techniques, joint stabilization strategies and other pressing topics within the hardscape industry. Black Diamond Coatings, led by Warren, who was a contractor facing these same needs prior to manufacturing the easy-to-use sealer, has committed efforts to pass on the team's expertise to meet contractors and DIY homeowners continuing needs for up-to-date educational material.
"I've been a part of this industry for more than a decade and you'll be hard pressed to find any team that is as knowledgeable about the hardscape industry as we are," said Warren. "We want to pass that information on to both our homeowners and contractors to ensure them there's no one better prepared to help them with a project than Black Diamond Coatings."
Watch the video here: https://www.youtube.com/watch?v=eFAUMQPziaI