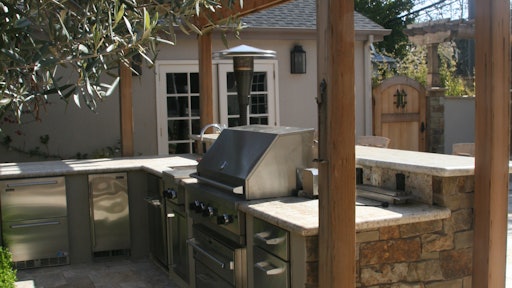 The research is clear: Today's consumers are really liking their hardscapes. Joe Raboine, director of Belgard Design Studio, walks us through some more detailed trends—and installation challenges—with respect to five common hardscape features.
Patios
There has been an increase in the number of multi-level patios, which add dimension and efficiently separate the living spaces. But they also create some installation challenges.
First, make sure to account for consistent height transitions between levels. Different step heights cause potential trip hazards and represent a code violation. Second, make sure the wall and step riser materials are sized adequately to retain each level, and are also buried properly. Thirdly, make sure that each level is properly compacted. The number one failure on multi-level patios is lack of proper compaction.
Walkways
Don't be afraid to pull a walkway away from the house so it flows more naturally. A walkway is often tightly laid up against a garage. As one turns the corner toward the front door, it's difficult to see the overall facade of the house. Pulling it away in a broad arc, at least 10 to 15 feet from the house, is much more welcoming.
While you're at it, take the opportunity to add a walkway from the road or public walk as well. The best front walkways connect both the street and driveway.
Lastly, once you approach the front door, make sure the walkway is large enough to accommodate large groups. You could then add a couple of benches or chairs to help welcome visitors.
Fire Features
Fire pits have evolved from the stone boulder rings of the past to elaborate, raised features that can burn wood or gas. Don't think they are limited to just squares and circles either. Don't be afraid to experiment with rectangular linear shapes, ellipses or hexagons. Creating unique fire pits can set you apart from other contractors.
Take the opportunity to add built-in seating that mirrors the shape of the fire pit. It can be linear or curved, and seatbacks are optional. Just be sure that seating is close enough to keep the guests warm. Also, consider adding cushions.
Lastly, be sure to check with local codes for required setbacks. Gas pits typically can be placed closer than wood. Wood pits sometimes require screens if placed near structures.
As a visual anchor, outdoor fireplaces can be used to help "draw" the guests from inside the house. That said, be sure to place them so they can be enjoyed from inside the house as well.
As with fire pits, consider how furniture will be placed. Also, make sure to follow the local codes and setbacks. When setbacks are an issue, typically natural gas can be used in tight spaces.
Outdoor Kitchens
No longer are clients looking for just an outdoor grill. They are adding brick ovens, refrigerators, Big Green Eggs and more. With these more elaborate kitchens, however, come a host of challenges. Will there be water? If so, will it be hot and cold? Where will the sink drain be? Will there be gas? Is it natural gas or LP? What electrical is needed? Is there a rotisserie, lighting or music? What type of material will be used to construct the kitchen itself? What type of countertop will be used? All of these questions must be considered when tackling an outdoor kitchen project.
Ask your hardscapes suppliers if they can offer solutions. For instance, in addition to its standard free-standing grill islands in its Bristol and Bordeaux Collections, Belgard offers semi-custom kitchens in its Element Series. Typically these modular units are built to order, so contractors should allow for six- to eight-week lead times.
Retaining Walls
The trend in segmental retaining walls is definitely leaning to more natural-looking products. In response to this trend, Belgard has launched a product called Tandem Wall. It features a natural dressed stone face and is available in most markets in a multi-piece Ashlar pattern as well as a singular solid texture.
In addition to having a unique natural look, Tandem Wall itself is a revolutionary wall product. It's made on a paver machine, so it has exceptional height tolerance as well as outstanding strength. Because of these factors, it installs easily and will withstand the pressures of northern freeze/thaw cycles and salt better than some competitive products.
Tandem Wall also features a unique connection system. Rather than the typical heavy SRW, it has two "face blocks" that are connected together with a high-strength polymer plastic. The core is then filled with clear angular stone. This system is unprecedented and allows for fast installations, a natural appearance, and long-term durability.
In addition to these features, Tandem Wall also integrates with the Tandem Grid system mentioned in the kitchen section above.
Lastly, for larger-scale projects, Belgard offers Mega Tandem. It's the same concept, but on a much larger scale. With Mega Tandem, it's possible to get a very natural look on a large-scale project, and can be built as a gravity wall up to 10 feet high for certain applications.