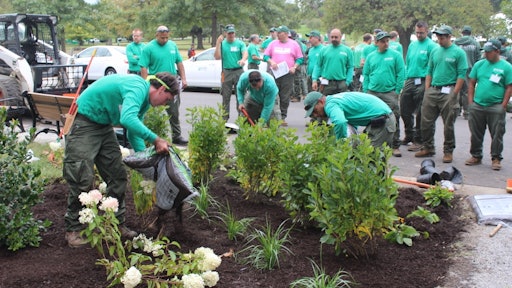 Roughly 500 of Ruppert Landscape's employees provided nearly $180,000 worth of landscape renovations to Baltimore's Carroll Park back in October. It's just another example of the many great things landscape companies of all shapes and sizes do for their communities all across the country.
The project included demolition, excavation and grading work along with the installation of pavers, sod, perennials, grasses, groundcover, shrubs and trees. In total, over 5,000 manhours were donated to bring this project to fruition.  
Located in Southwest Baltimore, Carroll Park is 117 acres and was originally part of the Mount Clare estate of Charles Carroll, Barrister, one of the original signers of The Declaration of Independence. Today, Carroll Park boasts an assortment of athletic fields, basketball courts, a neighborhood playground, a field house, a skateboard and bike facility, as well as a nine-hole golf course. The park also includes the original Mount Clare mansion, one of the two existing Federal-style mansions in Baltimore City.
"Carroll Park is at the heart of the Pigtown community and a Baltimore treasure," said Ernest Burkeen, director of the Baltimore City Recreation and Parks Department. "The renovations performed by Ruppert Landscape help us advance the park's five-year master plan and gives a much-needed facelift to the park, which is a hub for community recreation of all types from flag football leagues to concerts."
This landscape installation and park renovation is part of an ongoing commitment to the Southwest Baltimore community known as Pigtown, which is home to one of Ruppert's 16 branch offices. "When we began looking at potential sites, we wanted to pick a park where the need was great and where the community benefit would be great," said Craig Ruppert, Ruppert Landscape CEO. "With so many acres in the park for the city to maintain, there were a number of areas where we thought we could lend additional manpower to help fine-tune the park's 117 acres. We are happy to using our landscaping skills to benefit such a deserving community."
The cooperation between several entities including Ruppert Landscape, Baltimore City Recreation and Parks (BCRP) and Pigtown Main Street has helped bring this park renovation to fruition in just 90 days' time. "From our very first encounter, the interest and responsiveness from all parties was overwhelmingly positive," said (Craig) Ruppert. "The assistance and collaboration between so many—from city government to Pigtown vendors—really helped make this day a success."
"We are incredibly grateful to Ruppert Landscape for their generosity in supporting the Pigtown community," said Ben Hyman, executive director of Pigtown Main Street. "For nearly two years, Ruppert Landscape has donated flowers, trees and regular maintenance to Pigtown, to support our efforts to beautify our neighborhood. As a result of their commitment and other efforts, we've opened eight new businesses, created dozens of jobs and invested hundreds of thousands in our community in the past 12 months.  Ruppert Landscape has been 'whole hog' behind our efforts and we couldn't be more proud."
Pigtown Main Street is a 501(c)(3) not-for-profit organization dedicated to the commercial revitalization of the Washington Boulevard commercial corridor.  Founded in 2000, the organization is an original member of Baltimore Main Streets (a program of the Baltimore Development Corporation) and is an accredited National Main Streets member organization. Pigtown Main Street hosts several major community events, including the 13th Annual Pigtown Festival on Saturday, October 11.  Visit us at www.pigtownmainstreet.org.
Baltimore City Recreation and Parks is the leading provider of affordable, year-round leisure and recreational activities for citizens of all ages and abilities. BCRP is the steward of more than 5,700 acres of parkland, over 125,000 street and park trees and 22 miles of biking and hiking trails. In addition to maintaining these public areas and green space, BCRP provides facilities, some of which include a nature center, conservatory, recreation center, a skating park, as well as special programs.
Ruppert Landscape, a family and employee owned business, provides commercial landscape construction and management and operates from 16 branch offices in seven markets between Philadelphia and Atlanta. The company has a long-standing tradition of giving back to the community. Visit www.ruppertlandscape.com.