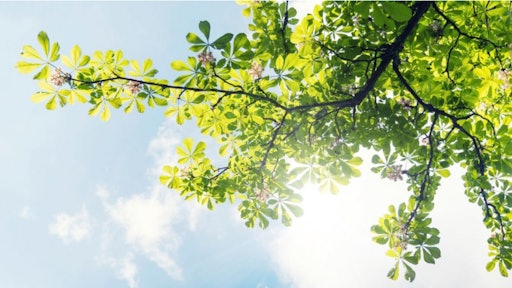 Most people enjoy the peace and beauty of being in a natural setting. It can bring them mental clarity, inspiration and a much-needed breath of fresh air. However, new research is showing that interacting with green spaces like forests, gardens or parks can bring more than just relaxation; it can have real quantifiable health benefits.
The Arbor Day Foundation recently launched a new Tree Campus Healthcare program to raise awareness of the benefits that trees can have on human health and to recognize healthcare facilities that are committed to improving the tree canopy and overall wellness of their residents.
"Healthy trees generate so many benefits for both healthcare campuses and the communities they serve," said Sandra Reid, vice president of corporate communications and strategic planning administration at The Davey Tree Expert Co. "Davey Tree understands this and so do our clients. We support Tree Campus Healthcare because we want trees and natural landscapes to reach their maximum potential so we can all feel the impacts of those benefits."
Research shows that interaction with green spaces can improve respiratory health, aid in stress recovery and boost your immune system. Trees also play an important role in lowering urban temperatures and can provide cooler, cleaner air.
Arbor Day Foundation President Dam Lambe discussed the requirements to join the Tree Campus Healthcare program with Green Industry Pros editor Ryan Whisner in a podcast for Grass Roots.
The five standards
The goal of the program is to shine a light on healthcare facilities that are actively trying to advance human health and wellness through trees. These institutions need to be willing to commit to tree planting, education efforts and fostering community engagement.
Specifically, they need to meet five of the program's standards:
They need to have an advisory committee or a mission focused team
They need to have a facility tree care plan for the trees they will plant on their campus
Lead one or more community forestry project during the year
Sponsor at least one celebration event or campaign that highlights health benefits from trees
The need to provide a financial investment into the planning, projects, events and community outreach
"There are many different ways that hospitals will be able to meet these standards. But they are core, entry level standards that help to encourage better management of trees in our cities and demonstrate leadership from the healthcare community," said Lambe.
 Partners in the program
To make the program possible, Arbor Day Foundation has partnered with Practice Green Health, a sustainability leader in the healthcare industry. They have also partnered with the Professional Grounds Management Society and Davey Tree, a tree care company. The healthcare recognition program connects healthcare facilities of all sizes to these resources as well as local community forestry agencies to improve the condition of community forests and their patients' well-being.
"We are seeing the healthcare community recognize that connecting with nature, specifically trees, is a real boost to calming, engaging and reconnecting with their own healthy behavior," Lambe said.
This is the first year that the program is accepting applications. Healthcare facilities can apply online on the Arbor Day Foundation website.
Lambe expects the initiative to grow with time, but for now he encourages everyone to go out and plant a tree.
"The best time to plant a tree is today," he says.