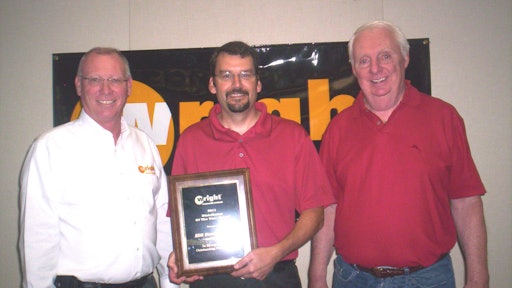 Wright Manufacturing has named EDM Distributors as its 2011 Distributor of the Year. This is the second year in a row that Wright has honored the Suffield, CT, firm with its Distributor of the Year Award.
EDM distributes Wright commercial lawnmowers, as well as Wright's line of Velke sulkies and Grass Gobbler heavy-duty grass catchers, in New England and upstate New York.
EDM led the country in percentage of increased sales, new dealer development and overall parts and service satisfaction rating.
Joe McLean, EDM vice president, says, "We are delighted to have won the Wright Manufacturing Distributor of the Year award for the second year in a row. Wright Manufacturing is an excellent partner and this honor very much appreciated. This award is a reflection of the dedication and superb efforts of our entire staff, as well as all of our Wright dealers."
Hal White, Wright vice president of sales and marketing, says, "EDM's commitment to excellence is what makes the company such a great partner and one of Wright Manufacturing's premier distributors."
EDM began distributing Wright Velke sulkies and Grass Gobbler grass catchers in the fall of 1992, and is today one of the largest distributors of Wright's accessory line. The company took on the lawnmower line in the fall of 1999.