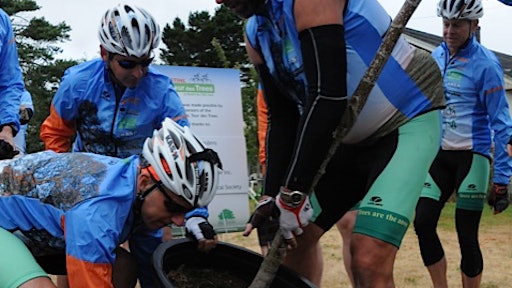 America's largest fundraiser for tree research, the Stihl Tour des Trees to benefit the Tree Research and Education Endowment Fund (TREE Fund), has opened registration for its 2013 Tour, which will travel through the U.S. and Canada July 28 to August 3, 2013. The weeklong event will include tree plantings, educational programs, community engagement activities, cycling and camaraderie. (Stihl Renews Tour des Trees Sponsorship)
The Stihl Tour des Trees unites tree and cycling enthusiasts to raise funds for tree research and education while cycling 500 miles, educating the public about the needs of urban trees and planting dozens more along the way. Cyclists will travel a 500-plus mile route originating in Niagara Falls, circling Lake Ontario through upstate New York and arriving in Toronto a week later. The cyclists will stop in Rochester, Syracuse and Watertown in New York, then head westward through Ontario via scenic Prince Edward County, Trenton and Oshawa to their final destination at Toronto Island.
Each cyclist on the full Tour commits to raising $3,500 for the TREE Fund. The $100 registration fee includes lodging and meals as well as a custom apparel kit and full mechanical and rider support for the entire week. A partial-tour registration option with a prorated fundraising requirement is also available. More information about registration is at www.stihltourdestrees.org.
Since 1992, the Tour has raised more than $5.6 million for tree research and education programs. The TREE Fund has funded more than 400 research grants focused on arboriculture and urban forestry and the safety of the tree care workforce since 1976; the organization also awards scholarships to college students each year.