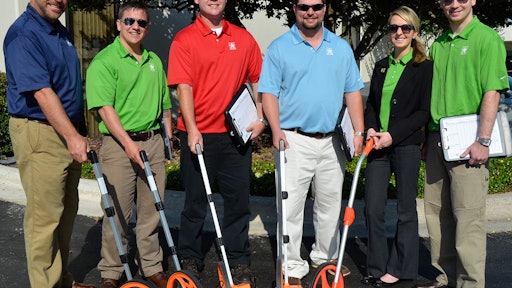 Ken Hutcheson, president of U.S. Lawns, says that three of the five new U.S. Lawns franchisees who recently attended training were military veterans. "We are always honored to welcome more military veterans to our family," Hutcheson says.
The three American Heroes recently attending U.S. Lawns training were:
Brock Howland U.S. Lawns - Kalamazoo, MI
"I like the thought of working with other businesses in my community," said Brock. "I like the U.S. Lawns network of support and its veteran outreach. I also like that they offer a clear path and a system to follow. Going from the military to a franchise just makes sense. The military relies on systems and procedures for everything. The military wants you to succeed, and like a franchise, it's structured for success. I know I will be a success."
Ronnie Chistopher, U.S. Lawns - Warner Robins, GA
Asked how the military prepared him for ownership, Ronnie responded, "Military is structured. It has rules, systems and procedures. It pushes you to continually do the right thing. If you help people get what they want, you can get what you want. I want to grow my business and teach my employees how to become successful in their careers. That's what I did in the military (teach others), and that's what I will do in my own business."
Jarrad & Jasmina Boever, U.S. Lawns -  Des Moines, IA
"I have always enjoyed working outside and have also wanted to be a business owner, so I decided to start a business I would enjoy," said Jarrad. "I chose U.S. Lawns because of the great things we read about U.S. Lawns and its reputation. We wanted to be a part of something greater."
Ken Hutcheson added, "We offer special assistance for vets and are proud to be ranked in the 50 Top Franchises for Veterans. We are a vet-friendly franchise. We believe vets deserve something in return for their commitment to our country. There is a good fit between the military structure and a franchise environment. The franchising model offers vets a perfect transition from military to civilian life and provides them with a strong, independent future. U.S. Lawns provides franchisees with systems and ongoing support that help them achieve success more quickly than they may have experienced on their own."