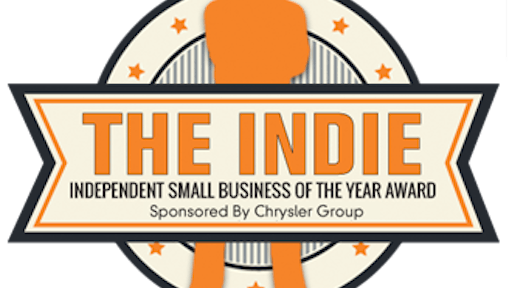 The national small business movement Independent We Stand is now accepting nominations of businesses of all types for the 2013 Independent We Stand Small Business of the Year Award, sponsored by Chrysler Group. Nominating a local business for this year's "Indie" by providing a reason that an independent business makes a difference in the local community or why their services deserve recognition. Nominations are accepted at www.IndieBizAward.com now until October 27.
The "Indie" winner will receive prizes with a combined value of more than $15,000, including:
$5,000 American Express gift card from Chrysler Group
$1,000 Stihl equipment certificate redeemable at one of more than 8,000 local dealers nationwide
"Small Business Web Starter Package" from independent web design firm Launch Interactive that includes custom website layout design and programming with a location page with Google map integration and web traffic reporting
Three day/two night stay at an independent beach resort hotel in Virginia Beach VA, that includes a tour of the Stihl Inc. headquarters and dinner with the Independent We Stand team
Plaque to display at winner's business
Five-minute video to be featured on the Independent We Stand YouTube Channel
Public relations and social media recognition
"Independently owned businesses re-invest in their local economies at a much higher rate than big-box stores," says Bill Brunelle, executive director of Independent We Stand. "These independent businesses are a big part of the community and with the support of our sponsors, Stihl, Chrysler Group, and Devoe Paint, we are able to showcase the benefits of buying local and recognize businesses for their efforts and services."
Semifinalists for the prize are selected from all nominations and voting for semi-finalists begins November 4, at www.IndieBizAward.com. The winner of the "Indie" will be announced on December 4.