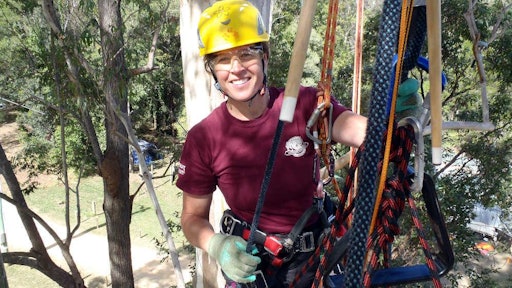 A new feature on the lineup at GIE+EXPO will put a 40-foot tree inside the Kentucky Exposition Center and give attendees the opportunity to learn arborist techniques from a group of women who are experts in their field.
Three certified arborists, Melissa LeVangie, Bear LeVangie and Rebecca Seibel-Hunt will provide climbing instruction while aloft in a tree set up within the expo center's Freedom Hall.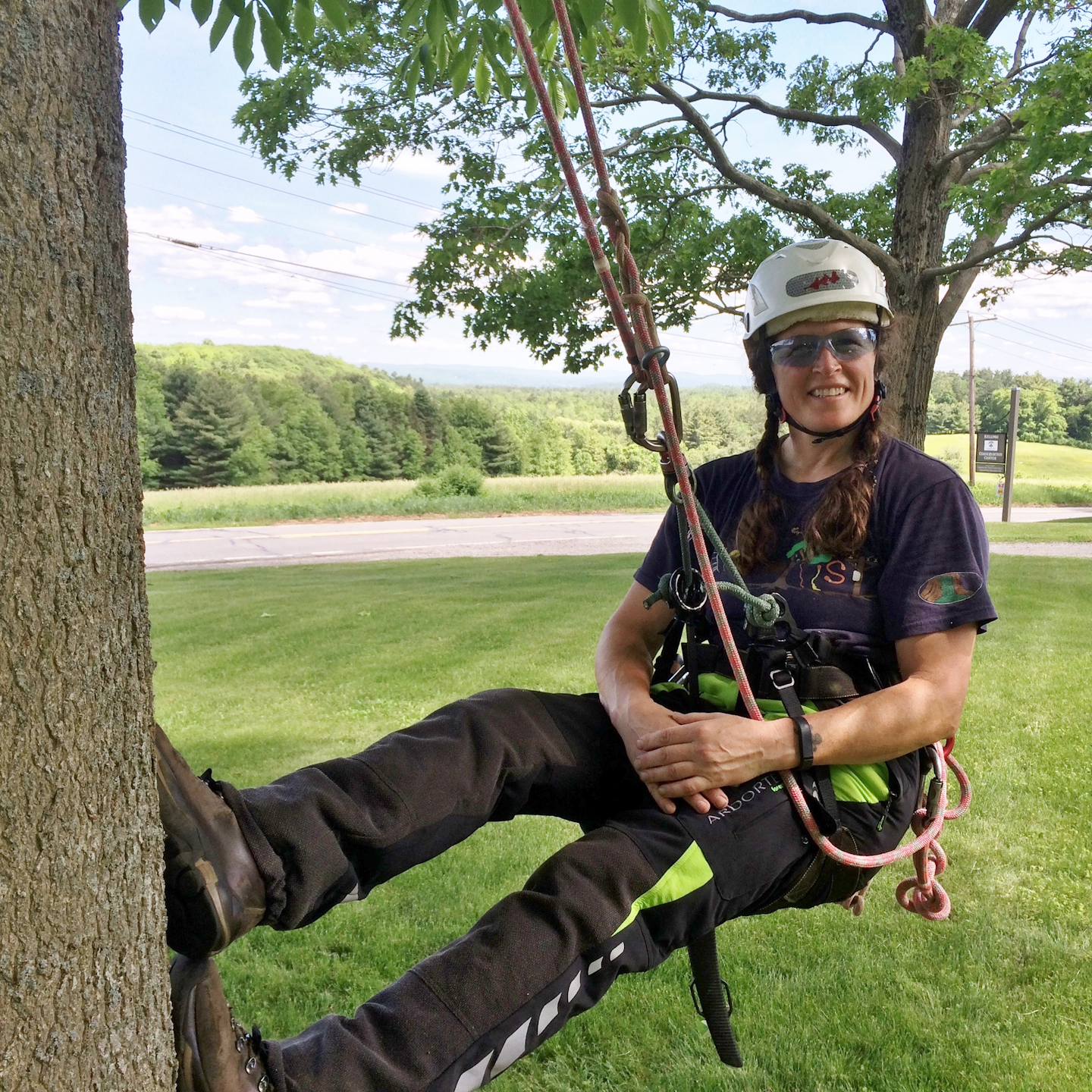 GIE+EXPO is set for Oct. 16-18, 2019. Attendees can expect to learn basic techniques and systems accepted within the industry to safely, efficiently and effectively perform tree care operations during eight sessions, which are included with tradeshow registration.
The LeVangies developed the Women's Tree Climbing Workshop in 2009 with a mission "to create a safe, encouraging, and empowering learning environment for women to climb trees" and have hosted workshops across the country for both women and men.
"Davey Tree is excited to present the 'Climb Trees, Expand Your Horizons' program at GIE+EXPO, in collaboration with the Women's Tree Climbing Workshop, and with support from SHELTER Tree," said Alex Julius, employee development and safety training specialist at Davey. "We think this is an excellent opportunity to highlight women in arboriculture and share basic industry-accepted climbing techniques and systems while aloft in a tree within the expo center's Freedom Hall. It should be a great time, and we hope lots of arborists – new and experienced – are able to attend."
Climb Trees, Expand Your Horizons
Free with tradeshow registration. All GIE+EXPO attendees are invited to watch and learn.
Wednesday, October 16
3:30 – 4:30 p.m.
Intro to Climbing: Job Briefing, PPE, Purpose and Approach
4:45 – 5:45 p.m. Basic Climbing Techniques: Climbing Equipment and Systems
Thursday, October 17
10 – 11 a.m. Tree Entry: Throwline, Rope Installation and Tie-in-points
12 –1 p.m. Access, Ascent (Closed vs. Open System) and Movement
2 – 3 p.m. Movement & Work Positioning
3:30 – 4:30 p.m. Safety, Descent, and Equipment Management
Friday, October 18
9 – 10 a.m. Tools of the Trade
10:30 a.m. – 12:30 p.m. Climbing Systems: Stationary and Moving Rope Strategies and Basics of Rigging
Freedom Hall also will be the location of the Mutt Madness pet adoption event and Food Truck Thursday. Both of these will take place Thursday, October 17, 11 a.m. to 2 p.m.
 GIE+EXPO
GIE+EXPO is sponsored by the Outdoor Power Equipment Institute, Inc. (OPEI), Professional Grounds Management Society (PGMS) and National Association of Landscape Professionals (NALP).
Early bird registration is $15 through Sept. 5, and parking at the Kentucky Exposition Center will be free this year. For more information and online registration for the trade show and education program: www.gie-expo.com.  Other contact points: Facebook, info@GIE-EXPO.com, Twitter @GIE_EXPO, Instagram @GIE_EXPO and 800-558-8767/812-949-9200.