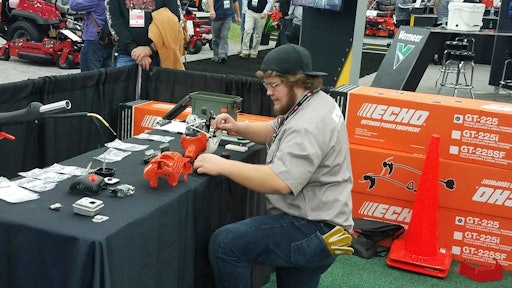 For the second year in a row SkillsUSA will be showcasing "Tomorrow's Technicians Today" in Louisville, Ky., during GIE+EXPO October 16-18, 2019.
The gold, silver and bronze medalists in both high school and postsecondary schools from the SkillsUSA National Leadership and Skills Conference, held in June, have been invited to showcase their talents during the annual tradeshow.
GIE+EXPO is set for Oct. 16-18, 2019. Attendees are invited to watch the competitions.
Six contestants will rotate through four stations, performing skills in categories such as ignition, charging, fuel and governor systems, starter, cooling and lubrication systems, valves, exhaust and engine block systems, diagnostic and failure analysis and general competencies. They will showcase their understanding in related theories that go along with the types of engines they will come across in the industry, as well as their understanding of wiring schematics.
The anchor sponsor, Ariens Co. has been extremely supportive of this program, as they see the need to showcase the future skilled technicians that the industry is looking for, according to David Worden, program director for the SkillsUSA Championships.
Last year they were not only the anchor sponsor they also supported two of the competitors.
"Schools throughout the country teach our power equipment technology curriculum with industry support provided by major manufacturers, who provide the needed training materials," Worden said. "Students who complete the program can become certified technicians. We're excited to showcase our national medalists for the industry to see at GIE+EXPO."