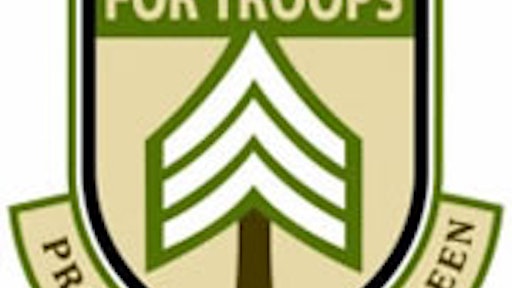 Project EverGreen's GreenCare for Troops (GCFT) program provides military personnel and their immediate families with free lawn care and landscape services for the length of deployment overseas. GCFT also includes wounded and disabled veterans, and the service typically lasts nine months to one year—but wounded and disabled veterans can re-apply for an additional year if needed. The Toro Company supports this national outreach program.
According to Project EverGreen, there are more than 10,000 military families across the country that have registered for GCFT since the program began in 2003. Families and individuals in need should reach out to GreenCare for Troops to get set up with a contractor in their area.
Discovering GreenCare for Troops
Rick Longnecker of Buds & Blades Landscaping Company in Olympia, WA, started volunteering for GCFT back when the program got started. While Longnecker says that they haven't had any military families in need of lawn care in their area for a while, he continues to be available.
"It's just part of how we're wired. We try to help out where we can; I think that's kind of our industry as a whole. I've never met anybody in our industry that doesn't want to help out or do what they can," says Longnecker.
Ashly Neneman of Sun Valley Landscaping in Omaha, NE, says that the company has been working with GreenCare for Troops for seven years. It originally started when one of the business owner's dads, who happened to be a co-owner of the company, was also a veteran with the military base in their area and wanted to start reaching out to the military community.
"So we decided to start taking on families. At the time we were only doing a couple here and there, but now we serve as many as 8 to 10 in a season. It's kind of like a revolving door; we have a waiting list because there are no other contractors in our area that do it," explains Neneman. "That's something we want to focus on eventually, recruiting other businesses in our industry to get involved, because the fact that we have a military base here means there's a need, and people should find out about it. Word travels fast and you have all these families that want the service and could use the service, but can't because we can only do so much."
Up in New Milford, CT, Shayne Newman of YardApes, Inc. says that they get families every so often, but there aren't a lot of military families in their area. Currently they're doing two properties for one service member, who was also in charge of cutting his father's grass.
"We do a lot to support our community. Whenever we're working on our budgeting we always like to look at our marketing budget to see what we can take away from marketing and put more into public relations and give back to charities. I really just believe in good karma and I feel like so many times you take out more than you give," says Newman.
Newman had actually discovered the program a past GIE+EXPO.
Newman says, "GreenCare for Troops, years ago, had done a presentation at the Landscapes conference (formerly GIC) about a landscaping company that had helped a family when the husband was overseas. It told the story of how much falls on the wife who all of a sudden her husband is deployed for a year or two. There's just so many things that person has to take on and I just thought, 'wow, I'd never thought of how hard it would be to run the household and take the worry off of their plate.'"
Why get involved
Every contractor takes away something different from the program. Sun Valley Landscaping gets to meet a lot of the military families that they help. They've had people bring them cookies, and even a couple of people who had been deployed brought back United States flags to say thank you.
"The amount of gratitude that we get from these families is really cool. We talk to them on a regular basis, so we get to know them and their story and where they're going next," says Neneman.
"I think highly of the program and very highly of the people who operate it. They're very professional and good to work with. It was rewarding to know that we were helping people out that could really use it," says Longnecker.
According to Newman, how he originally discovered the program has stuck with him. "Seeing how much the contractor helped the family, the presentation where the wife said how much it helped her, really made a difference in her life and that was pretty powerful for me."
The program makes it so that there is one less thing on the minds of those deployed and their families. GCFT is in need of volunteers, especially in areas like Omaha and Virginia Beach.
"I would say maybe some of the hesitation is the thought of, obviously our business is based on labor, so it may be a little hard for people to wrap their brains around doing this kind of recurring service at no charge," Neneman adds. "But I would say that what you get in return is well worth more than what you're giving in time. It's just something that makes you feel good and makes and impact in people's lives."
If you're a landscape or lawn care contractor looking to get involved, visit the GCFT website.