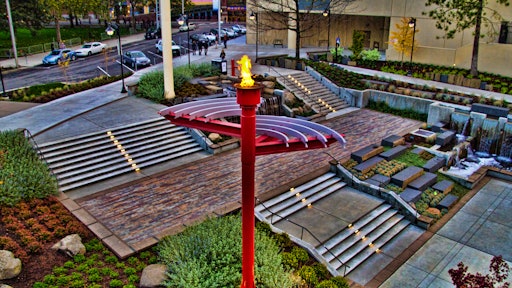 Land Expressions in Mead, WA, won the Grand Award from the National Association of Landscape Professionals (NALP) for its work on Huntington Park and Spokane Tribal Gathering Place, both in Spokane, WA.
"This is the biggest award we can receive in our industry", says Dave Nelson owner and architect of Land Expressions. "This project won over much larger design build projects from all over the country. The Spokane Community can be proud that it has the foresight and commitment to invest in such a project, and the local designers, contractors and sub-contractors capable of building it."
Nelson along with Greg Phillips, the operations manager, accepted the award in Louisville, KY, during Landscapes (formerly known as the Green Industry Conference). Nelson oversaw the design teams and Phillips headed up the construction for Huntington Park and the Spokane Tribal Gathering Place.
NALP also awarded Land Expressions the Merit Award for their design build project at Pyrotek Headquarters in downtown Spokane.
Locally Land Expressions has won three other awards this year; the Spokane Mayor's Award for Urban Design was awarded for Spokane's Tribal Gathering Place, and Best of Awards from both Spokane CdA Living magazine and Inland Business Catalyst Magazine.
Land Expressions not only operates in Washington, but has also worked and maintains business licenses in Idaho, Oregon, Nevada, Utah, Arizona and North Dakota. Many of the projects they create are high-profile. Earlier in the year Land Expressions won the commission to design and build Spokane's new Veterans Memorial "Illuminating Courage", which was publicly dedicated this past Veterans Day.
"We are happy to say 2015 has been a winning year", says Nelson.