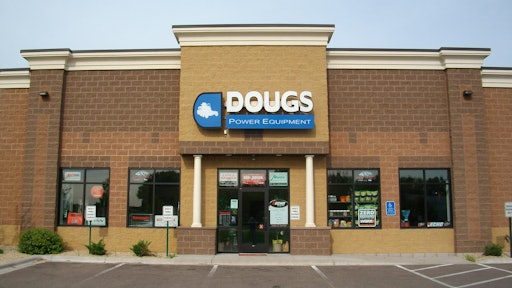 In many ways, Doug's Power Equipment in Blaine, MN, is a lot like the typical outdoor power equipment dealership. They've been in business for decades. They sell many different brands. They serve a diverse customer base of both professionals and everyday consumers. They have a hard time finding good technicians.
There are also many examples of how Doug's is a different kind of equipment dealer. They've relocated their store to a prime retail shopping center. They sell consumables like herbicides and ice melt. They embrace technology. They've taken it upon themselves to find and train new technicians. And they understand that their future, particularly when it comes to serving landscape contractors, largely depends on their ability to build relationships and trust.
"With a dramatic increase in online shopping and free shipping options, dealers can no longer depend on being the automatic choice for local shoppers," says Lee Jerikovsky, operations manager at Doug's Power Equipment. "Chances are that most of us will never have the cheapest air filter on the web. If we did, we wouldn't be around for very long. However, no matter what changes come along in the shopping experience, we have learned that one thing will never change: Customers, particularly our local contractors, will always prefer to buy from someone they can trust, someone that cares about their business as much as they do, and someone that will partner with them as we work together to grow our industry for the years to come."
Pretty well said by someone who has only been in the power equipment industry for a few years. Jerikovsky has an IT and business operations background. Sue Zilmer, the owner of Doug's Power Equipment, initially brought him in on a somewhat part-time basis to help with marketing and IT-related issues. Within a couple of years, though, the two saw some things on the operations side of the dealership that were going to require a little more time and attention. So Zilmer made Jerikovsky her permanent operations manager last year.
"I had known Sue for years," Jerikovsky relates. "She grew up in her dad's shop, so she's been around this all of her life. She became the sole owner of Doug's Power Equipment in 2006 after having been a partner in the business for a few years before that. Sue is also a Kohler expert technician."
Jerikovsky is not a lifelong power equipment professional, and is no expert technician. But he is an expert in business operations. "Sue and I came to realize that we needed to get a better handle on our numbers," Jerikovsky says. "We needed to know what was happening in the dealership, things like sales mix and sales trends, customer mix, technician productivity, profit margins, and so on. This hasn't been the most technologically driven industry. But if you want to be successful in any business today, you must have that technological component. So now we track everything. That way we know what is working, and what isn't. We use Ideal Computer Systems for our business management software."
A premium experience
Sue took over the dealership in 2006. Within a few years she wanted a new location. They renovated a space in a popular strip mall and made the move in 2010. They've been there ever since.
"The prime location did add quite a bit to our overhead, but we'd expected that and budgeted for it," Jerikovsky says. "It has helped our traffic tremendously. Sue was really going for a different look and feel, as compared to many outdoor power equipment shops. When customers walk in, they know they are in a professional environment. Customers know their equipment isn't going to be stored out back under a tarp. Everything we do is indoors, safe and secure. We're offering a premium service."
Top-notch equipment mechanics are a huge part of that, particularly when considering how nearly half of the dealership's business comes from landscape contractors. "We are very proud of our master mechanics," Jerikovsky is quick to point out. "Thanks to their hard work, our industry will keep moving forward for decades to come. Any dealer should ask him or herself, 'Have I thanked my mechanics lately?'"
Most dealers are also asking themselves, "Where in the world is the next generation of small engine mechanics?" Doug's Power Equipment is no exception.
"We're all feeling the pressure as the latest wave of mechanics and parts experts retire," Jerikovsky says. "What makes this more difficult is that high schools across the country are dropping their shop classes and technical colleges are cancelling their small engine programs. We've come to realize that it will be up to us as dealers to train the next generation of mechanics.
"Like many dealerships, we are investing our own resources by paying our master mechanics to train new recruits," Jerikovsky continues. "We know they will spend a certain amount of time per week training the new employee. Yes, it's great to keep your best techs turning wrenches. But that only works when you have an ample supply of technicians. So in a perfect world, that works. But the outdoor power equipment world is not perfect."
The Equipment & Engine Training Council (EETC) is a non-profit organization trying to help address the technician shortage by providing outreach and support to educators across the country in the way of study materials, training and testing. One of Doug's Power Equipment's three technicians recently earned EETC certification as a show of support. But even the amazing work the EETC does is not enough if young people don't have an interest in this business.
"Attracting new employees is tough," Jerikovsky says. "We do some local advertising and I use Indeed (jobs website) a lot. What's nice about Indeed is that you can target people based on their interests and past employment. We've seen some interest from people coming from the automotive industry. We've also had good luck in hiring landscape professionals who were looking for a change of pace. These people understand the equipment and needs of our customer, because they've been one of them."
Training the customer
Understanding a landscaper's needs is critical to a dealer's viability these days. That's why Doug's offers several brands of the same equipment type. It's why the dealership sells other products such as fertilizer and herbicides, grass seed, ice melt, animal repellent, hand tools and trailer accessories. "Our goal is to be the one-stop shop for our contractors," Jerikovsky says. "When they have daily product needs, they don't have to search around—they just have to come to Doug's."
The dealership is also taking steps to become a landscaper's go-to source for training needs. Doug's Power Equipment held its first ever Spring Training Day back on March 8. It was a tremendous success. The event replaced the dealership's typical open house sale, which like many had been plagued by poor weather, diminished vendor participation, rising costs and little to no profit.
"We decided to stop pushing the sales so hard and start focusing on what our landscapers need," Jerikovsky says. "Unfortunately, we've seen a lot of lawn care businesses failing to survive—and when the landscape industry suffers, it's not good for any of us. So this year we focused on bringing our community together to discuss their concerns and to learn from the experts."
The dealership lined up some guest speakers for the two-hour event. The State Patrol discussed DOT rules and regulations. Exmark gave its overview on basic mower maintenance. Turfco discussed how lawn maintenance contractors can grow their businesses by providing fertilizing, seeding and aeration services. "Next year we're looking at expanding this and bringing in a consultant to talk about managing and growing a landscape business," Jerikovsky adds.
With its past open house events, Doug's Power Equipment bought a sizable mailing list and invited everyone and their brother. This year they focused on their existing landscape customers, inviting them via direct mail, a series of emails, their website and social media. "We also reached out personally over the phone to make sure they knew what we were planning for them," Jerikovsky says. "The goal was to leave no doubt how important they are to us."
Did it work? You bet. In the past, the dealership averaged 30-50 open house attendees. This year more than 50 signed up in advance for the training day —and another 50-plus came to see what in the world was going on when they heard and saw all of the buzz. "We had standing room only for the entire training seminar, and not one parking space was empty," Jerikovsky exclaims.
The kicker is that, despite the fact that this was not designed to be a sales event, sales far exceeded the past open houses. "Many of the landscapers had heard about the event and stopped in to meet us for the first time," Jerikovsky says. "In between the training sessions, we had break times where the contractors could test out equipment, have some lunch, and make their purchases."
Companies in this article