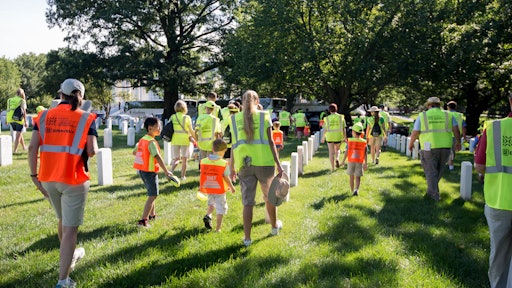 Stihl Inc. joined hundreds of landscape professionals on July 11 to beautify and improve the grounds of our nation's most hallowed ground at Arlington National Cemetery.
Organized by the National Association of Landscape Professionals (NALP), Renewal and Remembrance brought more than 400 volunteer landscape professionals from 29 states to Arlington National Cemetery. Stihl was a silver-level sponsor of the event.
"Stihl is honored to remember the men and women who have made the ultimate sacrifice for our country by doing what we can to preserve the serenity and beauty of Arlington National Cemetery," said Roger Phelps, corporate communication manager for Stihl Inc. and a Navy veteran.
Celebrating its 20th anniversary, Renewal & Remembrance is the largest landscape industry day of service in the country. The event is organized by NALP to honor and give back to our country's fallen heroes by helping to ensure the health and pristine condition of the land where 400,000 service members and their families rest.
During Renewal & Remembrance, volunteers applied phosphorous to 95 acres of turf, including Patton Circle and McClellan Circle; aerated nearly 50 acres of turf; and installed and repaired irrigation systems. Initiatives include protective measures, including tree cabling to reinforce and preserve historic trees, and installing lightening protection to preventatively guard trees from storm damage.
For more information about Renewal and Remembrance, visit the event website. For more information on Stihl Inc., visit www.stihlusa.com.