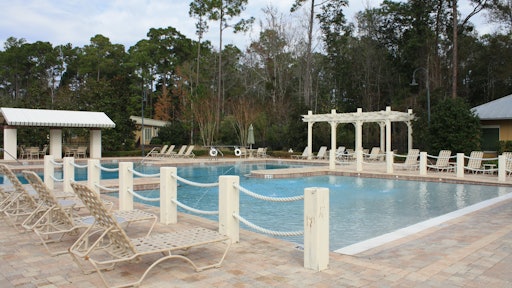 Homeowners looking to tackle a remodeling project should head outside according to a new report from the National Association of Realtors (NAR) and National Association of Landscape Professionals (NALP). The 2016 Remodeling Impact Report: Outdoor Features shows that not only can outdoor remodeling projects add value to a home on resale, but they can also bring advantages in the form of increased happiness to homeowners planning to stay in their homes.
"Realtors understand the importance of curb appeal—from flowerbeds to fire pits—because when it is time to sell, a home's exterior is its first impression to potential buyers," said NAR president Tom Salomone, broker-owner of Real Estate II Inc. in Coral Springs, FL. "Realtors also know that these projects can bring homeowners who have no plans to sell even more enjoyment and satisfaction in their home."
Top ROI projects
Looking at the outdoor projects that produce the largest financial windfalls at resale, Realtors ranked seeding lawn the highest, recovering 417% of the project cost at resale. Seed lawn is followed by implementing a standard lawn care program (303% of cost recovered) and updating landscape with sod lawn (143% recovered) as the most cost-effective projects.
Most happiness
When it comes to the enjoyment homeowners gain from these projects, a new pool comes in at number one, receiving a perfect Joy Score of 10; Joy Scores range between 1 and 10 and higher figures indicate greater joy from the project. Roughly 95% of homeowners who completed a pool project said they have a greater desire to be at home, 90% feel a major sense of accomplishment, and 80% have an increased sense of enjoyment when they are at home. However, Realtors estimate that homeowners will only recoup 50% of the costs on resale, making it one of the least profitable projects in the report.
The next most appealing project is an overall landscape upgrade, with a Joy Score of 9.8, followed by a new wood deck, with a Joy Score of 9.7. When asked why homeowners took on these projects, the most common answer was to add features to their home and improve livability.
"Homeowners looking to take on large, expensive outdoor projects should do so for themselves, for the enjoyment they and their family will gain from the finished results, and not only to improve the value of their home for when they sell. Smaller projects will bring potential sellers the most value back upon resale – and have the benefit of costing less up front," said Salomone.
"This report validates that outdoor remodeling and landscaping improvements are a necessity when it comes to improving your home's resale value," said Missy Henriksen, vice president, public affairs, NALP. "Homeowners working with a landscape professional to embark on renovations — whether that means enhancing their turf and growing a lush lawn, rehauling their entire landscape, or incorporating new features, like patios and exterior fireplaces — can rest assured that they are making a smart, worthwhile investment. Further, that investment is coupled with the immediate happiness received by beautiful landscaping and the long-term enjoyment of outdoor living spaces, which are priceless."