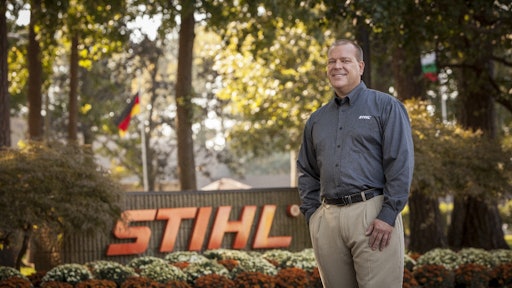 Bjoern Fischer took over as president of Stihl Inc., succeeding Fred Whyte, roughly one year ago. Prior to that, Fischer had been serving as vice president of finance since May 2012. He spoke with Green Industry Pros at GIE+EXPO on October 20, reflecting upon his first year at the helm of Stihl's North American operation.
What is Stihl's biggest opportunity going forward? Walking the show (GIE+EXPO) again this year, you can certainly see a lot of emphasis on battery-powered products. This year, Stihl in particular is excited to be showing two new lines of battery products. Our AI line has an integrated battery which makes the tools very simple to use. These products are really geared toward users on smaller properties, school yards, condos, etc., who want convenience and low noise. We've also brought out a new mid-range line for homeowners with larger properties. We'd already had a significant lineup for commercial users, and we continue to expand it. So now you can walk into a Stihl dealer and pick your power.
And let's not forget, we continue to develop gas-powered units. We'll introduce 50 new products between now and 2020. The power-to-weight ratio of a gas-powered unit is hard to beat. I think it's going to take a really long time for battery to replace gasoline entirely. There are many applications where you're far from an electricity source, such as out in the woods, where battery doesn't make as much sense.
The real opportunity is that we have given our dealers the full gamut of products to help them continue to compete with the big box stores.
What are some of the big challenges Stihl as a manufacturer is facing? The most recent impact has been the strong dollar. A strong dollar is very good when buying things from other countries, but puts a burden on you if you manufacture locally, which we do in Virginia Beach. Still, we've always taken a very long-term perspective on things.
We continue investing in our people, training them and upgrading their positions. We invest a lot into our operations in terms of automation and efficiency improvements. The two go hand in hand. As we do that, we never let any of our full-time employees go—and haven't done so for decades now. So as we're automating, we're able to train our employees up to higher-level positions. That helps us offset some of that competitive environment we have with other parts of the world and the strong dollar that influences that environment.
Any concerns with your dealer-exclusive retail model, since consumer buying habits seem to be trending online and there simply aren't as many independent lawn and garden dealers as there used to be? When we analyze the market, we see that between 2005 and 2015, the independent dealers have taken a large share from the box stores. The servicing dealer channel is growing again. Companies like ours must continue giving dealers all of the tools, training and infrastructure they need to remain competitive.
When we look at our dealership locations, we see that the individual locations—even the traditional outdoor power equipment dealers—have grown strongly over the past year. They've had a phenomenal success. We continue to strive for better market penetration, making it easier for end-customers to reach a Stihl dealer. We spend a lot of time enabling our dealers with improved training and service programs. We continue to improve our merchandising displays, such as the new display for our battery products, to help dealers set themselves apart from competitors.
What is the biggest challenge Stihl dealers are facing? We are standing in front of a tremendous amount of change in the marketplace. We have a new group of consumers (millennials) who are not quite familiar with servicing dealers, and aren't as familiar with the Stihl brand as we would like. Secondly, we're seeing a lot of technology changes, such as battery. Stihl is investing heavily into both areas. Our development of an expanded battery lineup is a great example, because those types of products appeal to the millennial market. We're investing a lot into marketing, particularly with respect to digital marketing, to help our dealers connect with new millennial customers. This is a mutually beneficial relationship we've had with our dealers for a long time, and that isn't changing.
Companies in this article