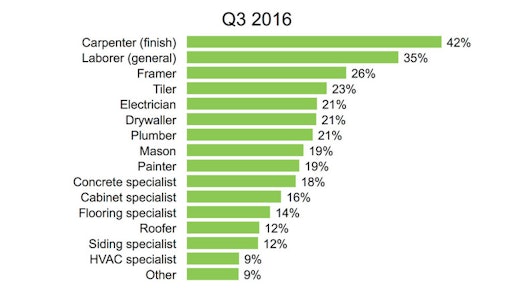 An ongoing construction labor shortage has been affecting the speed and cost of renovation projects in the U.S., according a Houzz Renovation Barometer published back in October. The barometer index tracks sector optimism among architects, designers, general contractors and remodelers, design-build firms, building and renovation specialty firms, and landscape and outdoor specialty firms.
Half of building professionals reported that labor shortages ahave driving up the price of hiring subcontractors, while about one-third of firms reported an increase in the compensation of their own employees. Despite these challenges, renovation professionals were feeling confident about their industry in Q3 — July, August and September 2016 — compared to the prior three months.
See image 1
Widespread labor shortages continue. Roughly 78% of general contractors, remodelers and design-build firms surveyed reported labor shortages in the third quarter of 2016. Carpenters were in shortest supply.
See image 2
Midwestern firms are facing the toughest labor shortage. A lack of construction workers remains a problem across the country, but the shortfall appears to be most severe in the Midwest, followed by the South and the West.
See image 3
The tight construction labor market drives up costs. Not surprisingly, general contractors, remodelers and design-build firms reported increased hiring costs during Q3 in the face of the low workforce supply. Some firms also reported a decrease in worker reliability and skill level, particularly among subcontractors.
See image 4
The labor problem does not appear to affect customer satisfaction. Among those building professionals who reported moderate to severe shortages of workers in the specialized trades, as well as among general laborers, 59% said the lack is having an impact on project cost. Half said the problem is affecting project length. Despite its economic impact, very few firms reported that the labor force squeeze is affecting project quality or customer satisfaction.
"The sustained growth in consumer demand for residential remodeling services, as indicated by the Houzz Renovation Barometer, is naturally driving prices for remodeling services up. Yet, with systematic labor shortages and no major shift in labor conditions expected in the near term, consumers will continue to experience significant increases in project costs and difficulty finding qualified remodelers," say Nino Sitchinava, principal economist at Houzz, who led the research team. "At the same time, remodelers will continue to be squeezed to do more with less, be more selective about the nature of projects they take on and be more cautious about committing to project cost and timeline estimates."
See image 5
In this graph, Q4E '16 means what is expected for the fourth quarter of 2016.
Renovation industry confidence remains strong, despite seasonal dip. Building professionals continue to feel optimistic about their industry, though most of the professional groups experienced a 1-5% dip in confidence compared to the previous quarter (April, May and June 2016). Houzz's research team attributes this Q3 drop to seasonality — late summer to early fall is typically a slower time than summer for home renovation.
The Houzz Renovation Barometer measures confidence in the renovation industry each quarter among multiple groups of renovation professionals: architects, designers, general contractors and remodelers, design-build firms, building and renovation specialists, and landscape and outdoor professionals. A barometer score above 50 signifies that more firms reported an uptick in business activity than those that reported business is down. Confidence scores in Q3 2016 ranged from 60 to 72, indicating that renovation professionals are feeling good overall about their industry.
See image 6
In this graph, Q4E '16 means what is expected for the fourth quarter of 2016.
Fewer design-build firms, general contractors and remodelers were optimistic in the third quarter of 2016, compared to the prior three months.
See image 7
In this graph, Q4E '16 means what is expected for the fourth quarter of 2016.
As one would expect, specialty landscape and outdoor firms experienced a stronger seasonal downturn compared to summer than the other groups, reflected by a 15% dip in their barometer score.
See image 8
New business activity still strong, but softening. The majority of firms continued to see an increase in the number of inquiries, as well as the number of new projects or orders and the size of those projects or orders. But in five of the six professional categories, fewer firms reported increases in the third quarter than in the second quarter of this year. Again, a dip was to be expected for the third quarter of the year, and will likely be even lower in winter.
See image 9
The West is less optimistic. Industry confidence scores are down in the West — and notably, the drop is beyond what would be expected for the seasonality of the renovation business. All industry groups in the West reported a 2-7% decline in optimism compared to the prior year. Nonetheless, barometer scores remain above 60 for all groups except Western architects and Midwestern landscape and outdoor specialists, indicating that the majority of firms feel optimistic.
Market gains appear to be slowing. The high year-over-year barometer readings of 64 to 77 — which measure how professionals felt about their industry in Q3 2016 compared to Q3 2015 — suggest continued strength in the renovation market. Nonetheless, all six industry groups posted lower year-over-year confidence levels in Q3 2016 than they did in Q3 2015, one year earlier. Since scores are still well above 50, the takeaway is that growth is continuing in 2016 — but at a slower rate.
Architects notably reported weaker confidence levels for this period compared to one year before. This group has now experienced five straight quarters of year-over-year declines in optimism. Designers, by contrast, saw a strong increase in year-over-year optimism scores in Q3 2016 relative to the prior quarter.
This most recent Houzz Renovation Barometer study was fielded September 30 to October 13, 2016, and included 2,575 respondents.
See the full Q3 2016 Houzz Renovation Barometer