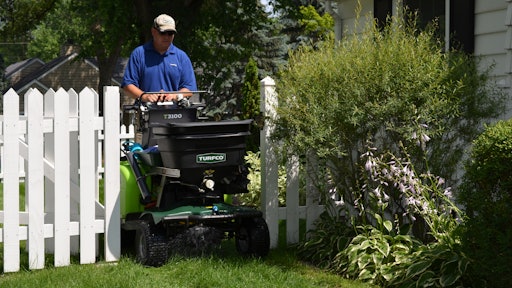 From fertilizer to herbicide, the most efficient way to distribute liquid or granular material in the green industry is with increasingly sophisticated stand-on sprayers/spreaders. GIE+EXPO 2019 was brimming with innovation in the stand-on sprayer/spreader segment as landscape contractors look to boost productivity from their existing labor pool so they can maximize profitability.
Matt Smith, co-founder and sales manager at Steel Green Manufacturing, concurs that landscape contractors who are in the market for stand-on sprayers/spreaders are on the prowl to do more with less, in turn, improving profitability. He says, "Lawn care operators are looking for ways to do their job more efficiently—to provide better service to more customers in less time." It's one reason why capacity and speed are at the top of the feature wish list, although the convenience of ease of operation, end-user comfort and accuracy are coveted and contribute to overall efficiency as well.
Read next: How To Select the Right Sprayer or Spreader
Capacity + Speed = Productivity
Smith notes that landscaping companies are increasingly using liquid fertilizer instead of granular, so contractors are trending toward the purchase of more liquid capacity as they find themselves relying less on granular product. "Some applicators are asking for a zero-turn ride-on sprayer with a high-volume capability and larger liquid capacity. To meet this need, all standard Steel Green models are capable of running a high-volume roller pump without the need for external charging systems," he proclaims.
"Steel Green offer the highest liquid capacity for applicators who want an all-liquid high-volume ride-on sprayer. The hopper can be removed and an additional 35-gallon tank added in its place for a 95-gallon liquid capacity on the SG52." He continues, "Higher capacity machines offer more productive time for applicators and the SG52 was built to maximize productivity. With its dual 30-gallon spray tanks, 225-pound hopper and high-density poly fertilizer trays, Steel Green's largest model holds a whopping 60 gallons of liquid and 325 pounds of granular product. Need something smaller? The SG36 has all the power of our larger models, but is compact enough to fit through a 36-inch gate."
Read next: Sprayer and Spreader Must-Have Features
Again, capacity tops the list of must-haves in a new stand-on sprayer/spreader, but dimensions are crucial, too, as Smith notes, to fit through gates and around other obstacles. After all, what good is a machine that can cover a lot of ground if it can't access that ground? Scott Kinkead, executive vice president at Turfco Manufacturing, says one of Turfco's largest capacity applicators can squeeze through a 36-inch gate, which increases its versatility to be able to accommodate a range of property types with just one machine. If you can pair a compact profile with a large capacity, it's a win-win, efficiently disseminating product both on large and small properties more nimbly and with less refills.
"Instead of having to have completely different machines, we said we want to be able to get through a 36-inch gate, but with the addition of our three-in-one tank, you can do up to 132,000 square feet," according to Kinkead. "With the addition of the three-in-one tank, you can either add core capacity—almost double the capacity of the applicator—or you could spray a different chemical, or you could fill one tank with a non-selective herbicide or something else. There isn't another machine quite like ours."
Intuitive Operation + Comfort = Efficient End Use
While productivity is critical to consider when purchasing a stand-on sprayer/spreader to complete more jobs in a day, it doesn't amount to much without ease of use to reduce operator training and error, comfort to retain employees and ensure their safety, and precision to cut wasted product and time. Kinkead believes intuitive operation is one of the main attractions when purchasing a new stand-on sprayer/spreader, especially when many landscape contractors are turning away work because they can't staff the projects.
He says, "Labor is such a big challenge for everybody in today's world. Finding good operators, and having equipment that helps you keep operators and better train new operators, that's the focus—getting that productivity—but doing it in a way that's easy to get up and running on our machines, so if you add another person, you're growing your business. Our design of the T3100 makes it so a guy can be up and running in a day."
Read next: What to Look for in Your Next Sprayer
Kinkead suggests that it's a delicate balance to design a machine that's easy to operate, yet offers the range for both new hires and veterans to tackle hills, tight-turnarounds and other backyard hurdles. He says you used to have to send out a seasoned operator to handle some of these obstacles, but with more intuitive operation, you can send even the least experienced of your crew and get good results. He elaborates, "We focused on having the versatility of being able to get into those areas, but also making it simple to operate. We spent a lot of time making sure we kept down the electronics as much as possible, making it very simple to maintain and run."
Another reason Turfco's sprayers/spreaders are easy to maneuver, according to Kinkead, is the hands-free speed control. It permits operators to use one hand for steering and the other to control the wand while driving if necessary. It's so easy, he jokes, "If a guy doesn't know how to operate it, you probably shouldn't have him driving a truck. You can run the wand along the fence line, or hop off and cover a little area with it. We have dynamic braking, so if you step off the machine, it stops. [Another] value of the steering wheel is, when you come to the end of your path, you can crank it around and match right up with your next path."
If you're servicing your own stand-on sprayer/spreader, you not only want it to be easy to operate, but also easy to maintain and repair. Smith says Steel Green engineered its equipment with the needs of both the operator and technician servicing the machine in mind. The company designed its sprayer/spreader tanks with a simple sump and drain to facilitate complete draining without having to remove the hose. Moreover, they include overfill protection to keep spills away from costly electrical and hydraulic components, and the spray nozzles are easy to access and change, too. "In fact, the entire machine is built to be easily accessible for maintenance and repair," he mentions.
Read next: What to Expect in 2020
Beyond making the new generation of stand-on sprayers/spreaders easy to operate and maintain, manufacturers are also taking on other important initiatives to get operators on board. With the labor shortage crippling some landscaping companies' ability to expand, sprayer/spreader providers are striving to make their equipment easier on the operator's body. The more content your employees are at the end of each day, the likelier you are to retain them. If the contractor next door is offering the same wage, but with shoddier equipment, employees are going to opt for the company offering modern, comfortable equipment instead.
Kinkead thinks comfortable equipment is an integral part of the employee retention equation. He asks, "Can we make it less physically demanding on an operator? Not many people's yards are as smooth as a football field—you have all these undulations and hills to contend with. At the end of the day, your employees want to spend time with their family as opposed to being exhausted. In today's world, you want [work] to be less physically demanding. If you have an operator who's been with you for a while, you want to hold on to him."
Honing in on Sprayer Accuracy
If investing in an entirely new sprayer isn't in the cards this year, you can still try to maximize the return on investment on your existing equipment by boosting its accuracy. For instance, the aftermarket LESCO Smart Guided precision spray system comes equipped with GPS to minimize application error, optimize chemical budgets and maximize labor efficiency as less training is needed due to the simplicity of its design. The system can save contractors up to 75 percent of initial costs compared to buying a new sprayer unit with built-in GPS, according to SiteOne Landscape Supply.
The new LESCO system offers:
TerraStar GPS satellite technology that allows the system to spray within a 2-inch level of accuracy so there are no missed areas, overspray or overlap.
Precise control of each separate nozzle to reduce overspray—in fact, if a nozzle is outside the defined application boundary, it automatically turns off.
Tracking of when and where certain products are sprayed to simplify documentation and record-keeping, remembering and repeating boundaries after they have been driven once and saved.
The compatibility to connect with most common sprayers.
According to John Gertz, vice president of agronomic category management at SiteOne Landscape Supply, "It is a bolt-on GPS system that is easy to install and does not require buying a high-dollar dedicated GPS sprayer … you can use current invested spray equipment. Relative to the cost of a dedicated new GPS sprayer, LESCO Smart Guided delivers that same GPS-enabled capability at a savings."
Gertz also says the LESCO Smart Guided precision spray system can benefit landscape contractors by helping "maximize labor efficiency by reducing spray tech training and miss applications (skips and overlaps). This allows professional operators to simply get more done, faster, and right the first time."
The Future
An aftermarket system that increases the accuracy of an existing sprayer can be beneficial for a landscape contractor trying to save money, but you can find precision in many of the new sprayer/spreader models now inundating the market if you have the cash to spare on new equipment. Kinkead mentions that Turfco designed its sprayers/spreaders "so that you have a hard trim when you're going along flowerbeds or sidewalks. It's minimizing that cleanup time or off-target frills."
For a company that is celebrating 100 years of making turf maintenance equipment, it's no surprise that Turfco is on target with its sprayers/spreaders. Kinkead implies that the company keeps its ear to the ground to inform the innovation of its new machines: "We're not sitting up in a corporate office wondering what's going on out there. We're out in the field."
Smith agrees that customer feedback has a critical impact on the design process of the new generation of stand-on sprayers/spreaders. He says, "Our customer focus and willingness to incorporate applicator feedback into our manufacturing process is a powerful differentiator for Steel Green Manufacturing. We are listening. We built machine prototypes based on the needs of lawn care applicators, and when we unveiled them at the GIE+EXPO, we welcomed criticism. If you made a suggestion after testing a Steel Green machine, we heard you.
"From the color of our tanks to the layout of the control panel, we were open to continuing to improve our machine. We returned from GIE+EXPO and considered all of your feedback. Instead of rushing to production on a machine that was good enough, we took the time to implement changes that would improve the applicator's experience. Steel Green Manufacturing is only just getting started. We will keep listening and continue to incorporate applicator feedback into our manufacturing process."
Companies in this article