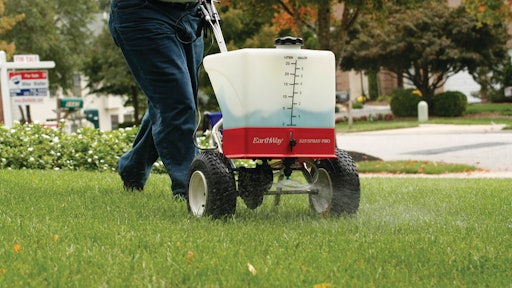 Contractors looking to treat larger areas have several options when it comes to spraying equipment. Here's a look at some of the key considerations with respect to three common types of high-productivity sprayers.
Push Sprayers
You have a choice between ground-driven and electric. Manufacturers of electric-powered sprayers, such as TurfEx, will tell you they offer better consistency and performance. Just make sure you have a backup battery when you're on the job. The battery on the TurfEx TL80, for example, will hold a charge for roughly 120 gallons. But then it takes 12 to 16 hours to recharge.
Manufacturers of ground-driven sprayers, such as Earthway Products, obviously believe their method is better. Jeff Kendall, vice president of sales and marketing, says that with a pre-calibrated ground-driven pump, accuracy of the application rate is assured. With a ground-driven sprayer, though, contractors will have to test the volume against the setting chart after roughly 1,000 hours of use—which is once a season for most lawn care contractors. "If it needs any adjustment, we can provide instructions on how to recalibrate the pump," Kendall points out.
One thing to look for whether using a ground-driven or electric sprayer is the ability to change nozzle tips. For example, the EarthWay S25 Models provide three interchangeable tips for different application rates. This comes in handy if you're looking to use your sprayer year-round. For example, contractors looking to spray ice melt in the winter need different nozzles that yield different spray patterns. Kendall says Earthway Products is looking into manufacturing its own custom nozzles for this very reason.
Finally, push sprayers that feature on-demand spray wands are a plus. You can easily utilize the wand when you need to spray harder-to-reach areas or spot spray smaller areas.
Stand-On Sprayers
Stand-on sprayers are becoming more common. That's because they can be highly efficient on larger properties. Operators like them, too, because they eliminate a lot of walking.
It's important to look for a ride-on sprayer that offers low maintenance and doesn't waste material, according to James Truan, vice president of sales and marketing for TurfEx. That way, your return on investment will be maximized over time. Additionally, features such as quick-change nozzles and high-capacity tanks help operators work quickly and go longer periods of time between refills.
Easy operation is another key feature. Intuitive fingertip controls and conveniently located brake pedals help operators use the machine confidently and efficiently.
Next, consider the stability of a unit. "A low center of gravity and split tank design help distribute the weight and keep the machine planted to the ground on slopes," Truan explains.
How well a stand-on performs on hills and slopes is an important consideration. "The ideal machine is one the operator can easily use almost every day on both big and small properties," says Tom Jessen, president and founder of PermaGreen, another manufacturer of ride-on sprayers. "Having an expensive machine that sits idle because it's impractical to operate on certain (properties) wastes money."
The PermaGreen Triumph, Jessen says, is nimble due to its articulated steering, long wheelbase, patented steering assist and low center of gravity. It can reportedly treat up to an acre on a single fill, and applies at a rate of 2,200 to 3,450 square feet per minute while traveling 3.5 to 5 mph. Still, it can fit through a 36-inch gate, providing for access to backyards and making it effective on smaller properties. Then, in the event that hilly terrain becomes too much of a challenge for the operator, the handlebars drop down so he can simply walk behind the sprayer.
Mower-Mounted Sprayers
Sprayers that mount on skid steers, tractors or utility vehicles are also on the market—as are mower-mounted sprayers. JRCO is one such company that offers a mower-mounted sprayer, ideal for lawn maintenance companies that already operate zero-turn mowers.
The main thing you want to look for, according to Jim Doring of JRCO, is how easy it will be to hook up the sprayer. JRCO's unit is designed to quickly attach with four clevis pins. "The first thing you have to do is install a two-point hitch with two of the clevis pins," Doring explains. "A pendant with all of the controls goes in the front, so that needs to be secured to a mount with the other two clevis pins. No tools are needed."
Like any sprayer, spray pattern and accuracy are also important when it comes to these sprayer implements. JRCO's unit features Turbo TeeJet spray tips, designed to minimize spray drift but allow for an even pattern.