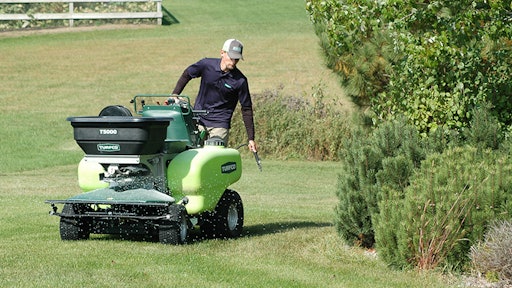 Turfco
When it comes to lawn care, choosing the right products and equipment can help improve efficiency, productivity and even business revenue at your jobs. Equipment that can multitask is becoming increasingly important, and valuable, to lawn and landscaping business owners.
The lawn and landscaping industry has been inundated with new sprayer/spreader equipment models in recent years. Sales for the popular combination machines are expected to grow 2%-4.37% by 2025, depending on which economic analysis you read. That demand correlates with the desire of lawn and landscaping businesses to diversify and increase profits.
"There's a lot of demand (for revenue growth)," says Scott Kinkead, owner, and executive vice president of Turfco. "One of the things we're seeing in a lot of companies is they have a lot of opportunities to grow."
Improving Job Efficiency
There are many ways sprayer/spreaders can help increase productivity at each jobsite. For one, they can help contractors complete jobs faster by reducing the number of times contractors need to walk the lawn. The idea is to be able to spread granular or spray your chemicals simultaneously, so you're not going over the lawn twice.
Products that allow you to do both also offer a versatility that allows you to cater to each of your client's needs. For example, if a client on one side of the street uses chemical pesticides on their lawn, you have a machine that can get the job done. If another client needs fertilizer or grass seeds, the same machine can provide that customer with what they need. All in all, you can double the number of clients by simply being able to offer more than the next guy.
"We have the three-in-one tank, where you can put in additional granular, that fits right in there," Kinkead says. "It holds 15 gallons, and I can spray a completely different chemical while I'm using my other standard chemical."
Compared to walking the grass, sprayer/spreaders offer a more even application whereas walking and completing jobs by hand creates variation in the application, because there is variation in walking speeds. Many machines have speedometers and locking speed bars or fixed mechanical speeds to offer a consistent application speed and reduce operator fatigue.
"Any variation in walking speed creates a variation in the application rate of products," Brandon King, product manager at Billy Goat Industries says. "It is even more difficult with spraying, as the walking speed and the repetitive motion of the applicator's arm can cause inconsistent applications if they are not maintained."
Sprayer/spreaders are also valuable because they allow the applicators to go further between fill-ups, reducing downtown throughout the day.
"The machines are also becoming more versatile, with the ability to convert from all-liquid machines to all-granular machines, depending on the seasonal requirements and pricing of products in different areas," King says.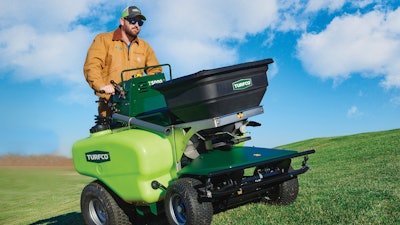 Improving Productivity, Profits
Adding sprayer/spreaders to your fleet can increase profits, as you will be able to offer more services. Some clients may need these services more than others, but the chances of them doing it themselves are slim, thus allowing you to offer add-ons and charge for it.
"Certainly, take a look around your area, see what the prices are so that you've got a good handle on what the cost is, what the services are," Kinkead says. "It's a great, great part to add your business because it's a pretty resilient part of the business. A lot of people will decide to mow their property. Not a lot of people decide to do all their chemical applications."
Sprayer/spreaders are becoming increasingly useful to landscapers as they grow their businesses and add to their service offerings. However, at what point does this equipment become profitable?
As a lawn and landscape professional, your crew members need to be trained and, in many states, certified, to use said equipment. It takes time and money to train crews to be able to properly use sprayer/spreaders but once a team is trained, there are many benefits.
"I think traditionally, with a lot of the spreader and sprayers, you might need a month to get fully operational and be comfortable about somebody being out on their own," Kinkead says. "That's one of the things that we've focused on. One thing we've seen as a big trend is making it as simple and as intuitive as possible for an operator to get up and running and be able to be productive."
What to Consider
Before adding a sprayer/spreader to your fleet, determine the equipment applications, size of projects and technology additions you may need. If this is a new service you are looking to add to your business, then it's essential to identify what exactly your clients need. Some may require chemical sprayers for their lawn care, while others need seeding. Other clients may be looking for both services and may require both types of equipment and a two-in-one product.
Also, you will want to consider the sizes of the projects, as well. Depending on the size of the jobsite you and your crew members are working on, you will sometimes only need a 15- or 30-gallon liquid tank to get the job done. For residential purposes, you may be interested in something small and versatile enough that can fit between a 36-inch gate. However, if you work on commercial properties, you may require a larger system. Identifying the appropriate size will help manage and reduce product waste, as well as save money, as the size may correlate with the price of the machinery.
There is also new technology to consider for sprayer/spreaders. For instance, there are many aftermarket technologies designed to help improve the efficiency of products. It may benefit you to add a GPS system or quick fill systems that decrease the time it takes to fill a machine up with liquid products.
"The trends occurring in the design of the latest sprayer/spreaders mainly focus on productivity and versatility enhancements," King says.