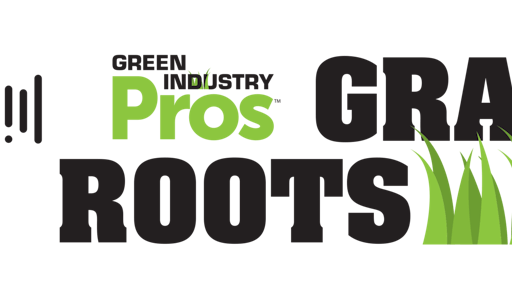 The landscape industry's largest annual gathering – GIE+EXPO 2019 –  is set for Oct. 16-18 at the Kentucky Exposition Center in Louisville.
Attorney Kris Kiser, managing partner of GIE+EXPO and Outdoor Power Equipment Institute president joins Green Industry Pros editor Ryan Whisner for the latest edition of Grass Roots to discuss how the combination of new products, demos, networking opportunities and dynamic education make the show a must-attend event for industry members.
"GIE+EXPO is the place to be for landscape professionals and dealers who want to take their company to the next level," Kiser said.
"Plan to land in Louisville this October for the industry's biggest show. It's the place to be if you're in the outdoor living and equipment business." In addition, for contractors looking to diversify, Hardscape North America's co-location with GIE+EXPO provides the opportunity to learn about expanding into the hardscape market.
Although an independent show, Kiser said the hardscapers take up the north wing and those registrants get entry into GIE+EXPO and vice versa.
"Bring comfortable shoes, it's a big show," Kiser said.
Parking at the event is free this year to avoid the back-ups at the main gate.
The show floor will open for dealers Wednesday, Oct. 16 at 11 a.m. Dealers, distributors, retailers and the media are invited to the exclusive preview. All attendees are invited beginning at 3 p.m. which includes a welcome reception until 7 p.m.
Hours for Thursday, Oct. 17 indoors and out are 9 a.m. to 5 p.m.  Friday, Oct. 18 the indoor exhibits will be open 8 a.m. to 2 p.m. and outdoor exhibits will be open from 8 a.m. to 1 p.m.
Prior to joining OPEI, an international trade association representing the manufacturers of outdoor power equipment, small engines, utility vehicles, golf cars and personal transport vehicles, Kiser served for 15 years in two Washington, D.C. trade associations representing automakers and the forest products industry. He was vice president, state and international affairs for the Alliance of Automobile Manufacturers and vice president governmental affairs for the American Forest & Paper Association. 
Before joining the private sector he spent a decade as a staffer in the United States Senate and House of Representatives as a special assistant to noted Congressman Lee Hamilton.
In addition to his role as OPEI president, Kiser is known as the "man behind the mutt" for his role in creating the TurfMutt Education Platform as head of the OPEI Education & Research Foundation.
He is a passionate proponent of animal rescue, rehabilitation and adoption.  TurfMutt education has literally been used by tens of millions of students, teachers and families and is character based on his real life rescue pooch, Lucky the TurfMutt.
Learn more about GIE+EXPO 2019 today.