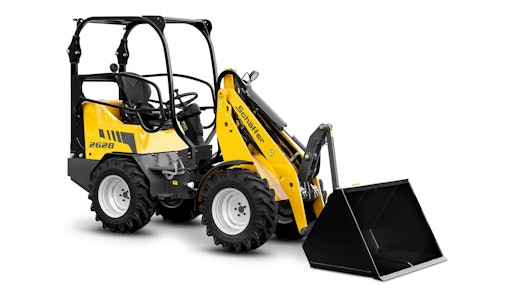 DFD Loaders
DFD Loaders recently announced it will be establishing a dealer network for German-based Schäffer equipment throughout the United States in 2020.
The 63-year-old company distributes compact articulated and telescopic wheel loaders that are distributed in 50 countries.
Since DFD Loaders announced a partnership with Schäffer last year, the U.S. distribution strategy has been to include an initial period of direct-to-consumer sales, to interact with the market at a one-on-one level and gain direct insight into the needs of the growing market for compact-articulated wheel loaders in the country.
"When we began to research the market, some of the most consistent feedback was that the fast rollout of dealers had hurt other brands' capability to keep up with the market's demand for parts and service. In addition, this strategy had created dealer networks with inadequate knowledge of those products. This was never an option for the Schäffer brand, known all over the world for exceptional white-glove level service," says David Font, president and CEO of DFD Loaders.
As many equipment brands have recognized the opportunity in the U.S. market and have begun to introduce compact articulated loaders, DFD Loaders takes pride in being the exclusive U.S. distributor of Schäffer construction equipment. Schäffer's U.S. product lineup meets EPA Tier 4 Final emission standards and is compatible with most skid steer attachments in the market due to a universal quick-connect headstock, which comes standard.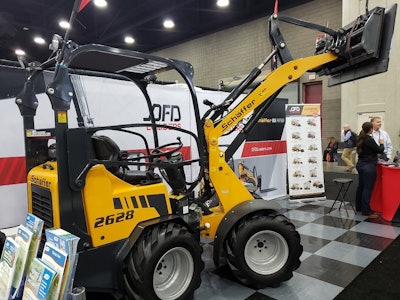 Building a dealer network
Florida-based DFD Loaders is seeking dealerships in the United States to sell Schäffer equipment.
Rachel Boutet, DFD Loaders' chief marketing officer, announced the company's plans to launch a dealer network throughout the United States, at the GIE Expo in October 2019. Approved dealers are expected to be announced in the first quarter of 2020. Those interested in applying for a dealership need to send an email to [email protected] expressing their interest. A representative will contact them, Boutet says.
"We expected to sell direct for a little bit longer period of time, but we've had a lot of interest," she says. "This is a product class that has had quite a bit of growth in the market. And our product, having been a leader in the European market for so many years, we're definitely getting quite a bit of interest. We're in conversations with some multi-state dealers."
Schäffer construction equipment in the U.S. includes a product lineup with 16 loader models, ranging in size and power capacity from 25 hp to 157 hp, designed for the construction, landscape, tree care, snow removal and property maintenance industries.
As far as what DFD Loaders is looking for in its dealers, that depends on the market and geographic location.
"The Southeast, being in our backyard, some of those conversations are in more advanced stages, but we're still inviting dealer inquiries at this point," Boutet says. "The U.S. market is so diverse and so different in different pockets of the country. We're talking to dealers who manage some very well-known equipment. It's more about whether or not we match."
For one, the company is looking for dealers accustomed to selling steel equipment at about the same size as Schäffer machines.
Servicing the equipment
Overseas competitors have entered the U.S. market, in a rush to create a large dealer base. But customers complained of slow service, waiting weeks for parts and dealers with little knowledge of the equipment.
DFD Loaders and Schäffer plan to do things differently, Boutet says.
"While they had come in and established a huge dealer network, there was a lag in parts and service and whatnot," she says. "We definitely knew that was not the way we were going to do it. We were going to ship direct and do a year of direct sales and then we were going to launch a dealer network."
DFD Loaders has a plan for keeping Schäffer equipment serviced and maintained in the U.S.
"What we did that first year is create some service relationships with some dealers of other types of equipment," she says. "We have a Kubota engine in one of our smaller machines. We have a Deutz engine in some of the larger ones. We have a lot of certified service technicians. Many times, we have agreements with some of the service departments at some of the other equipment dealers, and that's how we're able to provide nationwide service without skipping a beat.
For hydraulics servicing, DFD Loaders will use a third-party available 24 hours a day that visits jobsites.