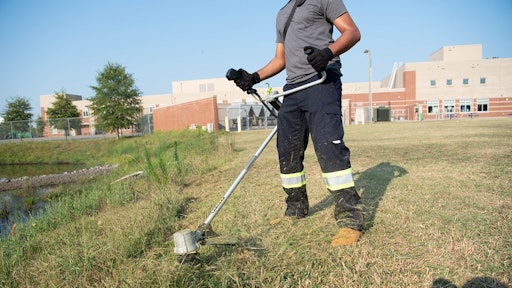 Greenworks Commercial
Greenworks Commercial is seeing double-digit growth in battery-powered equipment, electric chainsaws and electric mowers. With that growth, the company has established a dealer network in North America and has begun leasing its batteries to lower the prices of its tools.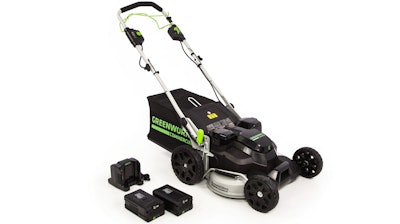 Several new battery-operated products were introducted as part of its 2019 lineup at the GIE+EXPO in Oct. 16 in Louisville, Ky. Among those products are brush cutting bike handle trimmers, the only battery-powered portable capstan winch in the U.S., an 18-inch chainsaw, a 48-volt top handle chainsaw, a 48-inch ride on mower and a 25-inch self-propelled lawn mower.
"If you want to know where growth is, it's in batteries," says Michael Reali, Greenworks' vice president for sales and marketing.
New Products
Greenworks got its start in 2007 and has since developed a number of battery-powered, cordless machines for the lawn maintenance industry. It was the first company to create a lithium-powered trimmer and lithium battery for power tool equipment, he says.
"We've spent the past two years introducing a lot of new tools, a lot of new products; that's been the central part of our growth," Reali says.
Greenworks was the first company to bring lithium utility vehicles to market and is one of the largest producers of commercial stand-on and ride-on zero-turn mowers. The company will continue to invest in lithium and smart battery technology in the future.
"Being the leader in lithium gives us the unique ability to bring these kinds of products to market faster than our gas competitors," says Tony Marchese, Greenworks' commercial business unit leader. "We have the luxury of only focusing on lithium-powered products."
Distributor Network
Marchese added that the company in the past year has set up a line of distributors across the United States and Canada for its commercial equipment.
"The dealer knows when they make an investment in becoming a Greenworks dealer, that he or she will then have the marketplace and not be affected by a mass retail chain or the internet side of the business," he says.
With many cities, school districts and other organizations working to reduce emissions, that will create more of a market appetite for Greenworks products, he says.
Battery-powered Tools
When Greenworks entered the market, the standard voltage for cordless, battery-powered tools was 56 volts.
"High voltage did not exist four years ago," says Kevin Gillis, vice president of product development at Greenworks.
He says the company has brought that standard up to 82 volts. Most of Greenworks' new products use a rechargeable, 82-volt battery. Those batteries are now available through a 60-month lease, with a dollar buyout at the end of the term.
Recently Launched
82TB16 and 82TB18 Brushless Bike Handle String Trimmer – Brush Cutter
GS RZ48R 48-inch Ride-On Mower
GMS 250 Self-Propelled Lawn Mower
GS 82W1 Portable Capstan Winch
48TH12 48V 12" Brushless Top Handle Saw