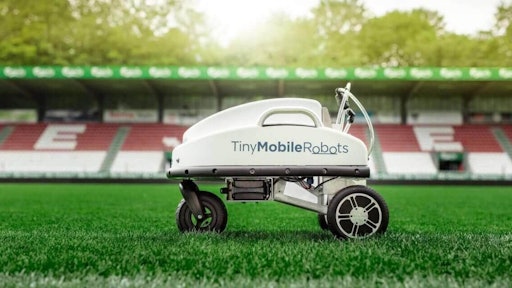 TinyMobileRobots
A minority investment deal announced February 4 by German industrial group STIHL through its venture arm STIHL Digital will help the Malling, Denmark-based robotics company TinyMobileRobots raise its profile in the Americas and extend distribution globally.
STIHL Digital acquired 23.8 percent of the company, buying out a state-funded investment managed by venture capital firm Borean Innovation. Private investor Anders Fauerskov, former co-owner of TC Group, will continue to own part of the company. TinyMobileRobots has in the five years since its founding come to dominate the market for robotic positional marking, and while it owns half of the United States market for like products sees North America as a growth region.
The company offers two models aimed at sports field marking—the TinyLineMarker Sport which is optimal for schools and sports clubs and the TinyLineMarker Pro which is aimed at municipalities and those with higher volume and more complex sports field marking needs. The TinyLineMarkerPro includes a comprehensive library of sports field templates pre-installed versus a single template for the TinyLineMarker Sport. It also offers greater traction, faster marking speeds and twice the paint capacity. Both robots mark sports fields extremely accurately—with between 1 and 2 centimeters in variance. The robots are controlled by through a tablet-based application that enables users to superimpose the placement of the field on a satellite photo of the sports field. Robots orient using built-in global navigation satellite system (GNSS) capabilities and communicate with the tablet controller through cellular data connectivity.
Using machine vision, the robots can sense objects in front of them and wait until the way is cleared before proceeding. In a phone interview the day after the announcement with Green Industry Pros, CEO Jens Peter Kristensen said this enables the robots to pause if someone walks in their path or to avoid and work around obstructions like fixed goal posts.
"It has sensors that detect obstructions and can navigate around them," Kristensen said. "We have chosen to use ultrasonic which is unusual. Lidar is more frequently used, but it is also more sensitive to dirt and water."
A leg up in the Market
TinyMobileRobots is not the only vendor in this space. Offerings from TurfTank, Swozi and USCC offer similar capabilities. In a phone interview with ForConstructionPros, TinyMobileRobots Founder and CEO Jens Peter Kristensen described the upside of the new ownership arrangement and what it means for turf marking robot buyers.
"The good thing is that STIHL and TinyMobileRobots are so different," Kristensen said. "STIHL is a mature company with long product development lead time. They make sure none of their products fail. We are quick to adopt but take more risks. That means our customers may need more support and more after-sales help with our products than STIHL. STIHL is in red ocean markets competing on quality—we are in a blue ocean market competing more on functionality. Our customers need to be happy, but are a little more accepting that there are a few more glitches that need to be corrected. Even if we were making the same things, we are not competing because we have different approaches."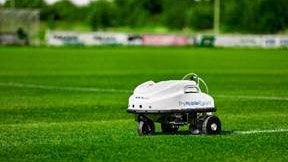 The two companies can also engage in technology transfer internal to the ownership group according to Kristensen, but while TinyMobileRobots may enjoy greater component buying power thanks to shared ownership with STIHL, they will keep manufacturing internally.
"We are doing lining and infrastructure layout—they are not," Kristensen said. "We can exchange technology without losing anything. We will still do the manufacturing ourselves, but we are using suppliers for all our components. It is very important for the assembly to stay here because that helps us very quickly adopt our products and maintain quality. We are not seeing manufacturing as something that STIHL can help us with but greater buying power—that is something we are looking into. We might have shared components with their current product set."
While TinyMobile Robots enjoys strong distribution in North America, it expects the new ownership arrangement will help them penetrate new markets elsewhere and raise their profile in United States and Canada.
"In North America we have a very strong organization," Kristensen said. "We are not going to change anything with our distribution in North America. There are opportunities for us where STIHL can help with distribution in South or Middle America and in Eastern Europe. Even though TinyMobileRobots has a leadership position, STIHL has a stronger brand, and we will benefit from the trustworthiness of that STIHL brand."
Companies in this article