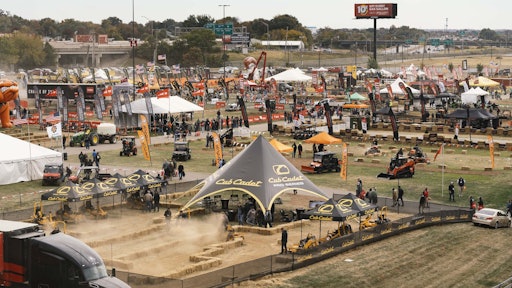 Equip Exposition
O ne million-plus square feet of space. Twenty-five thousand-plus attendees. One thousand exhibits. Scores of new products. Forty years in the making. One Equip Expo.
Who else is pumped up for this year's Equip Expo? The Green Industry Pros staff and I have already put countless hours into preparing for the show, and we're determined to make this year's the best yet—a sentiment shared by show organizer Kris Kiser, CEO and president of the Outdoor Power Equipment Institute, who, along with landscape pros and manufacturers, let us in on the details for the show's 40th anniversary.
You can find that full story here.
In case you're not able to make the trip to Louisville, Ky., this year, don't worry—we've got you covered. Be sure to follow along on our social media channels for continuous updates from the show floor, action shots from the outdoor demo area and video interviews with the product experts.
Our social media handles are as follows:
Facebook:

Green Industry Pros

Twitter: @greenindpros
LinkedIn:

Green Industry Pros

Instagram: @greenindustrypros
You can also find information on the latest and greatest products showcased here on Green Industry Pros' website.
In addition to our coverage on this year's Equip Expo, you can find stories on how to take advantage of early order programs; the latest updates in estimating software; tree care safety tips; irrigation blowout tips and tricks; and much more.
What about you? Do you plan to attend Equip Expo? If so, what are you most looking forward to? What products are you excited to demo? I'd love to hear your thoughts—and I'm sure your fellow readers would, too. Email your ideas to [email protected] or connect with me on LinkedIn by following the QR code.
Until next time!