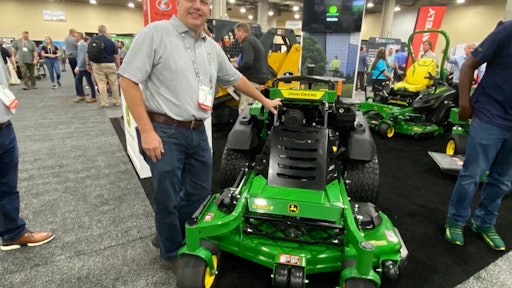 AC Business Media Staff
Totaling 2,150 attendees, 1,250 contractors and 171 exhibitors, the National Association of Landscape Professionals' (NALP) second annual Elevate Conference and Expo in Dallas, Texas, upped its numbers over last year's event where 1,350 attendees, 850 contractors and 141 exhibitors participated in the 2022 event.
However, attendee numbers weren't the only item elevated at the event.
"Our goal at Elevate is to educate, entertain and inspire," said NALP CEO Britt Wood at the Opening Main Stage Session. "We want you to walk away reinvigorated, ready to take on challenges and take your business to the next level."
The Opening Main Stage Session also featured keynote speaker Liz Forkin Bohannon, founder and CEO of Sseko Designs, who discussed how the stages of learning (listed below) should actually be thought of as a cycle because often, leaders who achieve the fourth stage become complacent.
1. Unconscious incompetence: You don't know what don't know.
2. Conscious incompetence: You know what don't know.
3. Conscious competence: You can do the job at hand, but it takes effort.
4. Unconscious competence: You can do the job in your sleep.
"The most effective leaders are the ones who dive back into the cycle of learning," Bohannon said. "The single most important factor to success is curiosity over criticism."
She also encouraged attendees to embrace their curiosity throughout the conference and gave them permission to "dream small" instead of "dreaming big" to overcome the inaction that often comes with setting lofty goals. She noted that small, incremental steps are often the key to success.
"When we give ourselves and our team the permission to dream small and believe in the power of one, that's when we make an impact," Bohannon said.
For the rest of the conference, the majority of the sessions were split into four topics: business excellence, team member experience, customer experience and operational excellence and included topics such as effective communication, recruitment and retention, water conservation, artificial intelligence, battery-operated equipment, lawn care regulations, creating a five-start customer experience and much more.
In addition to educational sessions, the event also included time for attendees to get up close and personal with new products displayed on the Expo floor, networking opportunities such as the Breakfast of Champions and the afterparty at Gilley's Honkey Tonk and a panel discussion with the industry's top leaders.
The leadership panel involved Britt Wood , CEO of NALP, interviewing Tony Massey, president and CEO of Massey Services, Phil Key, CEO of Ruppert Landscape, and Pam Dooley, owner of Plants Creative Landscape, about how they got into the industry, their leadership styles and their best advice.
The leaders' words of wisdom for other landscaping companies included:
Key: "Delegate and provide a place for people to grow their careers and know that your job will change. Be able to step back. And, always be thinking about the next organizational chart. The organizational design is key to be able to scale your business."
Massey: "We all have 24 hours, and we can decide how long we want to work. If you have a great work ethic, no one will talk bad about you. Work ethic speaks volumes about you. Also, concentrate on the 2 percent that's not going well. The 98 percent will continue to flow. Look forward at opportunities while looking at the 2 percent to improve."
Dooley: "Know yourself and those values that are not negotiable. Know what matters most, and if it doesn't work, go somewhere else to build your tribe. Also, the concept of 'bound autonomy' gives your team members the keys to drive the car instead of waiting around of an Uber."
The Elevate Conference and Expo locations for the next three years include:
Nov. 3-6, 2024: Charlotte Convention Center, Charlotte, N.C.
Nov. 2-5, 2025: Phoenix Convention Center, Phoenix, Ariz.
Nov. 1-4, 2026: Indiana Convention Center, Indianapolis, Ind.