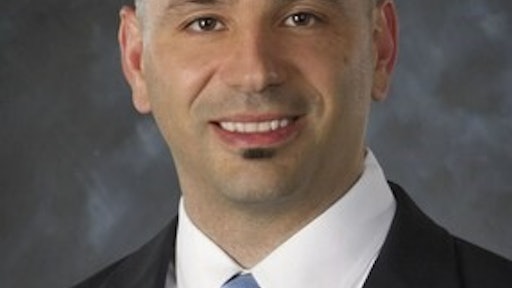 Briggs & Stratton appointed a new CEO: Joe Liotine.
Liotine joins Briggs & Stratton after serving 18 years in senior roles at Whirlpool Corp., most recently as president and COO, where he led the Global KitchenAid business, had global responsibility for product development, research and development, sourcing and IT and was instrumental in building world-class operations and driving growth.
Prior to his role as COO, Liotine was president of Whirlpool's North American business, SVP product and brand marketing, general manager Canada operations, sales general manager and senior strategy director.
Ewing Adds Stone Gardens
Ewing Outdoor Supply acquired Stone Gardens, an Arkansas bulk hardscape materials yard in Lowell.
Ewing Lowell is the company's first bulk materials yard and third location in Northwest Arkansas. It's located between Ewing's landscape supply stores in Bentonville and Springdale.
"We're excited to grow our presence in Arkansas and expand our offerings in this market to include hardscape materials," said Ewing Central Territory President Sean Wimble. "Ewing has served the green industry for more than 100 years, and we are committed to being the best supplier and partner to our customers for at least 100 more."
Case, Team Rubicon Train Volunteers on Heavy Equipment
Case Construction Equipment and Team Rubicon kicked off its pilot program to train more volunteers to operate heavy equipment for its veteran-led humanitarian organization that serves global communities before, during and after disasters and crises.
Earlier this year, the pilot program commenced with two of the interested Case dealers: RPM Machinery, out of their Franklin, Ind., location; and Lawrence Equipment, at their Roanoke, Va., store. On a monthly basis, these dealers provide machines for Team Rubicon volunteers to train on, an indoor classroom and outdoor operating space.
"As soon as we heard about the need to help train more heavy equipment operators, we raised our hand," said Dustin Cole, executive vice president of Lawrence Equipment. "We're very active in our local communities and want to ensure Virginia is prepared if disaster strikes, as well as help train volunteers to deploy wherever they are needed throughout the U.S. and Canada."
FMC Corp. Adds Market Specialist
FMC Corp. has appointed Jeff Rice as market specialist for the Mid-Atlantic territory for sales of its GSS, Professional Solutions division products.
"It is great to welcome Jeff to our team," says Michael Sisti, North American marketing manager, for FMC's GSS, Professional Solutions group. "He comes to FMC with over two decades of industry experience, most of it in the Mid-Atlantic region where he'll be focused."
Those 20-plus years of experience in the turf and golf business include serving the past eight as general manager and director of grounds at Oak Creek Golf Club. Rice's career includes managing a variety of both cool and warm season turf in the Washington, D.C., metro area. He and his family reside in the Baltimore area.
Rice graduated from the University of Maryland with a degree in turf and golf course management.