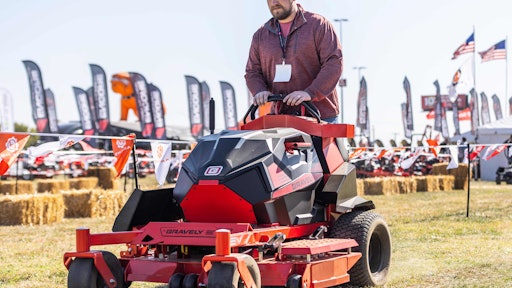 Photo provided by OPEI
How does a first-time landscape contractor, equipment dealer, or exhibitor find their bearings at Equip Exposition, the blockbuster, award-nominated massive trade show that drew more than 25,000 people last year to Louisville?
Planning. That is the key to this massive show. Download the app and decide which sessions you want to attend and the exhibits you want to see before arriving. Be intentional about the type of show experience you want to have. Wear comfortable walking shoes and come ready to meet people. You'll find the marketplace represented at Expo so it's a lot to take in. You'll see new equipment, talk to manufacturers face-to-face, meet peers to exchange best practices, and see the industry's influencers.
Being held Oct. 17-20 at the Kentucky Exposition Center, Equip Exposition is the international landscape, outdoor living and equipment exposition. It boasts a million square feet of exhibit space including a 30-acre Outdoor Demo Yard showcasing the newest outdoor power equipment in the industry, as well as an expanded UTV Test Track.
Other insider tips include:
1. Register now before the registration price doubles. Lock in your early-bird ticket by Sept. 7 for only $25. On Sept. 8, 2023 registration fees will double to $50. On October 16, 2023, prices double again to $100.
Editor's Note: Green Industry Pros' readers get an additional 50 percent off their registration costs using this link.
2. Reserve your hotel room and make travel plans now. Louisville's hotel rooms often sell out. Some hotels are along the trade show's complimentary shuttle route that will get you to and from the show quickly. Book your hotel now.
3. Download the official Equip Exposition app. A show this size requires strategy. The app is the best way to plan your schedule. Mark the exhibits you want to see and education sessions you plan to attend. Use the app during the show to navigate the layout, find information on social events, and more.
4. Add education and training to your registration now. Landscapers and dealers can explore ways to grow their businesses with sessions on growing and managing their businesses for greater profits. Landscaper education will include tree care, expanding into new service areas such as hardscape, pool and spa, outdoor lighting, and irrigation, and more. Tree climbing workshops, sponsored by STIHL Inc. and Davey Tree, offer live climbing technique sessions on a real tree in Freedom Hall.
5. Get into the show fast. In addition to express badge stations available onsite at the KEC, kiosks are also available at select hotels and the airport. Scan your registration QR code (bring your email confirmation!) and print your badge. Pre-registrants also can pick up their badges in "express" lanes in the North Wing lobby. To register onsite, go to the North Wing Lobby registration area. With free parking there's also little traffic at the KEC entrance gate. Rideshare services also are available to drop off and pick up at the KEC.
6. Connect at the Welcome Reception: Celebrate with everyone arriving for Equip Exposition at Tuesday evening's jamming reception at the downtown Kentucky International Convention Center. Expo favorite band, The Crashers, will play, and it's a perfect time to network and meet other attendees. The reception is included with your registration sponsored by Cat® Compact Track Loaders.
7. Fuel up on-site. New breakfast offerings at the KEC and a coffee shop in the South Wing Lobby C can get you ready for a big day at Expo. Freedom Hall is the show's Food Hall with concessions and themed Grab & Go lunches. Also visit the Outdoor Food Yard which offers food trucks and tented spaces to sit and relax.
8. Put equipment through its paces in the Outdoor Demo Yard. With 30 acres of ground available, the Outdoor Demo Yard lets you mow, mulch, cut, drive, and test the latest outdoor power equipment. The expanded UTV Test Track lets licensed drivers over age 16 try the newest models.
9. Visit the West Wing, a newly expanded section of Expo. From golf simulators to daily giveaways, the West Wing will offer you unique hands-on experiences including housing the popular Drone Zone, where you can take steps to earn a professional drone pilot certification.
10. Take a run or walk. On Wednesday morning, Mulligan's Fun Run & Walk 5K, powered by Ariens, will benefit the Kentucky Humane Society. Run/walk across the Ohio River on the city's Big Four pedestrian bridge and in sight of Louisville's Great Lawn.
11. Bring home a rescue pup. If you are looking to add a furry family member to your pack, Mulligan's Mutt Madness, an annual dog rescue event sponsored by the TurfMutt Foundation in partnership with the Kentucky Humane Society, brings a bevy of rescue dogs available for adoption to Freedom Hall on Thursday from 11:30 a.m. – 2:00 p.m.
12. Visit Hardscape North America (HNA). Equip Exposition registration gets you free access to HNA, the premier trade show for hardscape contractors.
13. Rock out with Third Eye Blind. The show's first-ever arena concert is a huge "thank you" to everyone who makes Equip Exposition amazing and will be held on Thursday night at the KFC Yum! Center. The show also includes singer-songwriter Dylan Scott and is sponsored by the Bobcat Company and SENIX.
14. Explore Louisville. The city is easy to navigate and offers 2,500 restaurants and more than 90 attractions, such as Louisville Slugger Field.